Seaweed lamb recipe from Manitoba restaurant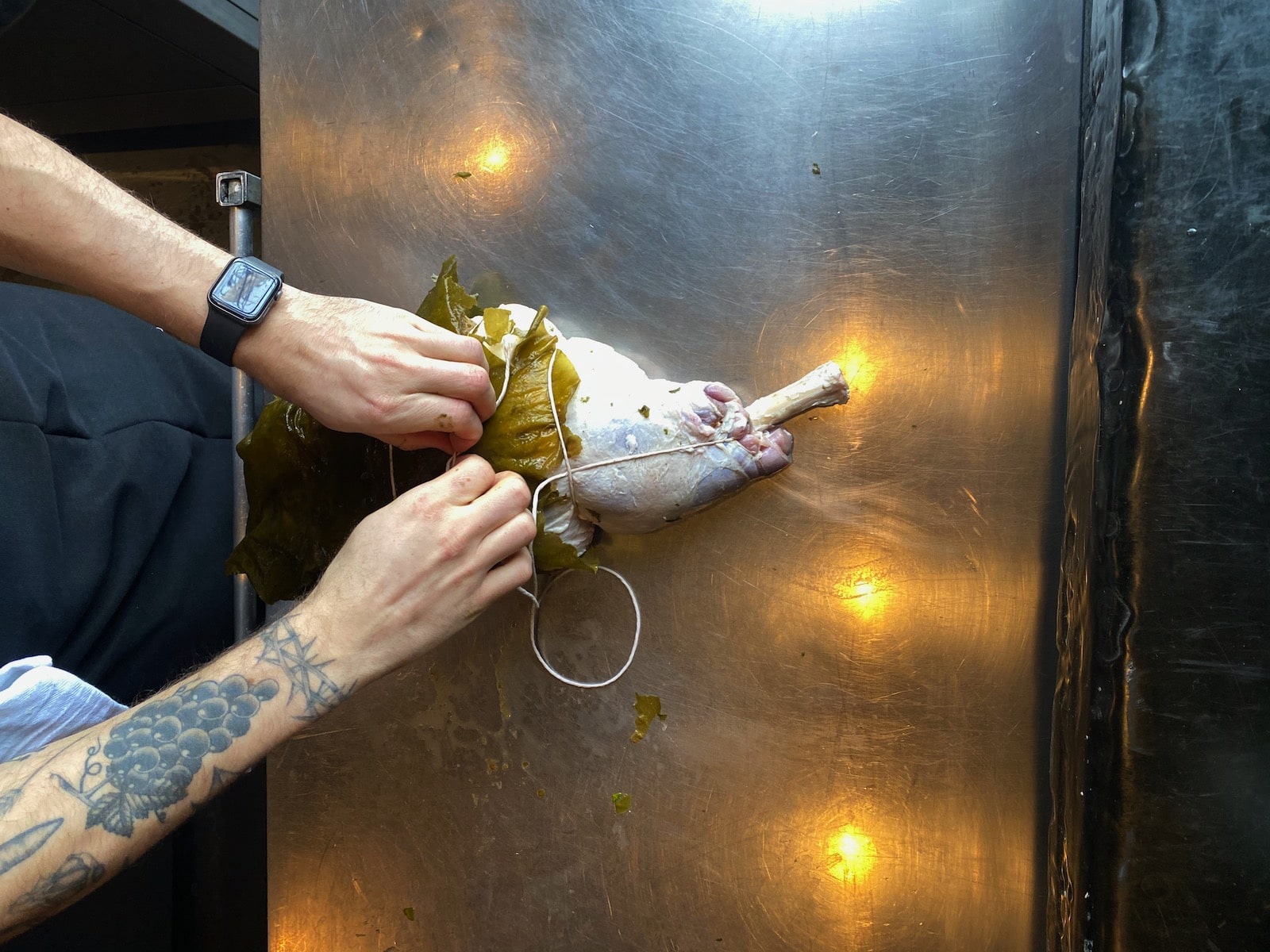 We love to cook lamb because of its tender meat and subtle, delicate taste. Manitoba chef Jean-Philippe Matheussen agreed to share with us his seaweed lamb recipe for seasoned cooks. Manitoba is known for its use of local products. When the time comes to savour dishes that bring us closer to nature and make us think of the great outdoors, it's the place we immediately think of. This is your chance to adopt the Manitoba philosophy by recreating Jean-Philippe Matheussen's lamb recipe at home!
In order to prepare Manitoba's seaweed lamb recipe at home, we recommend sourcing your lamb from La Bêlerie, a sheep farm in Cowansville, founded in 2016. This homegrown family business practices responsible lamb farming and values the diversification of the use of their meat. La Bêlerie butchers their own lamb and supplies gourmet restaurants, butcher shops, and many grocery stores.
Seaweed lamb
Serves: 4
Preparation: 90 minutes
Cooking: 150 minutes

Ingredients
1 boneless lamb loin (filet and sirloin)
1 boneless lamb flank
200 g minced lamb
250 g rehydrated sea lettuce (keep the soaking water)
250 g royal kombu (rehydrate only 200 g)
1 white onion
500 ml reduced lamb stock
150 g very cold butter (100 g for the seaweed purée and 50 g for the lamb stock) cut into cubes
Salt
Method
Rehydrate 200 g of kombu and the sea lettuce. Reserve the water used for the sea lettuce. Wring out the kombu.
Grind 50 g of dried kombu into powder and spread it on the flank. Add the ground lamb and the lamb filet in the center of the flank. Roll up and tie. Cook on low heat in the oven or on the barbecue until it reaches an internal temperature of 55°C. Set aside.
Oil and salt the sirloin and sear over high heat in a frying pan or on the barbecue, about 1 minute per side. Set aside.
Spread the rehydrated kombu, wrap the sirloin with it and tie it up. Cook over medium heat until internal temperature reaches 52°C. Set aside.
Mince the onion and sweat the pieces in a little butter over very low heat for 30-40 minutes. Chop the sea lettuce and add to the onions. Add 250 g of soaking water from the sea lettuce and cook over low heat for 15-20 minutes.
Blend until very fine, adding water as needed. Whip with butter, adding the cubes and adjusting the seasoning. Set aside.
Heat the lamb stock, stop cooking, and whisk in the butter while adding the cubes. Add salt. Add a drop of your best vinegar to taste. Set aside.
Spread the seaweed sauce in a dish and place a slice of flank and a piece of sirloin. Cover with the lamb stock and enjoy.
It's time to get cooking by ordering your lamb here.
*La Bêlerie offers a home delivery service for the regions of Laval, Montreal and Montérégie.