Josée Di Stasio's cream of pea soup with mint and halloumi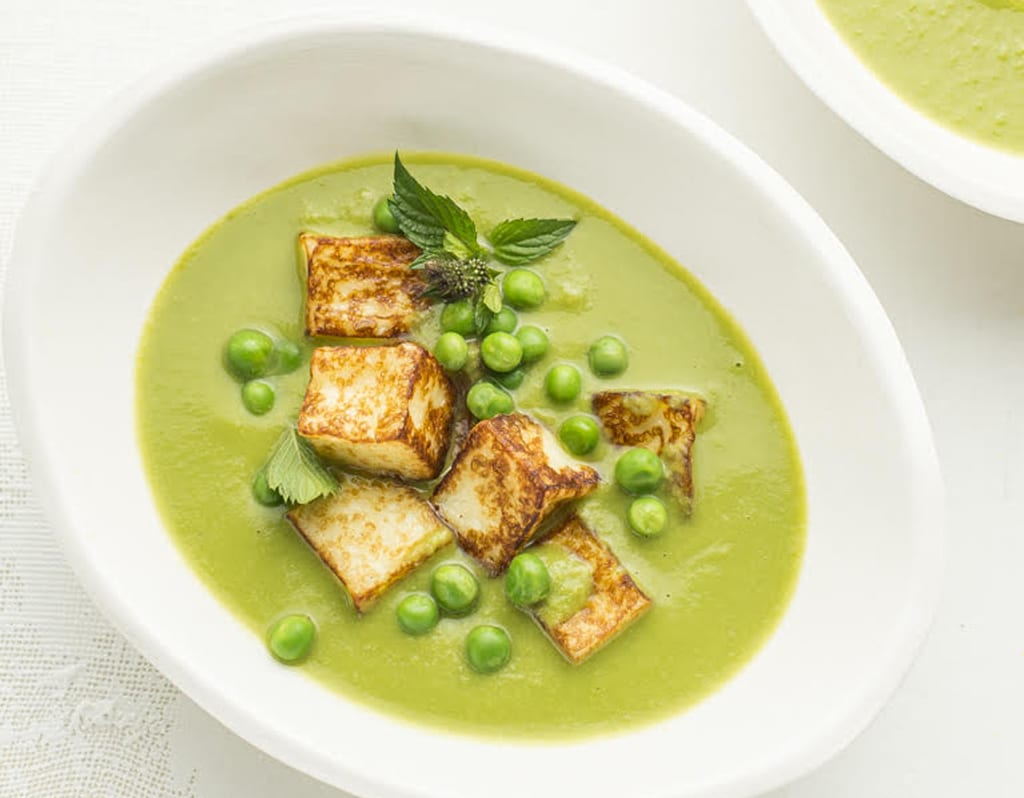 Cream of pea soup with mint and halloumi
Serves: 4

Ingredients
Cream
2 tablespoons butter
1 leek (white and light green parts) sliced in rings, or 1 onion sliced in quarters
1 litre (4 cups) chicken stock
1/2 to 1 teaspoon of salt
1.25 litres (5 cups) fresh or frozen peas
60 ml (1/4 cup) chopped mint, well-packed
1 package of 200 g (7 oz) of halloumi cheese, cubed
Freshly ground pepper
Toppings, as desired
Drizzle of olive oil
Reserved peas
Mint
Method
In a large saucepan, over medium heat, melt butter. Add leek, reduce heat, and cook covered for 5 minutes without letting them brown.
Pour in the broth. Add salt, knowing that the halloumi cheese is already quite salty. Bring to a boil, lower the heat, and simmer for 5 minutes.
Add the peas and mint and bring to a boil again. Reduce heat and simmer for 2 minutes.
Using a skimmer, remove and reserve 125 mL (1/2 cup) of peas for garnish.
Purée soup with a hand blender until smooth. Taste and adjust seasoning.
In a non-stick pan, sauté the rinsed and drained cheese cubes without oil until golden brown. Divide between the bowls.
When serving, reheat the soup without boiling it so as not to lose the taste and bright green colour of the peas. Pour atop cheese cubes. Garnish with reserved peas, a drizzle of oil, and a few mint leaves.
Note/Variation
Variation: For a cream of pea soup with ginger, replace the mint and halloumi cheese with 4 tablespoons of chopped fresh ginger, added at the same time as the broth. Serve with a drizzle of coconut oil or coconut milk and naan bread, if desired. Note: The soup can be stored in a resealable bag in the freezer. Thaw in the refrigerator 12 to 24 hours in advance. Just before serving, heat over medium heat, without bringing to a boil, while whisking vigorously.