Gandhi Restaurant's Butter Chicken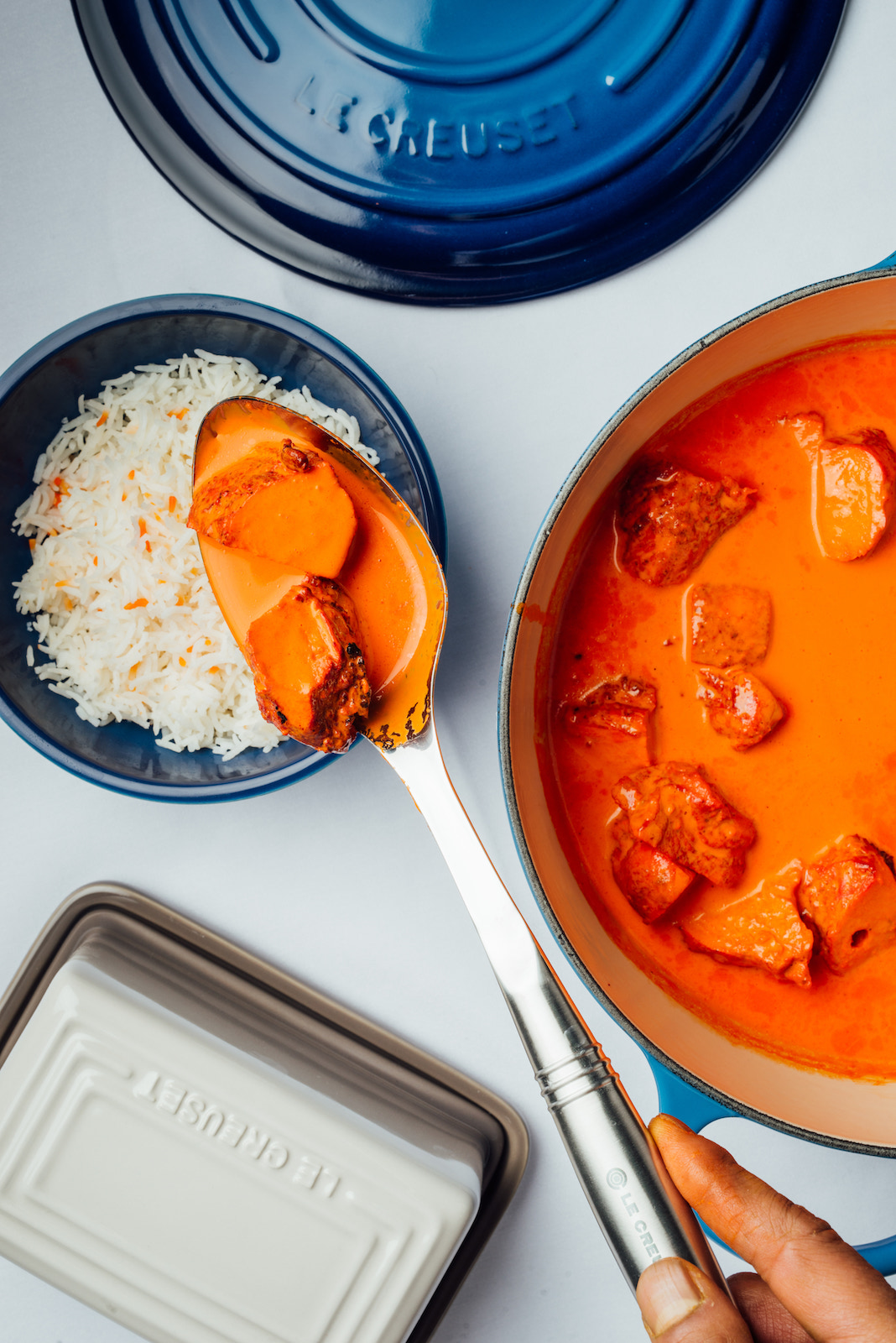 Gandhi restaurant's butter chicken is a great classic! In fact, it may come as no surprise that the most popular Indian dish in Quebec is butter chicken. In our list of the best Indian restaurants, Gandhi offers a version that is unanimously appreciated by food lovers. So we asked them for their recipe, and they generously accepted!
Gandhi restaurant opened its doors on May 14, 2001, and has since been offering delicious Indian cuisine to be enjoyed on site or to take home. It is the first Indian restaurant to open in Old Montreal and its owner—Faruk Ahmed—is an absolutely charming man!
The dishes are prepared by the chef Ali Monnaf. He manages the entire menu, including several specialties of tandooris, biryanis and curries. The most popular dishes are butter chicken, tandoori dishes, Korahi lamb and chicken, lamb vindaloo, and vegetarian dishes. We were lucky enough to request an "easy" butter chicken recipe version for you.
The butter chicken recipe from Gandhi restaurant is simple, tasty and hearty. We suggest you try the recipe on a cool winter evening—it'll be sure to lift your spirits. Once the ingredients were purchased, Mr. Monnaf offered us a version for busy people and butter chicken fans!
Gandhi Restaurant's Butter Chicken
Serves: 4
Preparation: 30 minutes
Cooking: 60 minutes

Ingredients
Chicken
1 kg boneless, skinless chicken breast
2 tablespoons chopped garlic
1 ½ tablespoons chopped ginger
1/4 green bell pepper, chopped
1/4 red bell pepper, chopped
½ lemon, crushed
1 cup plain yogurt
½ teaspoon Garam Masala powder
½ teaspoon Tandoori Masala powder
1 1/4 teaspoons ground coriander
1 1/4 teaspoons ground cumin
1 1/4 teaspoons ground turmeric
½ teaspoon chili powder
1 ½ teaspoons salt
4 tablespoons vegetable oil
1/4 bunch fresh coriander
Sauce
2 ½ tablespoons butter
1 onion
2 tablespoons chopped ginger
2 tablespoons chopped garlic
1 piece celery, chopped
1/4 red bell pepper, chopped
1/4 green bell pepper, chopped
1 cup plain yogurt
2 ½ tablespoons sugar
500g fresh cream
1/4 teaspoon salt
1 teaspoon ground coriander
½ ground turmeric
1 teaspoon ground cumin
1 ½ teaspoons Tandoori Masala powder
150g coconut cream
Method
Chicken
Blend all ingredients other than the chicken in a blender.
Coat the chicken with the mixture.
Sauce
Brown the onion.
Add all other ingredients.
Cook for one hour on medium-low heat.
The Chef's French Oven's rounded base keeps everything in this recipe constantly moving, which helps the flavours come together and avoids any ingredients from getting trapped in corners.
Bon appétit!