Luca Cianciulli: Taking the bull by the horns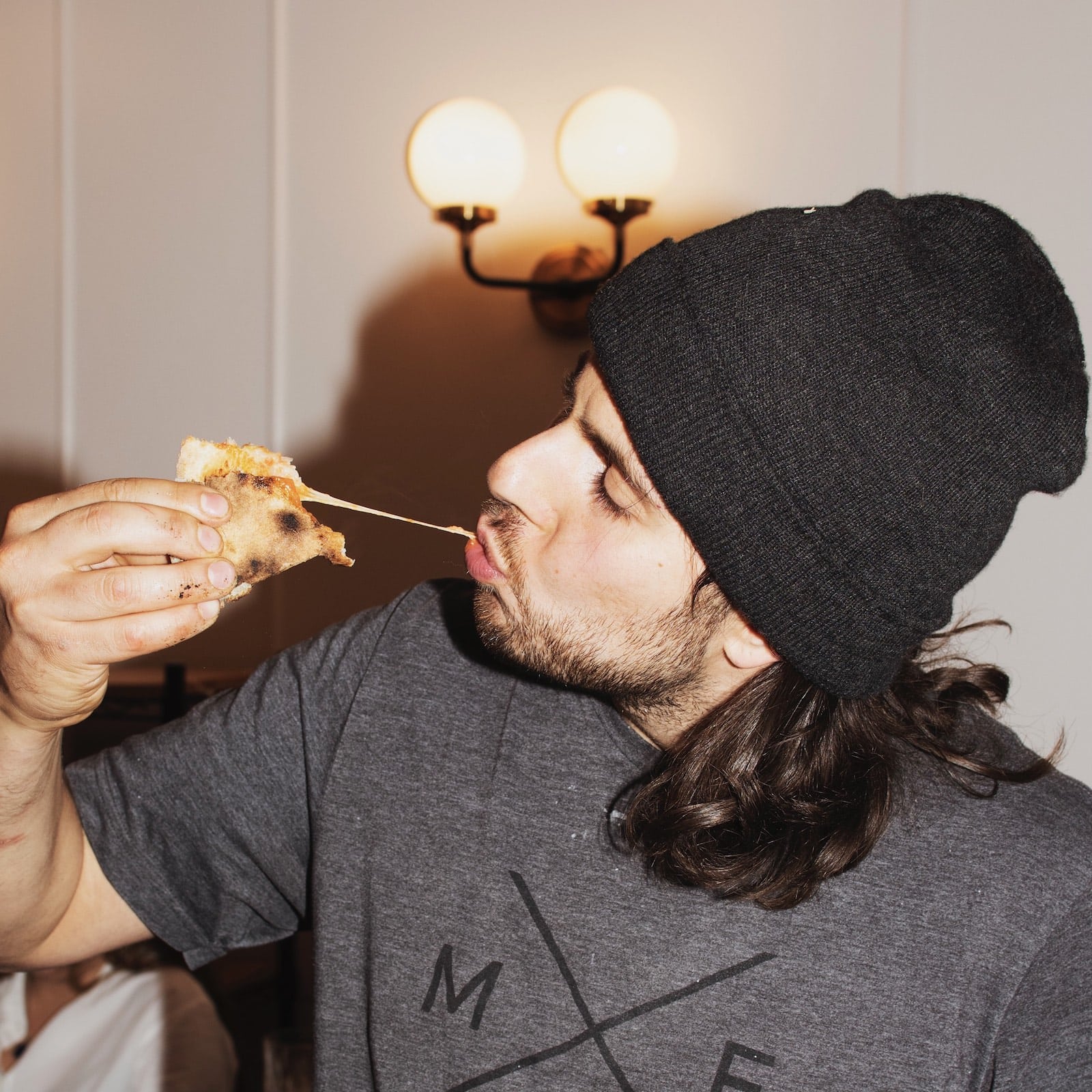 Being a chef requires a great deal of discipline, unparalleled resourcefulness, and a fighting spirit. We present Luca Cianciulli, a lover of food and people, who skilfully juggles these three qualities. The chef and co-owner of Moccione and Moccione Pizza, located in Villeray, has shown the entire industry that with imagination, a can-do attitude and consistency, anything is possible.
Passion, mentorship, and rigour
Of Italian origin, Luca Cianciulli grew up around the dining table. "When you've lived through war, I guess you're always afraid of running out. I guess that's why my grandmother spent her time making sausages and auctioning off all the good vegetables she could get her hands on. My love of cooking and entertaining is owed to her. I spent a lot of time with her and I thank her for introducing me to these traditions," shares the chef with emotion.
Driven by his passion, Luca enrolled at the ITHQ where he met his first mentor, Pasquale Vari. "I was lucky enough to have him as a teacher for three consecutive sessions. He is an excellent teacher and a great cook. I knew, thanks to my nonna, the love and romance behind Italian cooking. Now I know the techniques," Luca says. He honed his skills during internships in Italy with Michelin-starred chefs.
He then worked for over six years in Normand Laprise's kitchen. At Toqué!, he learned the importance of respecting the ingredient: "Ironically, it was Normand Laprise who taught me one of the most Italian things I know: to respect the product. In Italy, they don't question whether the product is good or not. It usually is. Here, you have to build relationships with producers, dig deep, and get involved in the process in order to have the best of the best. We have magnificent products in Quebec. It's not surprising, we're the best in everything we do, look at Céline and Cirque du Soleil. In the restaurant business, it's the same", jokes the friendly chef.
They say that life is an education that never ends. To date, Luca's last great mentor is Charles-Antoine Crète. "He is, in my opinion, the best chef in the city. I would say that Montreal Plaza is my favourite restaurant in the world. This guy has taught me so much. He's an explosion of a human, a whirlwind on two legs. I owe him so much."
Knowing how to get back on a dime
Luca Cianciulli opened Moccione with Maxime Landry in late 2018. The small Italian restaurant in Villeray was drawing crowds. The reservation book was regularly filled several weeks in advance.
Then came the Covid-19 crisis, a hard blow for all restaurant owners in the province. This is where Luca's cleverness comes into play. In less than six weeks, the team transformed the restaurant into a take-out counter; which has been a huge success. The people of Villeray answered the call. "It's crazy how close we became to the neighbourhood during this time. The phone would ring at a specific time and I knew who was on the other end of the line and what she was going to order. I now know the names of the kids who play in the nearby alleys. We have to find the good in the bad, as they say! Through this dark period, I discovered good, honest and supportive people, and I will be eternally grateful to them," he says.
During the pandemic, Moccione managed to keep 75% of its staff. The concept, which was intended to be short-lived, has endured. In 2021, Luca Cianciulli and his team decided to transform Moccione into a pizzeria. As chance would have it, Giancarlo, Luca's brother, is a pizzaiolo. He is the one who turns the dough in the establishment that will have seen two other concepts by Cianciulli before him.
Doing the best with what you have
The chef did not give up his dream. Moccione will survive all this bad weather. Like a phoenix, it will rise from its ashes.
It was imperative for the team of restaurateurs composed of Maxime Landry, Gabriel Bisson, Giancarlo Cianciulli, Pierre Joubaud and Luca, that the location of the new Moccione be in Villeray. "We owe too much to our clientele to distance ourselves from them. They have kept us alive throughout this crisis by buying pasta and other dishes on a daily basis. We can't turn this into a pizzeria for them (although it's damn good pizza) and move downtown," Luca implores.
So they found a space on Saint-Denis and decided to set up shop there. Since taking possession of the lease, Luca and Gabriel have been working night and day to renovate the space. "We have exchanged our chef's hats for boots with steel caps", he says, covered with dust and plaster. Having been there, we can assure you that the decor will not lack authenticity or character.
The Moccione on Saint-Denis will open its doors in the summer of 2022 and you can be sure that we will be there to cover the event and tell you about our experience!
The last word
Behind Luca Cianciulli's young face is a playful and wise look. We will end this tribute to perseverance with a quote of his own:
"I learned to give chances in life. If you want someone to give you their best, it is imperative that they practice. I advocate this mentality when dealing with producers. If I don't encourage them, they won't develop expertise. By regularly buying honey or cheese from a beginning producer, I am investing in them, knowing that they will eventually give me a great product. It's the same logic with our history and the people of Villeray. They have given us the chance to learn and gain confidence in what we do. I have a great surprise in store for them and am extremely excited to welcome them!"
— Luca Cianciulli
Written by Gabriel Belzile
Photography by Juliette Busch