Helena Loureiro: Chef and ambassador of l'Érable du Québec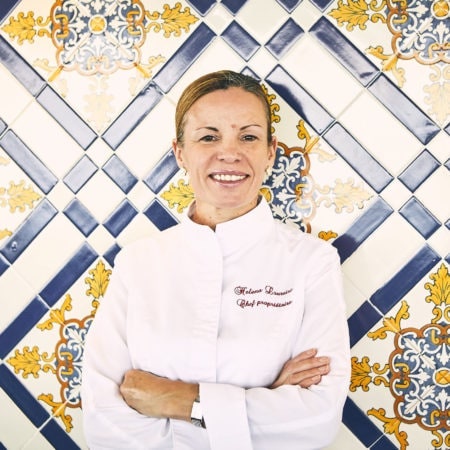 Did you know that the great chefs of Quebec often use maple products all year round? In an effort to stay local and to highlight the natural flavours of Quebec's terroir—all while respecting the environment—kitchens are opting more and more for Quebec's high quality maple products as an alternative to sugar. This series of profiles will shine a light on the great culinary ambassadors of L'Érable du Québec, all of whom use maple products in their cuisine throughout the year.
Helena Loureiro is the chef of the restaurants Helena and Portus 360, both of which proudly serve Portuguese cuisine. Helena offers a gourmet marriage of Portuguese and Quebecois cuisine, with the best recipes from her native country, made with local ingredients. Helena's cuisine is now known for its Mediterranean flavours, generosity, and succulent simplicity.
Helena's beginnings
Originally from a small village near Fatima in central Portugal, Helena immigrated to Quebec 31 years ago. As an immigrant female chef, she has been able to make her mark and establish her Portuguese signature in the milieu of Quebec gastronomy, surrounded by male chefs.
Helena's cooking beginnings go back to her 11th birthday, with her mother and grandmother in the kitchen. To this day, she pays homage to previous generations through the legacy of traditional Portuguese cuisine in the kitchens of her restaurants.
In 1983, at only 17 years old, she decided to make her passion her profession and enrolled at the Lisbon Hotel Institute to hone her knives in various Portuguese restaurants.
Arrival in Quebec
Upon her arrival in Quebec in 1988, fresh from the Portuguese capital, Helena decided to perfect her techniques at the Institut de Tourisme et d'Hôtellerie du Québec from which she graduated in 1990. She then became executive chef at the restaurant Le Vintage, before becoming chef at the daycare Alexis le Trotteur for 12 years, where she discovered the richness of Quebec's terroir.
On March 7, 2003, she opened Portus Calle — a haven for fine Portuguese cuisine known for its generous dishes and sunny flavours — in the heart of the Portuguese neighbourhood on Saint-Laurent Boulevard. As is typical of Portuguese cuisine, she worked a lot with fish and seafood. Her mission was to transmit to Quebecers the philosophy of Portuguese cooking: simplicity at its best through a festive cuisine.
Her cooking is not limited to the classic Portuguese recipes, however. The rigorous techniques of French cuisine and the generosity of Greek and Italian flavours are imbued in her cooking as well. As soon as she arrived in Quebec, she was charmed by the quality of Quebecois products, notably with maple syrup, which she incorporates in many of her recipes.
Gender equality
Helena Loureiro is also a chef committed to the fight for gender equality in the kitchen, although she makes it clear that she has a lot of respect for her male colleagues. She cites Anne-Sophie Pic in France as an important culinary inspiration as well as Marie-Chantale Lepage in Quebec City and Johanne Vigneault in the Magdalen Islands; three inspiring chefs who have left their mark on Helena's mind with their passion, their inexhaustible personalities, and their buzz in their kitchens.
Cookbooks and the opening of Helena
Proud of her origins and a fervent believer in the spirit of sharing, Helena published her first cookbook in 2011: Helena – 100 recettes portugaises. Here, she shares all her favourite recipes that combine tradition and modernity; comforting family recipes that are easy to reproduce in the comfort of your own home. Through these 100 Mediterranean recipes, she brings the warmth of Portugal into kitchens across the province.
In 2012, she opened the restaurant Helena, a replica of the high-ceilinged brasseries found in Lisbon. The cuisine here stands out for its use of local products in traditional Portuguese recipes.
Two years later, she returned to Montreal; this time, with the idea of opening a small neighbourhood market, grocery store and take-out counter in Old Montreal. The small establishment—Cantinho de Lisboa—translates directly as "A corner of Lisbon". Before closing, the shop offered its clientele the excellence of Portuguese products to prepare at home.
In the fall of 2015, following the success of her first cookbook, she released a second book. This tim: La Cuisine d'Helena, published by Éditions de l'Homme, available in French and English. In it, she shares 80 Portuguese recipes to brighten our plates, from summer to winter.
Portus 360
That same year, she announced the move of her first restaurant, Portus Calle—and it wasn't moving just anywhere. The restaurant—renamed Portus 360—moved into the top floor of the former "Tour de Ville" tower in Old Montreal. The impressive space not only offers an unobstructed view of the city, but does so while rotating 360º.
Today, Helena continues to share her love for Portuguese cuisine in the kitchens of Helena, her personal project, as well as Portus 360. An inspiring and generous personality, she stands as a model of hard work and perseverance alongside her male colleagues.
L'Érable du Québec Q&A
How do you prefer to work with maple? "I particularly like maple in vinaigrettes, sauces, desserts and glazed meats."
When was your first memory of maple? "When I arrived in Quebec. I worked for a long time in a daycare center and I discovered this product while cooking for the children."
How do you use it in your cooking? "As much in my savoury menu as in my sweet menu. I put it everywhere to give taste to my recipes. I like to use it in sauces and dressings, but I also use it when cooking seafood."
A few questions for Helena Loureiro
What would you be if you were not a chef? "I would definitely be a police officer."
What is your favourite dessert? "Pasteis de Nata with maple!"
Written by Samuel Gauvreau Des Aulniers
Photography by Érable du Québec