Camilo Lapointe-Nascimento: Rising star & Menu Extra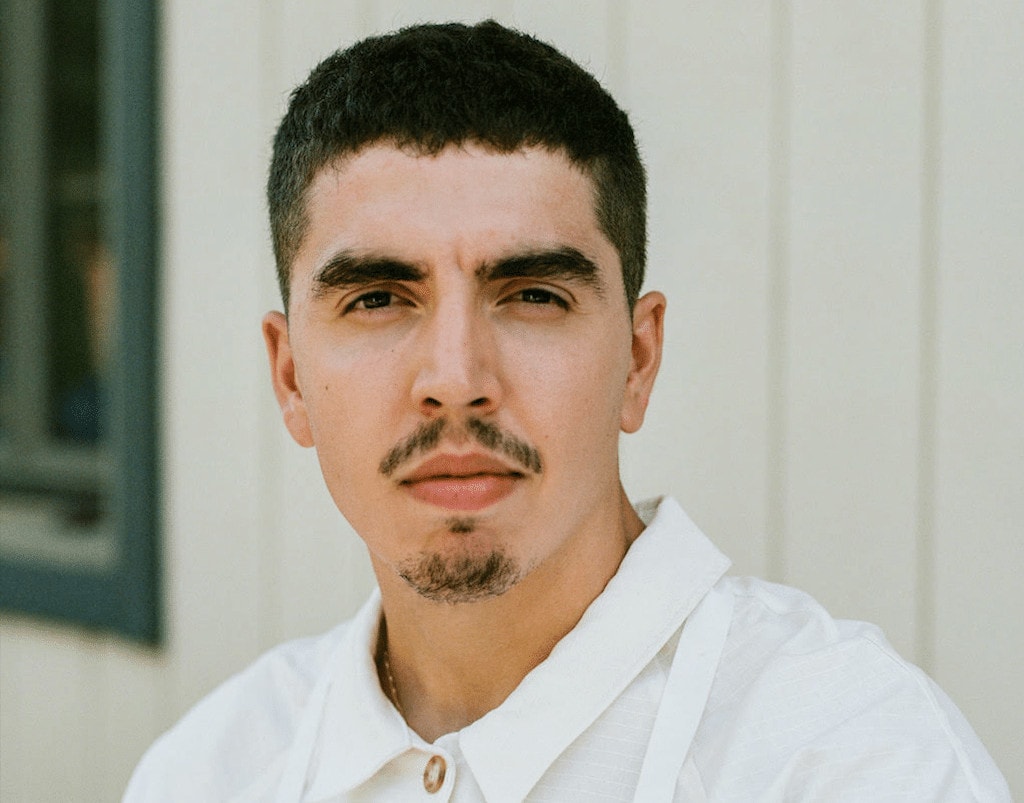 Who is the young chef who won the tenth edition of the popular Quebec show Les chefs! last June? Camilo Lapointe-Nascimento! Camilo is a 23-year-old Montrealer born to a Brazilian father and a Quebec mother.
His career is not limited to his appearance on Quebec's favourite show, however. Camilo's career path actually began far away from the kitchen. When he entered cégep, he wanted to become a director of photography and so decided to enroll in film studies. Unfortunately, his experience was not very enriching as he often found himself working with unmotivated people "who didn't want to move", the exact opposite of his personality.
In the dish pit
His first experience in the restaurant industry was at the Frite Alors! snack bar, a student job he got while he was still in school to earn some pocket money. He then applied as a dishwasher at chef Martin Juneau's famous Pastaga restaurant where he was initially turned down because the team was full. To his surprise, Francis Duval called him back 45 minutes later to offer him a position as a dishwasher at the Sir Joseph Pub, where he was a partner with Martin. Camilo worked there for two years to earn money for his film projects, but his dreams of a career in film slowly faded over time.
While working at Sir Joseph Pub, Camilo had the opportunity to meet some of the biggest names in the industry; John Winter Russell being one of them. Russell, a forerunner of pop-up events at the time, was a true inspiration for the young chef. Francis Duval, for his part, became his mentor and taught him to trust himself.
Cul Sec
When he left the Pub, he received a call from Francis offering to join him and Martin in a new project, Cul Sec. A brand new concept of a "dining cellar" offering a small, well appointed, luxury canteen menu with private import wines to be consumed on site or to take-out. His experience in this establishment was short, but very rewarding. In one summer, he learned a great deal about hospitality in the restaurant industry and how a chef is valued when not hidden behind a wall. It is at this moment, thanks to this experience and thanks to Francis, that Camilo discovered a true passion for cooking.
Back to school
He decided to enroll at the Institut de tourisme et d'hôtellerie du Québec as a full-time student to further his knowledge in the culinary field. At the same time, he was hired full time at the restaurant M. Mme, a gourmet wine bar, and tried to balance school and work. Although his experience at the ITHQ was not the easiest, he graduated in 2017 following a three-week internship at the restaurant Le Mousso at the very end of his program.
Le Mousso
"The team at Le Mousso had incredible energy, but I had a hard time keeping up and it was very challenging mentally," says Camilo. With no room for error in this establishment, the young chef faced a new challenge and an unusual work rhythm. Following this internship, the co-owner of Mousso, Antonin Mousso Rivard, offered him a position on his team, which he declined, questioning his skills and performance in the kitchen.
He then left the M.Mme and gained experience working in several restaurants including Hoogan and Beaufort. He quickly realized that these places were not for him.
He then decided to take up Antonin's offer and join the team at Mousso. In spite of the very intense work, he managed to overcome his stress and the team became a second family for him. He saw Massimo Piedimonte, Le Mousso's executive chef at the time, as a mentor and the two became fast friends.
Hawksworth Young Chef Scholarship
In search of new challenges, Camilo also participated in the prestigious Hawksworth Young Chef Scholarship competition in Vancouver in 2019, a competition unfortunately little known by Quebecers but very well known elsewhere in Canada. It was a colleague at work who informed him of the existence of this competition and convinced him to register. His mentors and friends, Massimo and Francis, helped him perfect his techniques in the Mousso kitchen for months before the competition. Not only was he selected for the competition, but he was also a finalist in the competition.
During the final round, he was very surprised when the black box was unveiled, the box that contained all the ingredients he must use in his main course and in his dessert. It contained sea bream, Fraser Valley duck sausage, daikon, pumpkin, cipollini onions, passion fruit and Cacao Barry 70% Santo Domingo chocolate. It is thanks to his dish of sea bream with pumpkin purée, potato pavé and marinated daikon as well as his lemon, passion fruit and pear tart with chocolate ganache that he won the prize for best dessert as well as the first position in the competition. A huge surprise and recognition for the Montreal chef!
Despite the numerous glitches he encountered during the finale and the much more experienced competitors, Camilo became the first Quebecer to win this competition. He said that his secret was in the simplicity of his dishes and especially in his technique of incorporating certain ingredients into his sauces. He said he is lucky to have been so well supported by the Mousso team and to have learned so much from Massimo.
Les Chefs!
He then decided to return to work at Le Mousso despite the numerous offers he received following his victory, as he wanted to give back to those who supported him throughout the Hawksworth adventure. Shortly thereafter, Camilo was selected to participate in the tenth edition of Les chefs!, where he won the culinary competition once again. He said that he loved being part of the great team made up of very talented chefs.
Menu Extra
Camilo already knew that he wanted to leave the Mousso after his time on the show. He and Francis had even signed a lease for a space to open their own restaurant, but unfortunately they had to cancel it when the pandemic hit Quebec.
This is how the idea of creating a line of fermented condiments was born. Wanting to raise awareness of the brand while helping Montreal restaurateurs and non-profit organizations, the small Menu Extra team, composed of Alexis Demers, Martin Parizeau, Francis Blais and Camilo, organized numerous gastronomic pop-ups this summer that were located in restaurants and wineries. They raised close to $30,000 which they donated to various organizations including the Quebec Food Banks. Despite the difficult times, "we wanted to live a little festivity while setting up a project for the community," said the young chef.
The future of Menu Extra is one of the brightest. According to Camilo, this new project is a real playground that gives free rein to his imagination and creativity. The next step for him will be to eventually find a permanent location for his business to continue to grow.
At the moment, Menu Extra offers gourmet take-out menus where Pithiviers are the focus in all their forms (vegan, vegetarian, or with duck). To order this classic French dish, which helped the chef win the final of Les Chefs!, it's right over here
Written by Michelle Collette
Photography by Jeremy Dionn et Menu Extra