Chef Jean-Claude Chartrand: Co-owner of L'Orée du Bois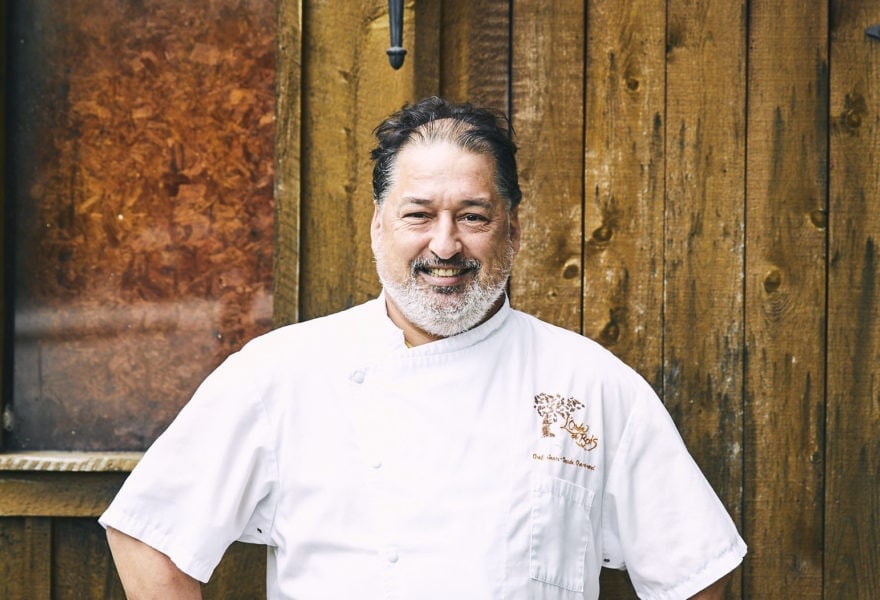 Jean-Claude Chartrand: Did you know that the great chefs of Quebec often use maple products all year round? In an effort to stay local and to highlight the natural flavours of Quebec's terroir, all while respecting the environment, kitchens are opting more and more for Quebec's high quality maple products as an alternative to sugar. This series of portraits will shine light on the great culinary ambassadors of L'Érable du Québec, all of whom use maple products in their cuisine throughout the year.
Jean-Claude Chartrand is the youngest of eight children. Originally from Rockland, Ontario, this French-speaking Ontarian quickly fell in love with cooking. "When you come from a large family, cooking often takes on an important role… you have to feed all these people. Plus, my mother was a real pastry chef! She was the one who made all the wedding cakes in the village of Rockland."
Being the youngest, Jean-Claude spent a lot of time with his three sisters, "They always dressed me up as a girl!" (Laughs). "I was very interested in cooking and soon started spending more time in the kitchen." By the time he was five, Jean-Claude was already making breakfasts! He was constantly with his mother and also took care of the family's vegetable garden. "It was a real vegetable garden to feed the family." He quickly became interested in transforming the food from the garden into products for the table and became very involved in making cakes and breads.
Jean-Claude's five brothers were manual workers and all went into the construction business. To follow in his brothers' footsteps, he also began working in construction. "I hated it. I was in the middle of my teenage crisis, my hair was down to my bum and I was listening to Ozzy Osborne. While I loved cooking, at the time, it wasn't cool at all." Even though cooking wasn't popular, Jean-Claude decided to try it anyway. So he started at Alfred College in Ontario, and he immediately fell in love with the profession! "I'm a trained dietetic assistant; I'm a nutrition technician. That's not what I did at all though, but it gave me a foundation." (Laughs.)
At 18, after graduating, Jean-Claude went to work at Château Montebello. He started as a entremetier, then progressed to saucier, and then to the rotisserie. He stayed for three years and loved the place.
Jean-Claude then asked for a cultural exchange internship with China. He was accepted in 1989, but due to the situation surrounding the Tian'anmen massacre, all international exchanges were cancelled. A year later, he applied for a second internship and was accepted again. He left for Yangzhou in 1990 to study Chinese cuisine and stayed there for four months. In the business school where he was, he took a cooking course. "I realized that I missed my mother a lot. (Laughs.) It was my first time on a plane and I went to China for four months. It was intense."
Jean-Claude experienced culture shock. He was confronted with the great poverty and the completely different use of food by the Chinese. "They eat everything. Everything, everything, everything. It really opened my mind. It was also very political at the time; every morning there were alarms with forced exercises. The Chinese government was very present. I had an awakening to our planet as well as to Chinese culture and cuisine. It is one of the greatest cuisines, in my opinion." This trip left an intense impression on Jean-Claude, and it was also there that he discovered a dish that, adapted, would become one of his signature dishes. "I went to a restaurant and discovered the beggar's chicken. It's a chicken cooked in clay. 20 years later, I prepared it in my own way for the Fédération de l'Érable and won first prize!"
Upon his return from China, Jean-Claude went back to work at Château Montebello. It was his first official job in a team. "I had to learn to survive in a team!" (Laughs.)
Jean-Claude then transferred to Château Laurier, where he stayed for a year and worked with a Scottish chef.
Next, he decided to move to the South of France. In 1993, he left for a year to study sommellerie at the University of Wine in Suze-la-Rousse. "A German gave me a job at the manor of the Roseraie. There were 40 varieties of roses. And I fell in love with Provence: the weather, the gardens, and the quality of the produce — apricots, figs, almonds, black currants… We had a big garden and even a place to let helicopters land. It was beautiful and an amazing experience."
When Jean-Claude returned to Quebec, he worked at the Cercle Universitaire, a private French-speaking club in Ottawa. There, he had the chance to work with two Frenchmen who were passionate about their domain. "They were crazy, they made their own goat cheese, smoked their fish, made their own charcuterie. It was very interesting."
Jean-Claude considered going to work in Russia for a while, but eventually decided to stay and started at L'Orée du Bois restaurant in Chelsea. "I started as a sous chef and was the boss's right hand man. It turned out to be a good choice. The establishment is an institution in the region and the owner, Mr. Guy Blain, was a great French chef. I always dreamed of working for a French chef and Monsieur Blain showed me everything he knew."
L'Orée du Bois is a family business and the owner has four children. Family is part of the company's culture. The Blain family quickly trusted Jean-Claude and quickly involved him in the management and creation of the wine list. "I had more and more responsibilities and I learned a lot." The kids showed no interest in taking over the business and the bosses fell back on Jean-Claude for the succession. "They asked if my wife and I would be interested in buying the restaurant. She was working for the federal government. I told her, 'you're going to double your hours and cut your salary in half!' " (Laughs.) Working in human resources and already helping Jean-Claude a lot, his wife Josée was already familiar with the business and decided to jump in. With the eldest boss, they bought the company. A year later, the couple bought the entire Orée du Bois.
"The most challenging part of being a co-owner is understanding the finances. For me, it's a drug. It's really fun! I always want to perform more." Quietly, the institution is evolving and changing à la Chartrand. "We didn't shout the change of ownership from the rooftops; we did it quietly and gently. And we were very successful."
Jean-Claude then began to win the competition of the Fédération des producteurs acéricoles du Québec, which has since become Les producteurs et productrices acéricoles du Québec. "It brought me a lot of visibility." He then participated in a contest for the Haeberlin Brothers at the Auberge de l'Île — a three-star Michelin restaurant. "We were accepted and went to compete in Strasbourg. And we got crushed!" (Laughs.) "But it was a great experience. We were small, exotic Quebecers for them. Two years later, we participated again and we lost again, but with more dignity this time!" (Laughs.) With these contests, Jean-Claude understood that he was gaining a lot of visibility. In 2016, he decided to participate in the Combat des villes and made it to the grand finale. "It was great visibility, and an incredible experience. That year, my wife even told me that we could buy an oven! (Laughs) We're always trying to improve… This year, we're redoing the deck…"
A few questions for Jean-Claude Chartrand
What job would you do if you weren't a cook? "I would be in a band. I don't play any musical instrument, but I would love it."
If you could cook one vegetable for the rest of your life, what would it be? "Asparagus."
If you could cook one meat for the rest of your life, what would it be? "Duck."
If you could cook only one fish for the rest of your life, what would it be? "Halibut."
What is your favourite food? "Chinese… I really like Chinese food!"
Where would you go tonight if you could go anywhere in the world? "Istanbul."
Where would you live if you didn't live in Chelsea? "Hong Kong."
L'Érable du Québec Q&A
What is your favourite thing to cook with maple? "My chicken in clay. It's my own creation."
What is your first memory with maple? "Going to eat in a sugar shack. I loved all the small crepes."
How do you most often eat maple at home? "Popcorn! I make a maple popcorn with fleur de sel, it's so good! And of course with pastries, any kind."
Written by Jean-Philippe Tastet