Pumpui's Green Curry with Fish Balls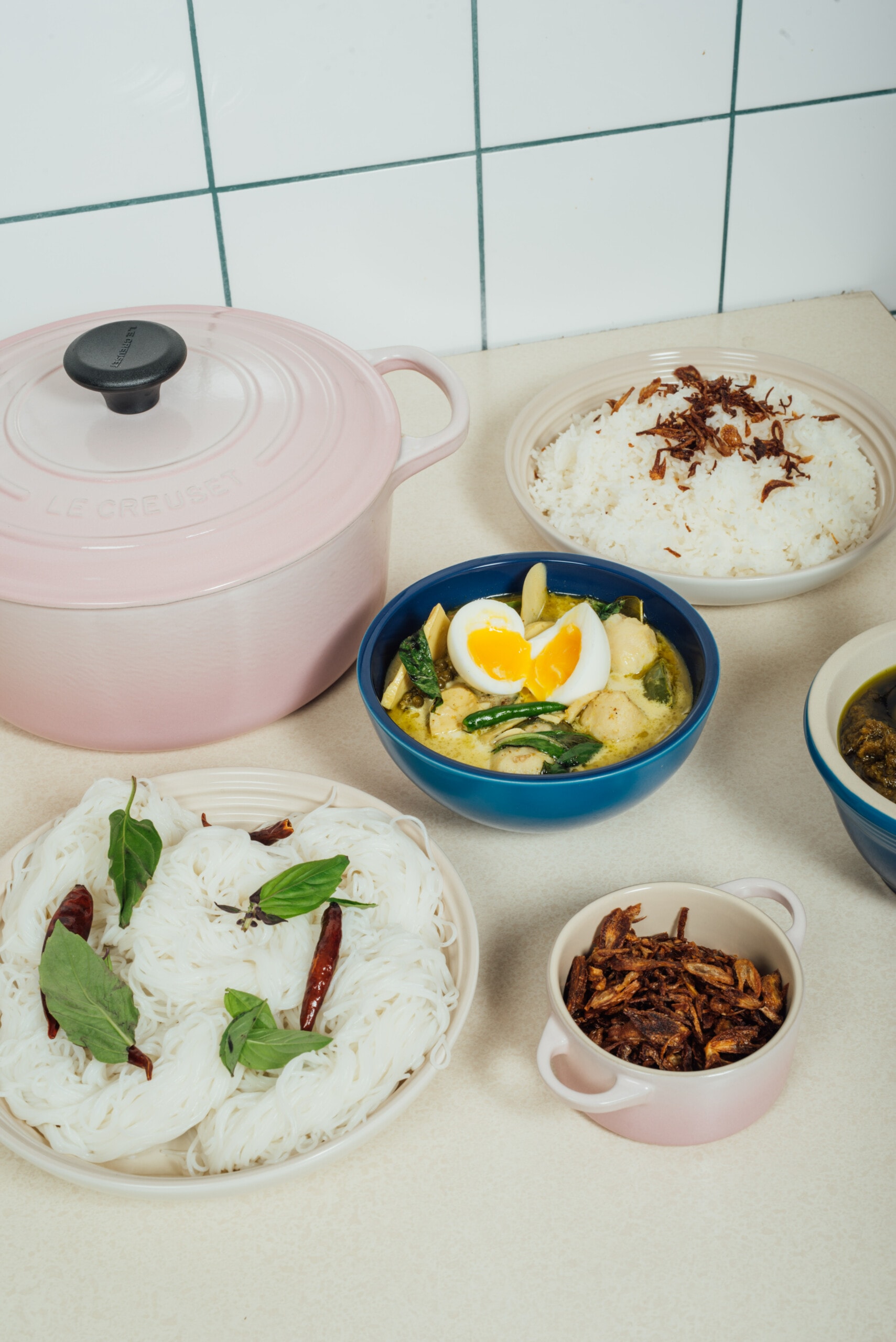 Pumpui's green curry with fish balls is unforgettable!
The chef—Jesse Mulder—explains, "Also called Gaeng Kiaow Wan Lookshin Pla, this curry is one of the most popular in the entire Thai culinary repertoire. Its roots are firmly planted in Bangkok and central Thailand. Most foreigners love this curry, which can be found in almost every Thai restaurant in the world outside of Thailand; curiously, however, it is not often served with fish balls as in its country of origin.
This version is faithful to the original, especially when eaten with kanom jeen noodles (rice vermicelli noodles), but it is also perfect served with a plate of rice. This is the version we serve at Pumpui and it is made with the included curry paste recipe.
You can of course use store-bought curry paste, but making your own is quick, easy and the end result will be much more delicious. To pound the paste, use a mortar and pestle if you have one or blend the ingredients in a food processor until smooth.
The ingredients for Pumpui's green curry paste should first be cut into small pieces to make pounding or processing easier. It takes a bit of extra time to chop everything by hand, but you'll save a lot of time and effort if you use a mortar and pestle, not to mention a food processor."
Green Curry with Fish Balls
Serves: 6
Preparation: 45 minutes
Cooking: 20 minutes

Ingredients
Krueng Gaeng (curry paste)
175 g green serrano or jalapeño chilies, seeded and sliced
40 g Thai green chilies, sliced
20 g galangal root, thinly sliced
20 g lemongrass, thinly sliced (only the bottom 12 cm of the stem)
7 g makrut lime peel, thinly sliced
15 g fresh turmeric, sliced
10 g coriander root or stem
50 g garlic
85 g shallot, sliced
10 g krachai, sliced (also known as Chinese keys)
10 g coriander seeds, toasted
20 g cumin seeds, toasted
10 g white pepper
20 g shrimp paste
Vegetable or coconut oil for frying
3 tbsp. fish sauce
3 tablespoons palm sugar (brown sugar is an acceptable substitute, white sugar if needed)
Curry
2 L coconut milk (in a box, not canned)
1 L coconut cream (in a box, not canned)
1 L water or broth,
3 tablespoons fish sauce, or to taste
4 tablespoons palm sugar, or to taste
Reserved green curry paste
1 kg of fish balls, preferably purchased from a reputable fish ball maker (if you are in Montreal, purchase Crystal Foods, Inc. fish balls)
15 to 20 Thai apple eggplants (green and the size of a golf ball)
250 g bamboo shoots, sliced
15-20 fresh makrut lime leaves, torn in half and without the centre stems
5-6 sprigs fresh Thai basil, leaves picked (about 2 cups loosely packed)
Sliced green Thai or Serrano peppers (from about 10 peppers)
Sliced pickled mustard greens, for garnish.
Method
Krueng Gaeng (curry paste)
The ingredients for the curry paste must first be cut into small pieces to facilitate pounding or processing. It takes a few extra moments to chop everything by hand, but you'll save a lot of time and effort if you use a mortar and pestle, not to mention your food processor's motor.
Toast the dry spices in a pan and set aside. When the spices have cooled, grind them to a fine powder in a spice grinder, coffee grinder, or mortar and pestle. Set aside.
Working in batches, pound or grind all the wet ingredients (reserving the shrimp paste) into a paste. If you use a mortar and pestle, don't expect to get a uniformly smooth paste; a few small pieces may remain without any problem.
Add the dry spices and shrimp paste and carefully mash or stir to combine with the paste.
Heat 4 tablespoons of oil in a heavy-bottomed pan or saucepan over medium heat. When the oil is hot, add the curry paste and fry, stirring constantly. As it cooks, the curry paste will begin to darken. Be careful not to burn it. If you need more oil, add a tablespoon at a time. Continue frying for about 7 minutes, until you have a nice separation between the oil and the curry paste.
Add the palm sugar and fry for another minute. Add the fish sauce and fry for another minute. The paste should now be quite dark, almost an olive green or persimmon colour.
Set aside and let cool.
Curry
Pick the herbs and set them aside.
In a heavy-bottomed saucepan, bring the coconut milk, cream, and water to a boil. Lower the heat to a simmer and add the curry paste (if you have an aversion to spicy foods, start with half the curry paste. You can add more later if you find you need more kick, but you can't take it away). Stir to combine, return to low heat and add the bamboo shoots and fish balls.
Peel and quarter the eggplant and stir in. Keep simmering and continue cooking for about 5 minutes or until the eggplants have reached the desired doneness (in Thailand they would not be cooked through, they would still have some bite).
Continue to simmer, adding the fish sauce, palm sugar, makrut lime leaves, half the Thai basil, and sliced chilies.
Check the seasoning and add more fish sauce, palm sugar, or more curry paste to taste. The curry should be slightly sweet and salty, spicy, aromatic and fragrant, and peppered with the basil and makrut leaves. At this point, there should be a nice layer of green oil on top of the curry. This is desirable, and a telltale sign that the curry has been prepared properly.
Remove from the heat and let it sit for 10 to 15 minutes to allow all the flavours to blend well. This curry is usually eaten hot.
Serve with: Kanom jeen (rice vermicelli noodles) or steamed Thai jasmine rice.
The iconic Round French Oven is ideal for so many slow-cooked recipes, and this one is no exception. The sand-coloured interior makes it easy to monitor the browning of the curry paste, and its tall walls help contain all the flavours as it simmers.
Bon appétit!