Olive & Gourmando's Potato Salad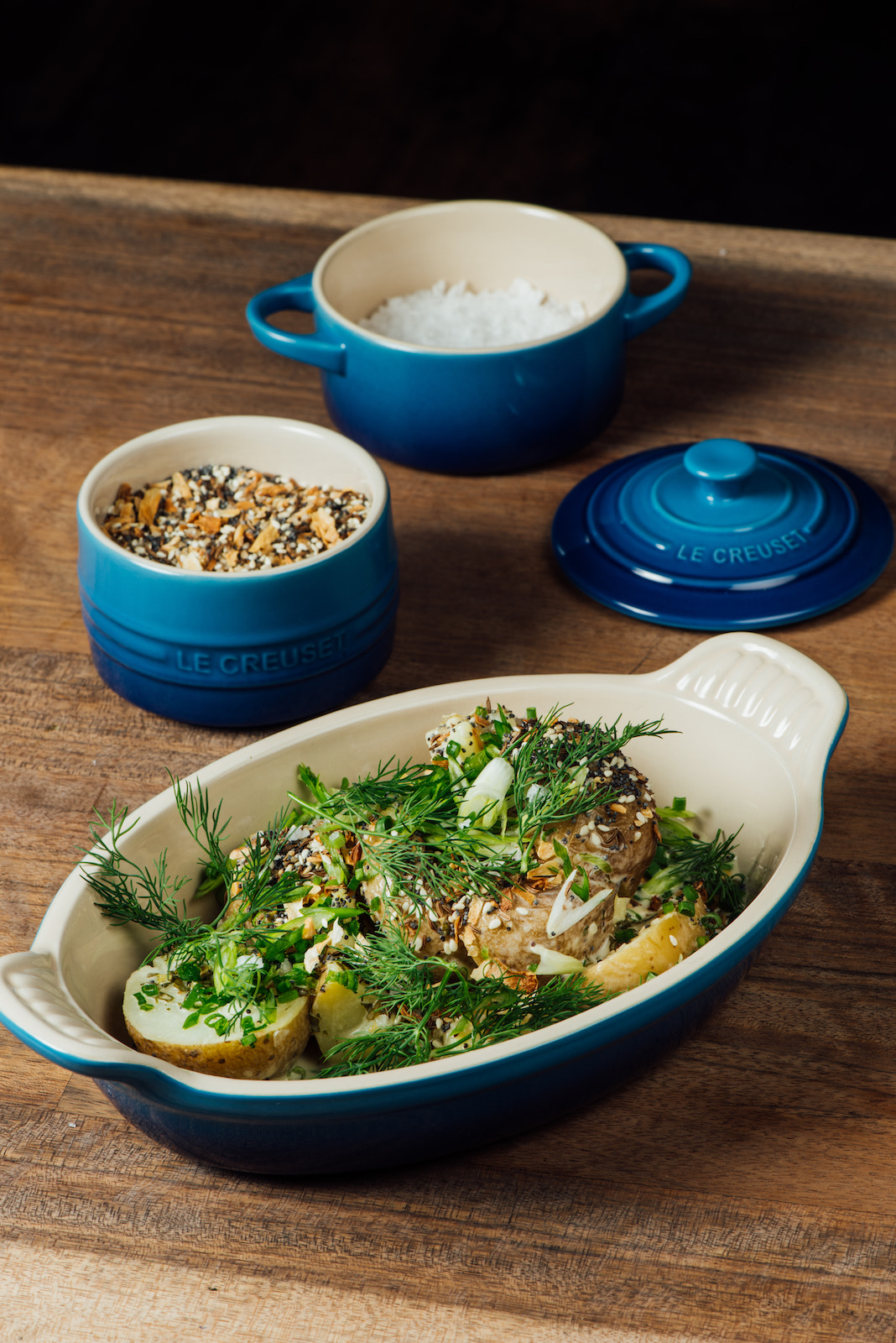 What could at once be more ordinary—or better—than potato salad? Olive & Gourmando's potato salad is one of the most popular dishes at the restaurant. Lucky for us, chef Vanessa Laberge was happy to share her recipe!
Olive & Gourmando opened its doors in 1997! What was then a small neighbourhood bakery has quickly become an address of a whole new dimension. Owners Dyan Solomon and Eric Girard (Foxy and Caffe Un Po Di Piu) work very hard with their team to offer quality products in memorable recipes.
Like everything else at Olive & Gourmando, this salad is a pure delight. We've already given you the recipe for their grilled cheese, their macaroni and cheese, and their irresistible brownies (all excellent). If you stop by for a coffee, a pastry, a salad, or a sandwich at this one-of-a-kind address on Saint-Paul Street, you will be charmed by the unique Montreal atmosphere and the memorable dishes.
Olive & Gourmando's potato salad recipe may seem ordinary, but it is actually quite extraordinary! Not only is this salad vegan and extremely simple to make, but it also appeals to anyone who enjoys the perfect blend of flavours and textures.
Olive & Gourmando's Potato Salad
Serves: 4
Preparation: 35 minutes
Cooking: 15 minutes

Ingredients
Potatoes
20 to 25 medium-sized baby potatoes, boiled and lightly mashed or halved
Spice mix
Creamy vegan dressing
Herbs of your choice (dill, chives, green onions, parsley, etc.)
Maldon salt or fleur de sel
Spice mix
15 g dried onion flakes
10 g dried garlic granules
15 g white sesame seeds
10 g caraway seeds
30 g poppy seeds
10 g of sugar
2 g flower of salt
Creamy vegan dressing
60 mL (1/4 cup) olive oil
80 mL (1/3 cup) cider vinegar
30 mL (2 tablespoons) maple syrup
7.5 mL (1/2 tablespoon) Dijon mustard
10 g (2 tablespoons) salt
Ground pepper to taste
250 g (1 cup) store-bought vegan mayonnaise
25 g (1/3 cup) chopped fine herbs, mixed (dill, parsley, chives)
Method
Potatoes
Preheat the oven to 350˚F.
Mix all ingredients together and spread evenly on a baking sheet.
Place in the oven and roast for 15-20 minutes or until the spices are golden brown and release their fragrance.
Let cool and add salt and sugar.
Set aside.
Vinaigrette
In a blender, combine vinegar, maple syrup, Dijon mustard, salt and pepper.
Drizzle in the olive oil to emulsify the dressing.
Whisk together mayonnaise and herbs in a large bowl.
Pour the dressing over the mayonnaise mixture and stir until smooth.
If the dressing is too thick, gently thin with a few drops of warm water.
Assembly
Pour a little dressing into the bottom of each serving bowl.
In a large bowl, add enough dressing to the potatoes to generously coat them.
Divide the potatoes among the bowls.
Sprinkle generously with spice mixture.
Add herbs as a garnish.
Season lightly with Maldon salt.
Note/Variation
The dressing can be stored in the refrigerator for 2 to 3 weeks.
The spice blend and herbs make all the difference in this recipe. Be generous!
Stylish and oven and freezer-safe, the Heritage Au Gratin dishes are perfect for serving your favourite side dishes like this potato salad. Plus, they come in four sizes to accommodate any size group.
Enjoy!