Valentin Rouyé: The young and talented pastry chef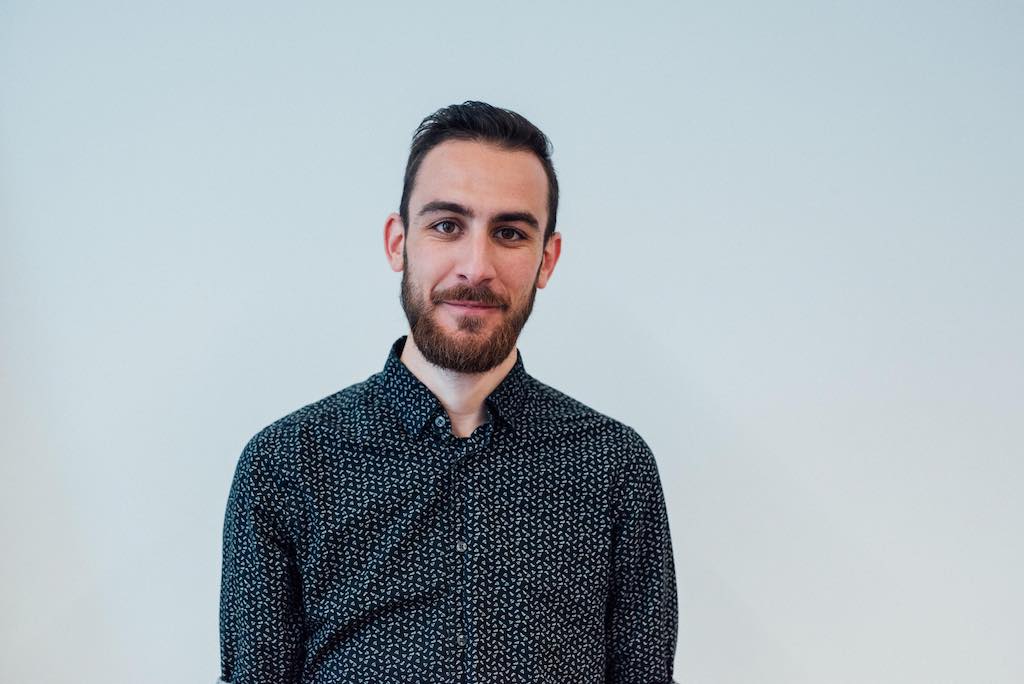 Valentin Rouyé is a talented young pastry chef who is currently in charge of the sweet side of the restaurant Hoogan et Beaufort. Here is our interview with a sensitive and passionate individual who loves his job!
It all started in Brest. Valentin was born in Brest, France (in Brittany) — he didn't grow up with little Vachon cakes, but rather with Breton cakes. Valentin was introduced to the restaurant world early on in his life: his parents, Pascale and Thierry Rouyé (formerly of La Porte and La Table des Gourmets), ran a restaurant when Valentin was a young child. "When my brother and I were very young, our parents would take us to the restaurant and put us right in front of the pâtisserie. I dare say that's where it all started!" Valentin never really thought about what he wanted to do for a living. At the age of 5, he already had a sweet tooth and knew he wanted to become a pastry chef. Since then, this determination has only increased before becoming reality.
A formative course. Spontaneously, when we were discussing his greatest inspirations, the first person who came to mind was his father: "He is the one who passed all his passion for the profession to me. He was the first to train me and he introduced me to the restaurant industry at a young age." After arriving in Quebec with his parents and brother in 2005, Valentin knew he wanted to be a pastry chef, but he still had to get the training. He applied three times to the ITHQ, but the apprentice pastry chef was always refused because of his academic results. In the meantime, he worked with Patrice Demers (Patrice Pâtissier), with Marc-André Jetté (ex 400 coups, ex Newtown, and Hoogan and Beaufort), with his family at the former restaurant La Porte and at Les Trois Tilleuls in Beloeil, in order to gain experience and finally be admitted to the Institute. The fourth application was the right one; Valentin took a pastry course at the Institute which he completed in 2012.
During his studies, Valentin did his internships at the private club 375C with Alexandre Aubin (Moleskine) and at the restaurant Côte St-Jacques in France. It was at Crémy that he got his very first job, outside the family, with chef Rémy Couture. It was only after working at Les 400 coups and Laloux that Valentin landed a job at the M. Mme. restaurant, a real turning point in his career. "The moment I was given my first real chance as a pastry chef was when I worked at M. Mme with Stelio Perombelon and Romain Abrivard who had referred me. It was the place where I was finally allowed to express myself freely. It was a sort of springboard for me and I am extremely grateful," said the chef. Romain Abrivard, with whom Valentin worked at M. Mme, was also a great influence on him: "Romain and I developed a great friendship. He became a bit like my spiritual father in the kitchen!" He also has great respect for Rémy Couture, who gave him his first real chance in pastry. Patrice Demers, Yann Couvreur and Oriel Balaguer are also personalities in their domain whom he admires for their sense of innovation.
A profession based on passion — For Valentin, patisserie is above all a means of expression. "My job is also my home, my refuge. Among my priorities in my life are my family, my friends, and my patisserie profession." The creative process of this enthusiast is based on his desires, his feeling of the moment, and the local products available. His creations are refined, particularly well-balanced, and rich in texture and taste; Valentin skillfully creates desserts that are both classic and modern, and that surprise! "In my opinion, it is very important to master the basics, both in cooking and in pastry making; it is from these that you can create something unique and modern." He believes that the right products can easily transform a simple, classic dessert into something entirely new. "I'm very proud to be Breton; whenever possible, I make a few nods to Brittany in my creations." Valentin's origins are often felt through the products used and the desserts concocted; buckwheat, Breton shortbread, and soft caramel with salted butter are often put in the spotlight.
Now and for the future — Having only recently started at Hoogan et Beaufort, his position in the restaurant represents both a new challenge and a new playground for Valentin. He is in charge of the dessert menu, but also of the catering service. His collaboration with Marc-André Jetté is an opportunity for him to work with a mindset and a personality that he likes, with a cuisine based on respect for producers. "I love what Marc-André does; it's a simple and straightforward local cuisine, but it tastes so good." Over time, Valentin's interest in restaurant pastry-making rather than counter-top pastry-making took shape: "I like the straightforward and very structured side that pastry-making requires. And what I like about restaurant industry pastry is the rush, the adrenaline and the atmosphere in general." Despite this, for Valentin, a dream would be to eventually open his own establishment. "I love everything about my job! Eventually, I would like to open my own place. It's in my projects! There is also my parents' dream and my brother Maxime's dream, which is that I join them in Val David, at their restaurant La Table des Gourmets. We'll see what the future holds."
Valentin is a remarkable pastry chef, sensitive and determined, and one of the most talented in town; one suspects that his journey, like his work, will continue to be remarkable.
*Cacao Barry, a high-end French company that offers some of the most delicate and refined chocolate in the world! Working with cocoa producers and chefs around the world, Cacao Barry offers a range of cocoa products, couverture chocolates, dried fruit products, chocolates from exclusive plantations, and succulent chocolate recipes.
Written by Élise Tastet
Photography by Alison Slattery