Moleskine restaurant : Elegant dining and more on Park Avenue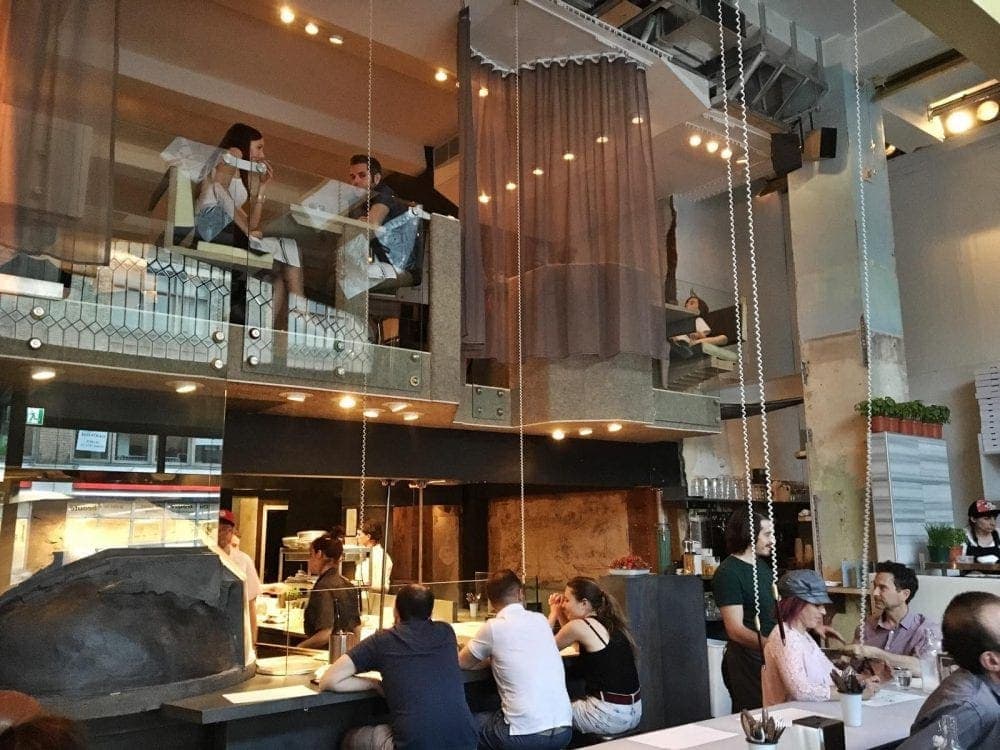 Moleskine Restaurant has been open since May 2016 and is the most recent project from the same owners of the Pullman – Catherine Bélanger and Bruno Braën. It is eye-catching and charming and just a few doors away from the Pullman, at the corner of Parc and Sherbrooke St.
The restaurant decor is what first catches your attention. It is the work of talented designer and co-owner Bruno Braën. Like other establishments designed by Bruno – Pullman, Auberge St-Gabriel, Big in Japan bar, etc. – it is very creative. The main floor boasts a room with an open kitchen and an impressive wood oven. Pencils hang from the ceilings, menus are to scribble on, there are spots like children's colouring books to use your imagination; the space is open and the materials incorporated into the design are stunning. On the next level, it is more stylish and intimate and shows off the use of very high-end materials. The attractive tables are all different styles, with some Moleskine table runners, a few chairs that are reminiscent of the Pullman and you can look down onto the main floor from an expansive opening; it's very attractive! There is seating for around 30 on the first floor and perhaps 40 on the main floor. This is a well-designed restaurant with an atmosphere both family friendly and stylish, lively and comfortable.
The cuisine is perfectly in line with the high level of the restaurant's interior. The renowned chef Frédéric St-Aubin – for 10 years at former 357 – is in charge of the kitchen. On the main floor, there are simple but very well executed dishes with an emphasis on take-out, as well as serving lunch and dinner . Pizzas, chowder, salads, sandwiches, juices, sodas, teas and coffees are all available. On the upper level, the menu has more depth and the dishes are heartier. Choose from appetizers, pizza, pasta, fish and meat options. Our favourites are the homemade sausage, linguini, and lobster gratin. The desserts are also exceptional, especially the chocolate ones.
In the dining room, co-owner and very talented Véronique Dalle, is in charge. She is also responsible for the wine list and pairings, many are private imports – a short selection but thorough. The service is understanding of the two-floor layout and this is evident through the skilfulness of the friendly staff.
Moleskine is the name of a small notebook – a nod to the attractive stationery store next to the Pullman – and interestingly enough, it is also the name of the fabric used in workers' garments, a waxed cotton weave.
Nb Moleskine takes reservations for the upper level.
Written by Élise Tastet