Mélodie Perez-Mousseau: A remarkable pastry chef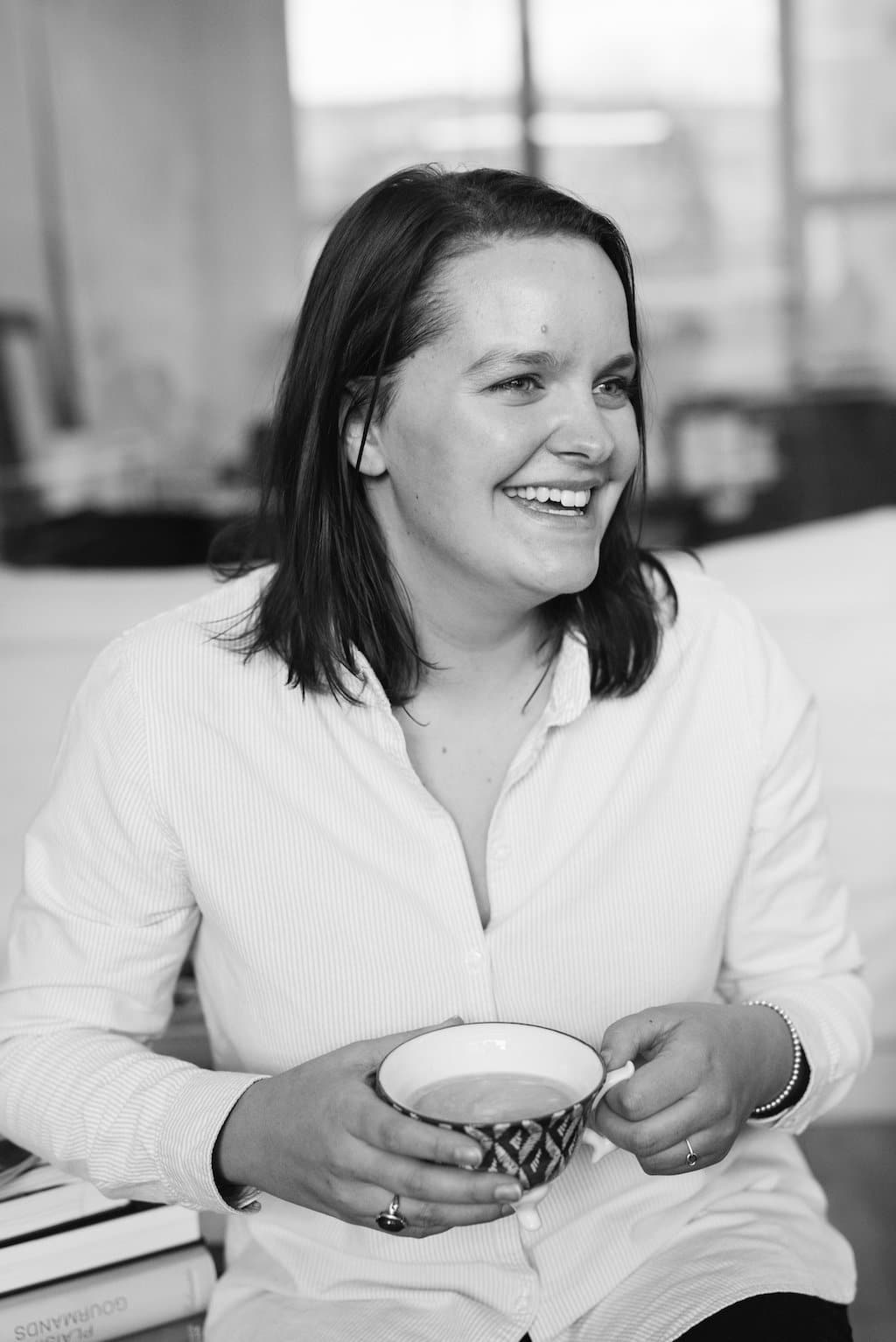 *Update: Mélodie Perez-Mousseau has left the Hélicoptère and Café Hélico team in 2020.
Mélodie Perez-Mousseau is an exceptional young pastry chef, and an integral part of one of our favourite restaurants; Hélicoptère and Hélico café. Portrait of an inspiring, determined, and passionate woman.
A childhood that revolved around food
Mélodie Perez-Mousseau grew up surrounded by good food. Her father, a third generation butcher, has owned the Marché Mousseau in Lavaltrie for years. "I was there all the time in the summer! I used to pack kebabs and do the cash register." Beyond the butcher shop, Mélodie also always dreamed of having her own chocolate shop. "My mother used to cook a lot and I have been interested in chocolate since I was very young. I always liked it and I always thought I would work in the field. However, when I wanted to pursue a cooking class, everyone discouraged me by telling me that it was really a business for guy's."
A few years later, Mélodie started working at Le Cacaoyer chocolate factory in Assomption. She then began training in pastry making at Jacques-Rousseau High School in Longueuil. "I came from a private school and I was a little tired of that environment. I really fell in love with this cooking school." In fact, Mélodie fell in love with the profession of pastry making. "I loved it, it's not complicated!
Her first experiences in restaurants
This love affair led her to her first internship in a restaurant. "I wanted to do an internship in a restaurant kitchen and not a pastry kitchen to see the difference." Mélodie started at Europea with the Meilleur Ouvrier de France, Roland Del Monte, as her mentor. "Working alongside him was extraordinary." However, Mélodie's experience was far from perfect. When she arrived, it was Christmas madness; the restaurant supplies Europea, the now-defunct Birks Café, and two other Jerome Ferrer restaurants. The space was very small and the work was very demanding. "I was exploited. It was not a good team for a girl in the kitchen, it was very difficult. Because of the working conditions, the hours, the pay, and the whole rivalry between cooks and pastry chefs, there aren't many women pastry chefs in the restaurant business. In many kitchens, it's like that and it's not fun. On the other hand, the nice thing is that there are always challenges!"
Following this experience, Mélodie returned to an area she loves: chocolate making. She got a job at the Chocolaterie À la Truffe, in Vieux-Longueuil. "That was so beautiful… There were beautiful big windows and the customers, like the team, were super friendly."
In 2012, Mélodie embarked on a great adventure: she left to participate in the Olympiades des Métiers, a competition for young adults under the age of 21. The competition starts at the regional level, then provincial, then pan-Canadian, then global. She made her way to the world final (!) in Germany, where she competed against 20 different countries. "I dedicated myself to this for a year, and I learned a lot of techniques that I would never have learned otherwise. I always want to achieve perfection and surpass myself. For a year, four days a week, I was doing the same routine over and over again. Sometimes I succeeded, other times I failed. I learned to be extremely rigorous and to manage my stress."
When Mélodie returned to Montreal after the competition, she made her restaurant debut for Éric Gonzalez at Auberge Saint-Gabriel. "He was an excellent mentor! I was 18 years old. I was a pastry chef with two other people and I stayed there for a year." After a few months, Éric left to take over as head of the Enfants Terribles team and Melodie chose to follow him. "But it didn't work for me, and I left before it didn't work at all."
A formative period at Bouillon Bilk
Mélodie then took her resume to Bouillon Bilk and was hired. She was 19 years old and started as a pastry assistant, working alongside pastry chef Marianne Lafleur. "It was the best experience of my life!" Marianne eventually left to work in Australia, so Mélodie was offered the position of pastry chef. "I didn't think I had the experience for that, but they gave me a chance. I loved the research and, by being responsible for the menu and with the confidence that chef François Nadon had in me, I learned so much! François is a sort of genius of flavours. It was very exciting to be able to create for him. The idea of sharing ideas, and then creating a menu the way I wanted it… It was great! With him, my mind opened up and it was always wonderful and really good."
Mélodie began with a simple dessert menu to learn the basics of being a pastry chef at one of Montreal's top restaurants. She stayed at Bouillon Bilk for three years. "At Bouillon Bilk, I loved the privileged access we had to exceptional products, something I might not have had elsewhere. I was always looking for new techniques to take full advantage of the unique products we received."
Next, Bouillon Bilk opened a second address — Le Cadet — and Mélodie's workload doubled from 100 customers to 200 customers. Mélodie therefore faced more pressure in terms of her production. "Towards the end of my time at Bouillon Bilk, I was abandoning my creativity for production, to make sure I reached the standard I wanted to reach. Maybe I should have been less of a perfectionist or let myself go a little more, but I just couldn't do it. I could no longer create something that I liked and that represented Bouillon Bilk. I was finished, burned out, and decided to take a trip."
The birth of Hélicoptère
In order to find some peace of mind, Mélodie left for South America, Mexico, and Ecuador by herself. "I needed to get away from it all." Upon her return, François offered her the position of pastry chef at Bouillon Bilk. She returned in the hope that it would work out again. She stayed for just over six months before realizing that she could no longer do the job she had loved; so she made the decision to leave. Her friend and colleague David Ollu also chose to leave Bouillon Bilk, and together they decided to embark on a project together. "We really wanted to continue working together, but I was done with the restaurant business. I wanted to work during the day and David was aware of that."
David began looking for a space that would be suitable for the future restaurant. Eventually, David found the perfect space, in the neighbourhood of Hochelaga; Mélodie said yes and they embarked on the adventure of opening not one, but two establishments!
And then, by chance, Mélodie became pregnant. "It really was a surprise! It was very bad timing. I had just said two weeks earlier that I was embarking on the project, so we had to find someone to replace me, but fortunately, Natacha Lehmann from the Plaza came along with her resume by pure chance. It was perfect, because we always wanted to work together; so she started with us right away!"
"When we walked into the space, the space wasn't very nice, not very clean, not very anything! (Laughs). All of Hélicoptère's renovations were done by hand. This project was the result of a great team effort; all the people who supported David showed up and we felt like it was going to work."
And that's what Melody liked most about Helicopter and Hélicoptère; starting from scratch. "Unlike Cadet or Bouillon Bilk, David was 30 years old, the whole project was on his personal savings and we had very small budget. We gave everything to this place and I'm pretty proud of what we came out with. However, I was getting bigger and bigger and increasingly less patient! (Laughs). I felt like a not-so-good intern and if it wasn't for Natacha, I wouldn't have been able to take part in this adventure. In theory, I was the pastry chef, but in reality, it was her."
A team project
This dedication to the project and team spirit are at the heart of what Mélodie loves most about Hélicoptère and Hélico. "What's great about Hélicoptère is that everyone works as a team: kitchen and service, cafe and restaurant. The tips from the cafe and the restaurant are evenly shared between the waiters and the kitchen. It gives you a sense of the spirit of the place, the wages are adjusted and makes for a more enjoyable restaurant experience for everyone."
From the moment they opened in the summer of 2018, the restaurant and cafe received a warm welcome from the neighbourhood. "It's not complicated, I love everything about this project! (Laughs). I love that we started from nothing, that it's rolled out so much in such a short period of time, that we've had so many great reviews. I didn't think the neighbourhood would love us so much so quickly. People have told us how happy they are that something fun has opened here. Because in Hochelaga, there are more and more small families — in fact, there are a ton of them. We're getting great feedback and it's reassuring to see that David didn't put this effort in for nothing. We have a great team who shares a beautiful spirit and vision."
Art and pastry making
Mélodie is an extremely talented and creative pastry chef, whose attention to detail characterizes the sweets she makes at Hélico and Hélicoptère. Generous and committed to her team, Mélodie had to give up her position to Natacha during her pregnancy. "What I like most about my job is research and development. But for Hélicoptère, it's really Natacha who has carte blanche. In my pastry career, François trusted me, David trusted me and it's my turn to trust her. She has the same kind of experience as I do, the same ideas, and the same age; we have a lot in common and we help each other in our creative processes."
Through her years in pastry making, she has also discovered an artistic streak. "I don't consider myself so much a pastry chef, but more of a pastry maker. All my life I've said I suck at drawing and art, but the older I get, the more I realize it's the opposite. Baking has really brought out that artistic side in me. I realize that what I love to do most is to make good plates, but also beautiful plates! I have a lot of fun thinking about and creating a plate based on the ingredients that go into it." And this pleasure in creating beautiful and good things earned her the Gault et Millau award for best pastry chef at only 22 years old.
"What you eat is important, but in a meal you always remember the dessert because it's the last thing you ate. Having a great experience from A to Z — from appetizers, to cocktails, to entrees, and ending with a great dessert, you can only go to bed happy! You definitely had a great night."
She's right. We always have a great time at Hélicoptère and we're always happy to enjoy their sweet creations. From appetizers to desserts, we enjoy original and delicate delights, prepared by a charming and talented team.
*Cacao Barry, a high-end French company that offers some of the most delicate and refined chocolate in the world! Working with cocoa producers and chefs around the world, Cacao Barry offers a wide range of cocoa products, couverture chocolates, dried fruit products, chocolates from exclusive plantations, and succulent chocolate recipes.
Written by Marilou Nantel
Photography by Alison Slattery