Lisa Yu: An exceptional maker of exquisite desserts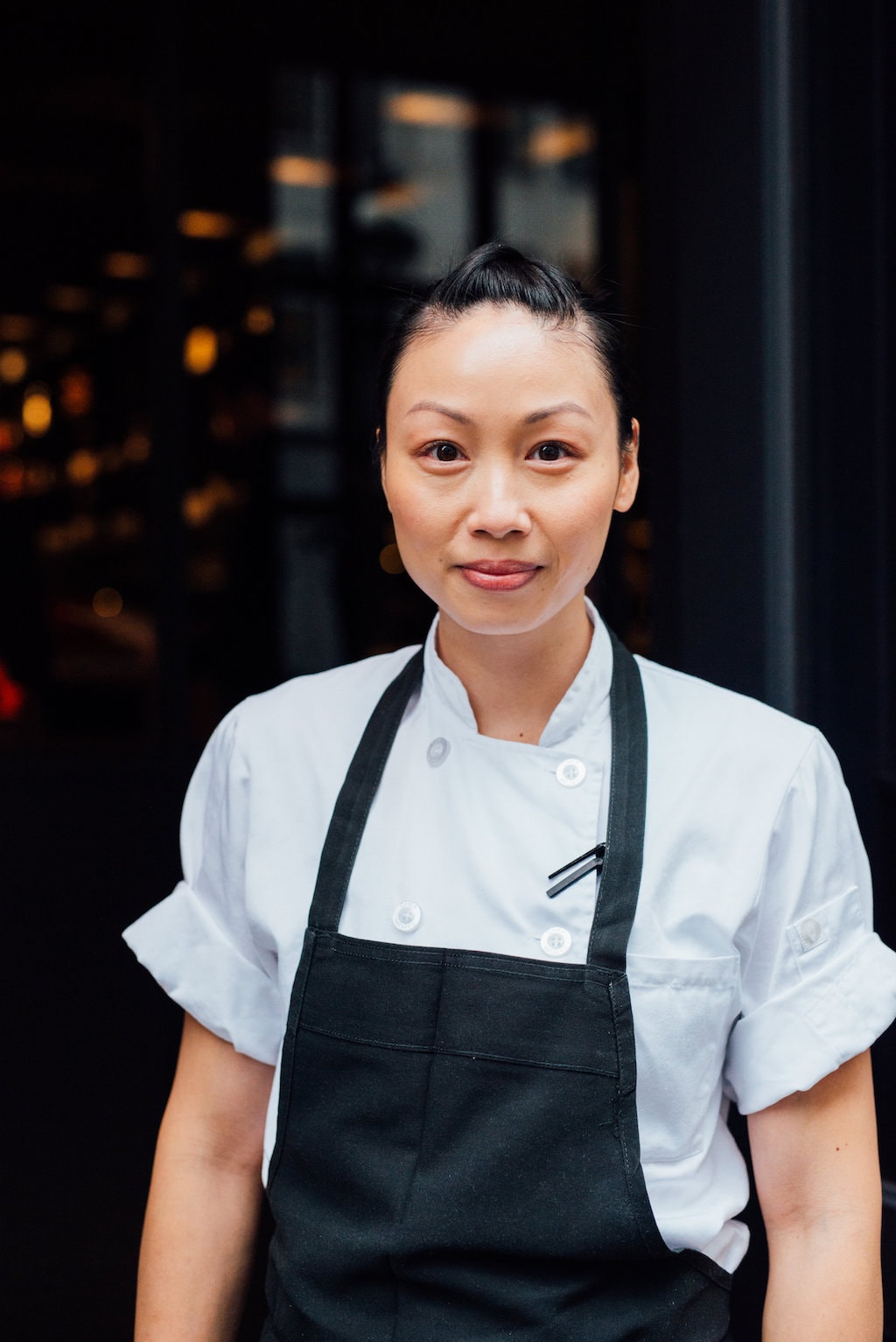 Lisa Yu is the pastry chef of the splendid Monarque restaurant. Her passion for pastry and baking, as well as her know-how, make her an outstanding maker of desserts that combine refinement, flavour, and simplicity.
Lisa was born on Vancouver Island and grew up with her grandmother. Having been exposed to cooking at a young age, her interest in cooking was sparked early. "I have always loved food! I was constantly in the kitchen at family dinners. When I was in my 20s, I started to cook more seriously and learn the basics of cooking. I then attended Vancouver Community College, where I received my culinary degree and my pastry degree."
During her training, Lisa got a job at Swiss Bakery, where she worked for three years. It was there that she had an extraordinary experience; Lisa was just starting out in the kitchen and learned a great deal about artisan bread making. She also discovered a great passion: baking. "The owners of this place gave me such a great opportunity to learn when I was still very young! They really taught me everything about bread. I loved working there. To this day, I still feel a lot of gratitude for the owners of this bakery."
Her time in Toronto
After her time at Swiss Bakery, Lisa was looking to gain experience in the restaurant industry. She began working at Feenie's, also in Vancouver, as a pastry assistant. "The atmosphere in the Feenie's kitchen was completely different from a bakery. I was surprised by how busy the place was; it was loud and so overwhelming! There was a strong team spirit, everyone worked together and had a lot of fun in the kitchen." It is also where she met her future partner in love and business, Jérémie Bastien.
During the year that Lisa worked at Feenie's, she didn't get to see her friends very often because of the long hours of the job, especially on weekends. She began looking for a change and a new experience. "My sister lived in Toronto and I decided to move there to work. I got a job at the Auberge du Pommier and at the Thuet restaurant-bakery. At the Auberge, I was able to experience working in a more corporate atmosphere. We hosted a lot of large groups and we were always very busy. It was a great challenge to produce a very large quantity of various desserts, all at the same time. I learned a tremendous amount there." While also working two days a week at Thuet, the restaurant-bakery allowed her to stay connected with a different world, but one that she loved equally: bread.
Vancouver and haute cuisine
After her year in Toronto, Lisa returned to her hometown. She got a job at West Restaurant, where she had the chance to learn more about gourmet cooking for a little over two years. "I loved being back in the Vancouver food scene. This type of cooking forces you to pay attention to the smallest details in every dish you make. Fine dining teaches you that it's those small, very specific elements that make all the difference in a dish." After this experience, Lisa headed to Boneta restaurant, where Jeremie was a chef, to work for a while as a pastry chef. This was a seminal experience in her professional career, where she learned to play this new role in the kitchen and encountered the challenges of being responsible for all things sweet.
The Australian gastronomic scene and the return to Montreal
At Boneta, she and Jérémie, who were a couple at the time, worked as a duo for the first time. At a certain point, they felt the need to experiment and discover other places in the world; prompting them to take the plunge for a year-long trip to Australia. "We wanted to be exposed to new and different things. So we applied for a one-year work permit in Australia. Once we got it, we started our trip with three months in Asia, then we went to Sydney, and finally to Melbourne. I loved the city; not only is it beautiful, but its food scene is incredible. There's a high demand for restaurants there, so the offerings are high quality and very diverse."
In Australia, Lisa worked at Kakawa and Cacao Chocolates, as well as at Flying Fish restaurant. "During my year in Australia, my goal was to improve my chocolate skills. These experiences really helped me develop the skills I needed to manage everything chocolate at Monarque," she explained.
At the end of their work visa, Lisa and Jérémie had to move and decided to settle permanently in Montreal in 2012. They both worked at Leméac, the restaurant of Richard Bastien, Jérémie's father. At the same time, the young pastry chef was looking for a job elsewhere, as a way to get back in touch with the sweet stuff. "I remember being very persistent in going back to Les Chocolats de Chloé several times to see if they needed someone. Unfortunately, Chloé didn't have a position for me, but she suggested I go and discover her friend Stéphanie Labelle's new pastry shop. So I went to apply at Rhubarbe and was lucky enough to work there for seven great years."
"It was really nice at that patisserie. I loved the fact that everything was homemade and handmade by a small team. It's admirable how locally focused Stephanie is; everything she makes to make her pastries, she prepares in the summer when everything is as fresh as possible." While she learned a lot at Rhubarbe, the years she spent there were also the years that Jérémie and Richard were slowly preparing for the opening of their new restaurant, Monarque.
The Monarque adventure
"Jérémie and I had been talking about the idea of Monarque for a long time, but I was hesitant to embark on the project. I had no experience in a project of this magnitude! Finally, I saw the confidence that Jérémie and Richard had in me and I decided to jump on board." As soon as the establishment opened in 2018, Lisa officially became the chef responsible for the dessert menu of one of the most splendid restaurants in Montreal and one of the best French restaurants in town.
Today, in the beautiful kitchens of Monarque, Lisa invents refined sweets that are extremely well executed and have a comforting simplicity. "I like to keep things simple, like if someone came home unexpectedly and we made them a simple dessert. I love to serve nothing more than a slice of pie or a classic crème caramel, with simplicity." Indeed, meals at Monarque end beautifully with Lisa's excellent desserts. When tasting the irresistible delights she makes, one can see her talent and know-how that allow her to create refined, textured, balanced and surprising dishes.
The love of pastry
What Lisa loves so much about pastry is the entire process of making a dessert. Just like baking, making desserts requires careful attention and the use of many senses. "It takes a lot of patience to get a good result. It's only when you see the finished product that you know if it's a success or failure. When it doesn't work, it makes you rethink all the steps; it's a constant process to find the perfect way to execute a pastry," she explained.
When it comes to her favourite desserts, Lisa has a soft spot for two classics: crème caramel and pavlova. "I love simple egg and cream desserts. A well-made crème caramel, with a rich, dark caramel, just sweet enough and not overcooked, for me, is an exquisite dessert. Pavlova, on the other hand, was really a part of my teenage years, back when I was watching a lot of cooking shows with Jamie Oliver and Nigella Lawson. I would see all these images of pavlova and I would often make it at home. It's a very moist and voluminous dessert; it always looks like a big portion!"
When asked about Monarque and her role as pastry chef, Lisa tells us about the fun she has in the kitchen, the challenges they face, and what excites her most about this big new project. "I think the role of pastry chef always comes with a little pressure. Working with such a large team, I'm still learning to delegate and accept that I can't control everything that is made. On the other hand, the beautiful thing about this big project that is Monarque is that I have realized that I can do it! Despite the doubts, the stress, and the long hours, I did it and it makes me really proud. I'm lucky to have such a strong team by my side. I couldn't ask for more!"
Lisa Yu is passionate and it shows. She says she looks forward to Monarque's next few years, hoping that people will continue to visit and enjoy their experience. Curious, meticulous and incredibly talented, Lisa is a pastry chef who is a major contributor to Monarque's promising future. Her desserts perfectly illustrate her unique way of combining simplicity and refinement with inventiveness and originality.
*Cacao Barry, a high-end French company that offers some of the most delicate and refined chocolate in the world! Working with the best cocoa producers and the greatest chefs in the world, Cacao Barry offers a wide range of cocoa products, couverture chocolates, dried fruit products, chocolates from exclusive plantations, and also succulent chocolate recipes.
Written by Jean-Philippe Tastet
Photography by Alison Slattery