Olivier Perret: Chef & ambassador of L'Érable du Québec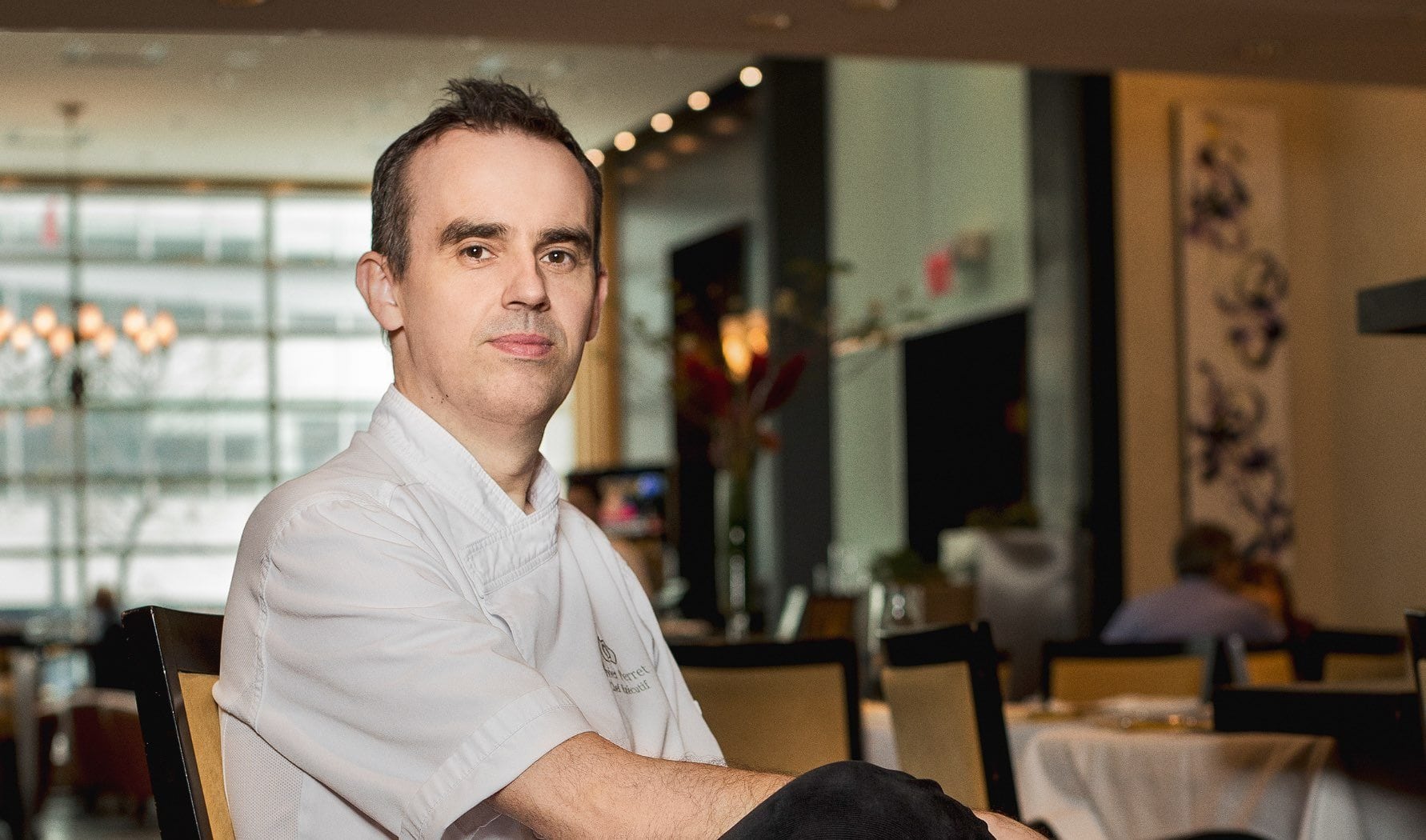 Olivier Perret: Did you know that the great chefs of Quebec often use maple products all year round? In an effort to stay local and to highlight the natural flavours of Quebec's terroir, all while respecting the environment, kitchens are opting more and more for Quebec's high quality maple products as an alternative to sugar. This series of portraits will shine light on the great culinary ambassadors of L'Érable du Québec, all of whom use maple products in their cuisine throughout the year.
Olivier Perret is the executive chef at the chic Renoir restaurant in downtown Montreal. The man is the perfect example of how to be a great chef while remaining humble. While Olivier is one of the best chefs in town, he has managed to maintain his own style while developing friendships with the people he has met along the way.
Born in Burgundy, Olivier Perret spent his youth in Chalon-sur-Saône, between Dijon and Lyon, France. Olivier grew up in a family of four children where no one came from the restaurant industry or hotel business; his taste for cooking simply came from his grandmother. "My father's mother had 10 children; she had a farm and cooked for everyone. She was the one who first inspired me. I had cooking in my genes and she put it in my head."
Olivier Perret began his baccalaureate in France in electrical engineering (!) "Mind you, I only passed half of the tests, I don't have my baccalaureate. I was a bit, how should I say… rebellious!" If you know Olivier, a respectable man who is always on his game, full of humility and with an incomparable talent and kindness, this comment is pretty funny.
During his studies, Olivier worked for two years in the markets and really fell in love with the job — especially with the products. "We grew mushrooms in an old tunnel and sold them at the market. I loved that experience." However, wanting more, Olivier decided to leave for Lyon, the gastronomic capital of France.
By chance, he then discovered a course at a private school that would allow him to learn the real job of a chef. "I did a CAP at the private school. I did the lunch service, went to class in the afternoon, then took over the evening service. I worked at the restaurant Le Tassé." Following this experience, Olivier left to work at L'Eurexpo, Lyon's most important trade fair and one of the largest gastronomic shows. "I was happy, but once again, something was missing."
In 1994, Olivier Perret arrived in Montreal. Why Canada? "I was a Scout (laughs); and when we came to Canada, I really liked it. I also came to spend three weeks in Rougemont to do the orchards and in 1990, I hitchhiked across Canada from East to West (!) I found the country so beautiful that I told myself I would like to live there."
Olivier began his Quebecois experience at the restaurant Le Bernardin (corner of Hutchison and Bernard) where he stayed for a year. "I earned less than $10 an hour, that's what it was like back then." He then worked at Le Monthelie (now Restaurant Christophe), then at La main à la Pâte, followed by a few other small addresses. "I changed establishments a lot between 1994 and 2000. I went to the Sheraton – my first hotel experience, with banquets! Then I went to the Delta downtown. Those experiences helped me understand that part of the restaurant industry."
His favourite part of his experience in Quebec? "I came from a very rigid structure in France. You don't become a chef overnight. Here it was possible. If you moved around a bit and played your cards right, you could go from cook to executive chef in no time. There was a lot more improvisation, a lot more room for creativity. The chefs could go further with their ideas, and have fun with the products. After living in Europe and the United States, I still believe that Montreal is a happy mix of French rigour and American freedom. On a personal level, before I took on more responsibilities like I do now, I felt like I was always on vacation here. It's more relaxed. Now, with responsibilities, marriage, and children, it's different!" (Laughs.)
His biggest challenge? "The precariousness of the environment. Somehow, my French cooking base served me well and allowed me to evolve more quickly in the milieu, but I had to get along with people. Note that there is a lot of luck and a lot of work behind my journey."
In 2002, Olivier Perret participated in the opening of the Renoir restaurant and this was his start in the Sofitel hotel adventure. He started as a cook, then quickly became an evening chef. Very soon after, Olivier met his wife and they got married — "it's been 15 years! She's my muse."
Soon after, however, he got a job as a sous chef at the Sofitel restaurant in Chicago and left Montreal for the United States. It wasn't long before Olivier became executive chef and stayed for two years. "Being an executive chef is a lot more administration!" He loves Chicago for its food culture, its restaurant industry, its creativity, and much more. "I'm a jazz fan and I was fulfilled there. The culture is super cool; there are jazz clubs, blues clubs, an outdoor opera house, lots of museums. Also, the people are so nice; when we arrived, they came to introduce themselves and ask us if we needed anything. It was the first time I experienced that, I really liked it."
His biggest challenge in Chicago? "The pace of life. The business was non-stop. Montreal is a small city. In Chicago, it never stops. We had one or two weddings a weekend, a three-story banquet space and two restaurants, twice the size of Renoir to manage, year-round. I worked all the time; 15 hours a day. It was hard, but I did it. I learned to work very hard there."
Olivier Perret then got the job as executive chef at the Sofitel restaurant in Washington! The restaurant he took over was very gourmet and much more traditional. Olivier loved the quality of life in this position: "Monday through Friday, we were very busy, but every weekend, people would leave and it was more relaxed. I had a lot more time off and it was quick and easy to get out of town. I had just had my two kids, so it was convenient for me." In D.C., he also rediscovered his love for markets and went to unique places to pick up his produce. "I loved it."
Still, not everything was perfect. "People were very careerist. They work together and are courteous, but nothing more; it's not as friendly. I also found the tastes of the customers to be very traditional. People like some things and not others, the clientele was quite picky. There is not much room for novelty and inventiveness. I had also been away for five years and my wife was getting homesick. She's a Quebecer; she was anxious to get home."
Olivier Perret was then offered the position of executive chef at the Renoir restaurant in Montreal and he returned. "It's been 7 years now! It's pretty cool to have come full circle. What's nice is that today, I have the chance to do my job with a great team. I have kids who have a great quality of life, the chefs in Montreal are nice, my wife is happy, and so I'm happy."
"The hardest part of being a chef is setting an example. When you have a big team that relies on you, you have to be disciplined, rigorous, punctual, have good hygiene; you remain the example to follow, you can't appear in a bad light."
"I have my style, but I get along with everyone." Olivier's vision was to create a restaurant whose cuisine would be French-inspired with a Quebecois accent — he succeeded! In 2018, Olivier Perret was awarded the prestigious title of Master Chef of France and Le Renoir is one of our top French restaurants in Montreal. "I always want to establish a link between French gastronomy and the Quebecois terroir. It's important for me to offer a French-influenced menu, but to work with local products and local youth. The only thing that is not easy here is winter. My father is a craftsman and he always taught me to make do with what you have; even when I was working in the markets outside, you always had constraints; under any circumstances, you always have to adapt."
In any case, the chef will continue to wow us with his cooking at Renoir, and we will continue to admire his great class in everything he does. Thank you, chef.
A few questions for Olivier Perret
What vegetable would you cook for the rest of your life? "It's not a vegetable, but the tomato."
What meat would you cook for the rest of your life? "Porc."
What fish would you cook for the rest of your life? "John Dory."
Where would you go on a trip tonight? "Australia. I haven't been there in a long time."
Where would you go to eat anywhere in the world? "At Louis 15, in Monaco, at Alain Ducasse's."
Savoury or sweet? "I would be more sweet, but I can't anymore.
Where would you live anywhere in the world? "In Montreal or Rio de Janeiro, Sao Paulo, Baya, I would make a Brazilian life for myself — I could start a new life there.
What job would you do if you weren't a chef? "I dream of doing a lot of different jobs; every 10 years you should be able to change jobs. I would have liked to be a photographer, but I was lousy at it! (laughs)"
L'Érable du Québec Q&A
And what about maple syrup? "I tasted maple syrup for the first time when I was a Scout! In France at the time, we didn't have maple syrup, we didn't know it. I discovered this product here and I loved it. I now use it a lot in braises, like in our braised pork, in fish broths, in vinaigrettes, desserts, etc. We use maple syrup a lot!"

Your favourite dish with maple syrup? "Braised pork shoulder with spices and maple syrup."
Your favourite thing about maple syrup? "Maple syrup is well used in Quebecois cuisine, but my favourite thing is to introduce it to people from elsewhere, to European chefs. Christophe Bacquié, for example, loved it — we worked a lot on maple water when he arrived. What's cool about maple is that you can customize the product. People are crazy about it!"
Written by Jean-Philippe Tastet
Photography by Sofitel Montréal Le Carré Doré