Laurent Dagenais and his cookbook "Toujours faim"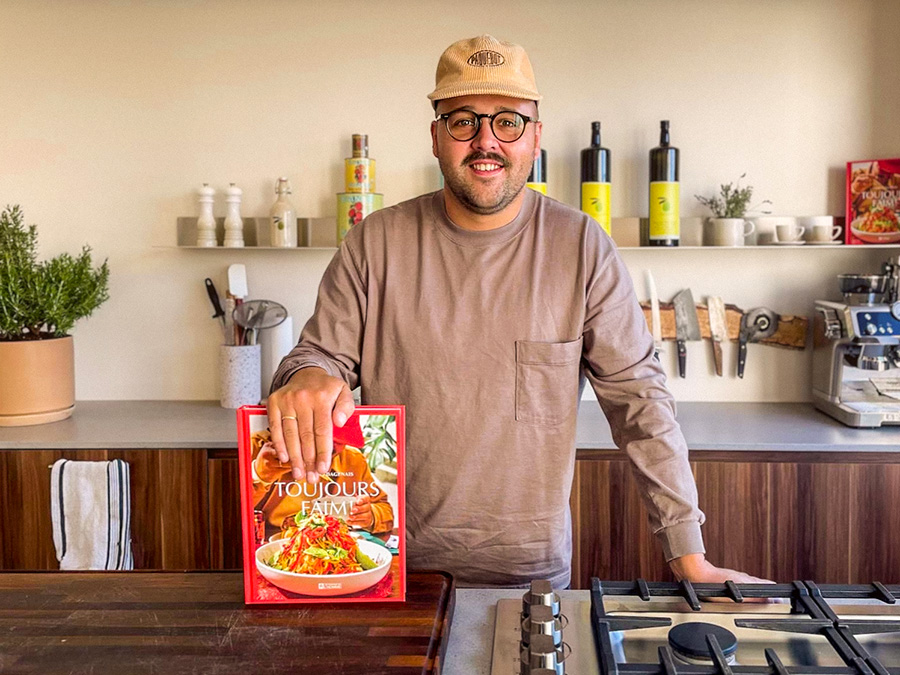 Laurent Dagenais welcomed us into his warm and refined home to answer a few questions about the launch of his cookbook "Toujours faim". On a beautiful fall day, the online star warmly greeted us with his charming smile!
Right away, Laurent showed us the famous kitchen where he shoots the majority of his videos. Modern and fully equipped, it is enough to make all and any cooks dream – whether professional or amateur.
With a cup of coffee in hand, we began asking our questions.
Are you more of a social network guy who decided to become a chef, or a chef who became a star online?
"I'm a chef by training. I studied in the field and worked for over seven years in the restaurant business. My career took a turn while working at Araxi in Whistler. I broke my arm snowboarding and put my cooking life on hold. That's when, in the midst of the pandemic, I started making videos on the internet."
How and when did you start posting videos of yourself in the kitchen?
"Initially, I was doing video clips where I was cooking with cannabis. We were putting a lot of time and energy into our content. One day I started just filming what I was cooking at home during the lockdown, and the response was instant. The world wanted more… you'd have to think more people are cooking without cannabis than with it."
1M Tik-Tok followers and 100K on Instagram… what happened to get you there?!?
"In my opinion, there are several things that come into play in the equation. First, my partner, Amandine Francoeur, has a great eye for all things video. She is a big part of my success, it's not a "one-man show" as many people think. Then, I often receive comments like my energy and good mood transcend the camera, I guess that helped to achieve success. Finally, I think it's the authenticity of what we do that makes people want to get on board. I also frequently cook outside in spectacular locations, which amazes many. Between you and me, it makes for some "sapristi" beautiful videos!"
Tell us about your book. What are you most proud of?
"I wanted to leave a permanent trace in space-time, a kind of artifact. Compared to the internet where everything moves quickly and disappears, this book exists. I did it to have fun and enjoy myself. I'm particularly proud of its aesthetics. I worked with people I love to deliver something beautiful. My thanks and tributes to Brian Finn, Renaud Robert and William Langlais without whom none of this would have been possible. The book is divided into 10 sections of recipes. I think the recipes for condiments, sandwiches, seafood, desserts and cocktails are particularly interesting. There are 20 recipes in the book from my videos and 50 exclusive ones!"
After spending a few hours with Laurent Dagenais, we understand the appeal he has for his online community. His energy is contagious and soothing. Without saying a word in his videos, he makes us want to befriend him and have a drink while cooking with him.
Congratulations on your book, Laurent, and let's hope it's not the last!
Written by Gabriel Belzile