Isabelle Legeron: A story of wine, women, and convictions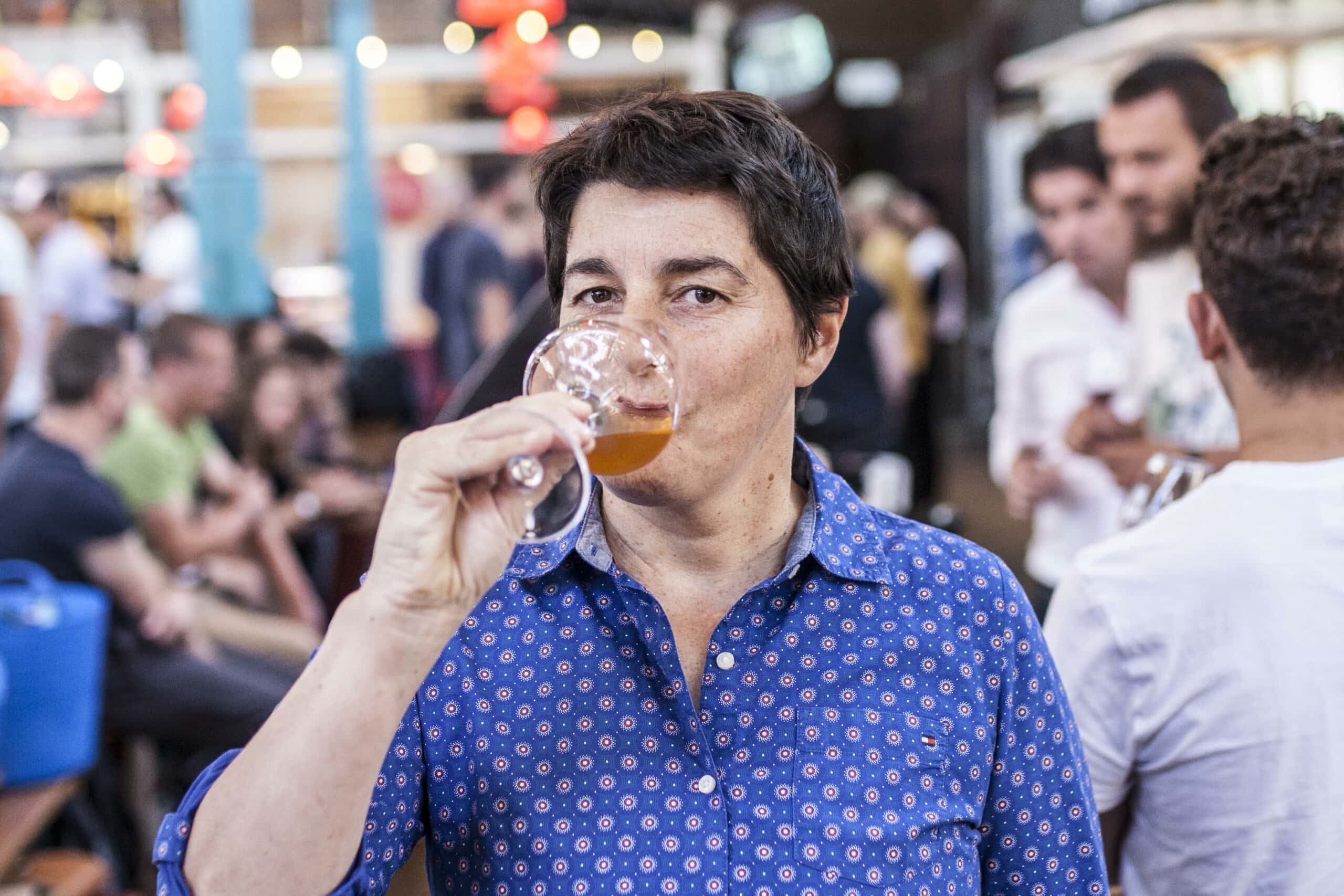 The world of wine is fascinating. It abounds with inspiring stories in which wine is the driving force.

Among them is the story of a passionate woman who has made a name for herself through her authenticity and uncompromising convictions. Isabelle Legeron is not only the founder of RAW WINE — which brings together natural wine enthusiasts from all over the world — but also the first and only French woman to have obtained the title of Master of Wine. For more than 20 years, she has dedicated herself to the world of wine, and more particularly to the world of natural wine. Here is a glimpse into her journey.
Roots and career path
Isabelle was born and raised in a family of winemakers who modestly cultivated the land. She insists on the term "paysans vignerons" — peasant winemakers — which she bears with pride. Her family — being very connected to the land — grew vines and grapes in the Cognac region of France.
As a teenager — like many young people from rural communities— Isabelle yearned for change. Fascinated by the English language, she left France for England to study business. At the age of 28, she experienced what she calls her "Saturn return": a turning point where she had to make important decisions for the next step in her professional life. She realized that she had to return to her roots: wine.
Without any extensive knowledge in wine, she knew that it would be a big challenge: "At 28 years old, and you were talking about Chablis, I didn't know it was Chardonnay", she recalls.
Starting from square one, Isabelle determinedly plunged into the study of wine. This bold decision led her to register for the famous Master of Wine exam, knowing that she needed to acquire knowledge and a network of meaningful contacts at all costs: "I needed colleagues and I needed to learn," she explains.
During her studies, she realized that the wine industry was not at all what she had imagined at the beginning. Naively, she thought she would find the familial and rural spirit that she had grown up with. But instead, she found herself in a very prestigious and elitist industry, sometimes far from the traditional values of true agriculture. This was not what she wanted. She wanted authenticity.
Although her career began more traditionally, it was toward the end of her studies that she made a shift, following encounters with "small winemakers" who aligned much more with her beliefs. "It clicked," she says.
Isabelle appreciates the knowledge she gained in her formal education, which she proudly acknowledges is essential to her work. This solid foundation has allowed her to anchor her knowledge, while discovering a new — and freer — world of farming and winemaking. Today, her mission is to help people think about what they are drinking and promote the need for transparency in the wine world.
The spark
Good taste and a love of good food have always been important in Isabelle's family: "I see the world through my senses of smell and taste," she tells us.
Her initiation to low-intervention wine was gradual; through the discovery of wines with "real taste", and through the meeting of winemakers who could create magic with very limited means.
In particular, it was meeting Imre Kalo in Hungary, during the filming of his show A Journey Into Wine, that fully opened her eyes. Seeing this winemaker have fun and make great wines without sophisticated machinery helped her understand that "wine is like cooking; you just need good ingredients to make good things". This was the turning point. She decided then to devote her career to these wines of "taste".
RAW WINE
The absence of a natural wine fair in London prompted Isabelle to establish "The Natural Wine Fair" in 2011. Organized with some importer friends, it was a fair designed for the industry.
The following year, she launched RAW WINE, an event open to the public that aims to promote ethical and transparent viticulture and winemaking practices as well as to showcase artisanal producers. Isabelle Legeron emphasizes the importance of highlighting the work of winemakers and the quality of their product in a highly professional setting, just as in large conventional wine shows.
Beyond the wine fairs, RAW WINE is also a digital platform that brings together thousands of references of natural wines from around the world, collected directly from the winemakers. A colossal task that Isabelle accomplishes with her five employees and a team of freelancers.
Over time, all these efforts have resulted in the creation of the world's largest community of low-intervention organic, biodynamic and natural wine producers.
Montreal
Our beautiful city of Montreal made it onto the prestigious list of RAW WINE cities thanks to the perseverance and enthusiasm of Julie Audette of Le vin dans les voiles. By insisting that Isabelle spend a few days in Montreal, Julie succeeded in putting the city on the RAW WINE map.
During her stay in the city, Isabelle noticed the maturity and the passion of the Montreal market for natural wines, which is well established among the key people in the industry (importers, restaurant owners).
She emphasizes that it is always a great pleasure for the organization and for the winemakers to come here. According to her, the Montreal fair is one of the most lively and enthusiastic.
The impact of the pandemic
The pandemic was a major blow to the RAW WINE organization, which in 2020 had to cancel the London show just one week before the event. This had a major financial impact, as it takes at least 12 months to organize a show.
Isabelle and her team decided to use this forced time off to redesign the RAW WINE website and find ways to keep the organization alive by launching a wine club in the United States and online bottle sales, among other things.
During these months of confinement, Isabelle observed some realizations and changes in mindset among winemakers. Those who were missing socializing were happy to be back at the fairs, and realized that it was necessary for them, while others discovered that it no longer suited them.
In 2021, RAW WINE made its official in-person return in Berlin. Even though RAW WINE is back on track — with Paris and Asia now on the list of host countries — Isabelle still sees 2022 as a transitional period towards a return to normal.
Beyond wine
While wine evidently occupies a primary place in Isabelle's life, it is not the only thing. Her answer, marked by simplicity and integrity, beautifully reflects our interview.
Her love of the land governs both her personal and professional life. Furthermore, her need for nature is visceral and is expressed by her passion for hunting natural treasures, from mushrooms to fossils.
Always in the spirit of her quest for taste, she is interested in mixology and fermentation, and creates her own vermouth, bitters and herbal macerations.
Isabelle is one of the most influential women in the world of natural wine and distinguishes herself by her authenticity, simplicity and love of life.
Rapid-fire questions:
Last bottle drunk: Radikon 2010 Ribolla Gialla
Grape variety: Grenache (white and red)
Wine region: "I don't have a favourite region, it's more a question of mood or desire. There are beautiful things everywhere."
The bottle that's always in your fridge: "No bottle in the fridge, but the cellar is well stocked!
À propos de RAW WINE Montréal
19-20 novembre 2022, 10h à 18h
Quai King Edward, Vieux-Port de Montréal
2 de la Commune O, Montréal, Quebec H2Y 4B2
Written by David Badiane
Photography by Raw Wine