5 questions for… Patrick Dubé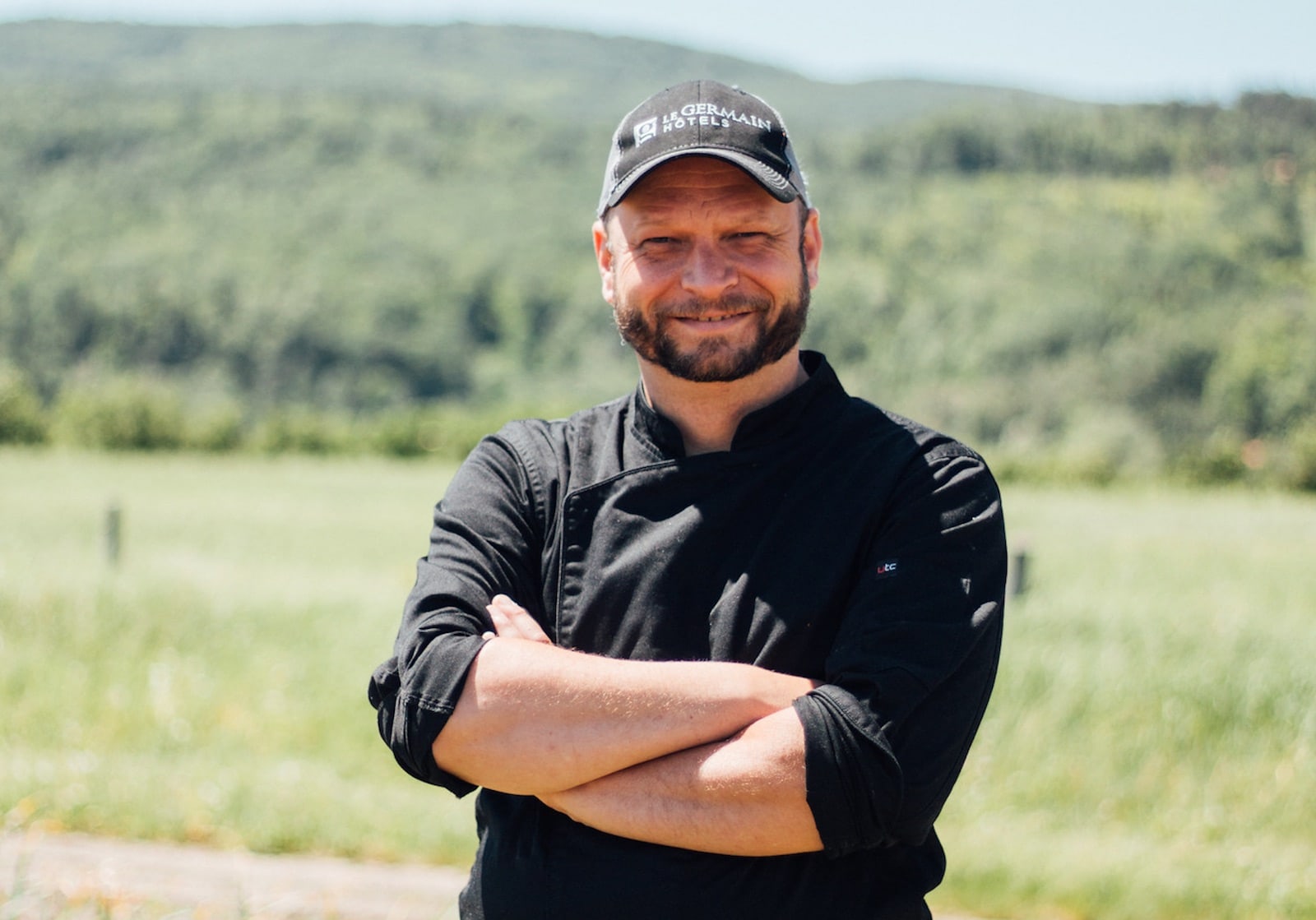 The chef who listens to Pavarotti and works hard with the next generation
As you probably already know, Tastet is interested in everything related to the restaurant industry. We love to discover the best places to eat and drink well. Everyone appreciates good food served in a beautiful space. However, what gives us the most pleasure in pursuing our mission is meeting the people who make these experiences possible. Whether they are restaurateurs, chefs, famous personalities, or heroes who work behind the scenes, these beautiful encounters spark enthusiasm in us that we will always want to share with you. We invite you to discover one of Tastet's favourite personalities with our playful Q&A.
Today, we're discovering a little more about Patrick Dubé. He arrived at Le Germain hotel & Spa Charlevoix in 2020, just before the pandemic, to assume the role of chef at their restaurants, Les Labours and Le Bercail. Like everyone else, he was taken by surprise and his plans for the restaurants fell through. He had to rethink his formulas and find solutions for the months to come. Now, things seem to be looking up, and Les Labours restaurant is finally officially reopening on December 9.
"I just moved with my small family to Charlevoix. I want to be here for the long haul," says Patrick Dubé, with great confidence and enthusiasm.
Dubé, who has previously worked in major hotels and prestigious restaurants in the Quebec City area, is an ardent lover of Charlevoix. "I've been coming to the region for 20 years, 10 times a year to fish. Coming to establish myself and work in Charlevoix was a logical choice for me."
Now, he is excited to change the menu offering again and to meet his customers in the dining room.
"We have a multitude of beautiful products in the region," he admits. I'm thinking of cheeses, for example; we have the best cheeses in Quebec in Charlevoix. And the fish! I work with a fisherwoman, Julie Gauthier, who catches her fish in a cage on the banks of the St. Lawrence River in Saint-Irénée. She sells entire fish and I transform them in the kitchen," he explains. He could have gone on to list a dozen local producers he loves and whose incredible products he appreciates.
All this, with the aim of offering the best possible products in his restaurants and practicing an eco responsible and local cuisine. What better way than to cook with products that are grown right in his backyard!
Patrick Dubé is very involved with his team and attaches great importance to training the next generation. "The next generation is the clientele of tomorrow, they are the workers of the future, they are the ones who will replace us and make things happen. They are also the ones who make Quebec, Montreal and now Charlevoix important culinary destinations in North America!"
Patrick Dubé is a great believer in mentoring and is convinced that it is one of the most important things in the kitchen. "I have always been very liberal about my mentoring. I have received advice on techniques from great international chefs and I believe it is very important to pass them on to my team. I give my techniques and recipes: I want to see them succeed!"
And now, for a little Q&A
What would you do if you were not a chef?
Oceanographer
What do you listen to when you cook?
I was trained by old school chefs and learned to work in silence in a kitchen. However, recently I have been listening to music, radio, and sometimes even Luciano Pavarotti at the top of my lungs, even if my team doesn't agree. The cooks don't always agree with my musical choices, but it makes the team laugh.
What have you cooked the most in the last year?
A lot of slow cooking dishes. With the pandemic, people wanted comfort food. I put aside the more noble meats for ones that are less noble, but cooked more gently and longer; osso bucco, braises, and other comforting delights.
What dish takes you back to childhood?
Macaroni and cheese, with tomatoes, ground meat, and extra cheese on top. And a meatball stew.
What dish are you really looking forward to introducing to the guests in the dining room?
The foie gras from Ferme Basque. Mainly because it's a beautiful local product, and secondly, any occasion to eat foie gras is a good one.
One word that your team would use to describe you?
Just one? "GO!!!"
This or that
Savoury or sweet?
Savoury
Fruits or vegetables?
Vegetables
Bread or pasta?
Bread
Cheeses or desserts?
Cheeses
Fish or meat?
Fish. (He is a fisherman, after all!)
Beer or wine?
Eh boy!!! Both.
Crepes or pancakes?
Your questionnaire is cruel! I don't want to choose! Pancakes I guess.
City or country?
Country… Charlevoix!
Hôtel & Spa Le Germain Charlevoix, a pioneer in hyper-local gastronomy in the world of hospitality, owns more than 7,000 square meters of land where fruits, vegetables and herbs are grown and then harvested and cooked by the chef. This allows him to sometimes present dishes that are 100% produced on the hotel's own land!
We look forward to savouring the work of the chef and his team in one of our favourite hotels in Quebec!
Written by Inès Duguen