Make the best homemade poutine in four steps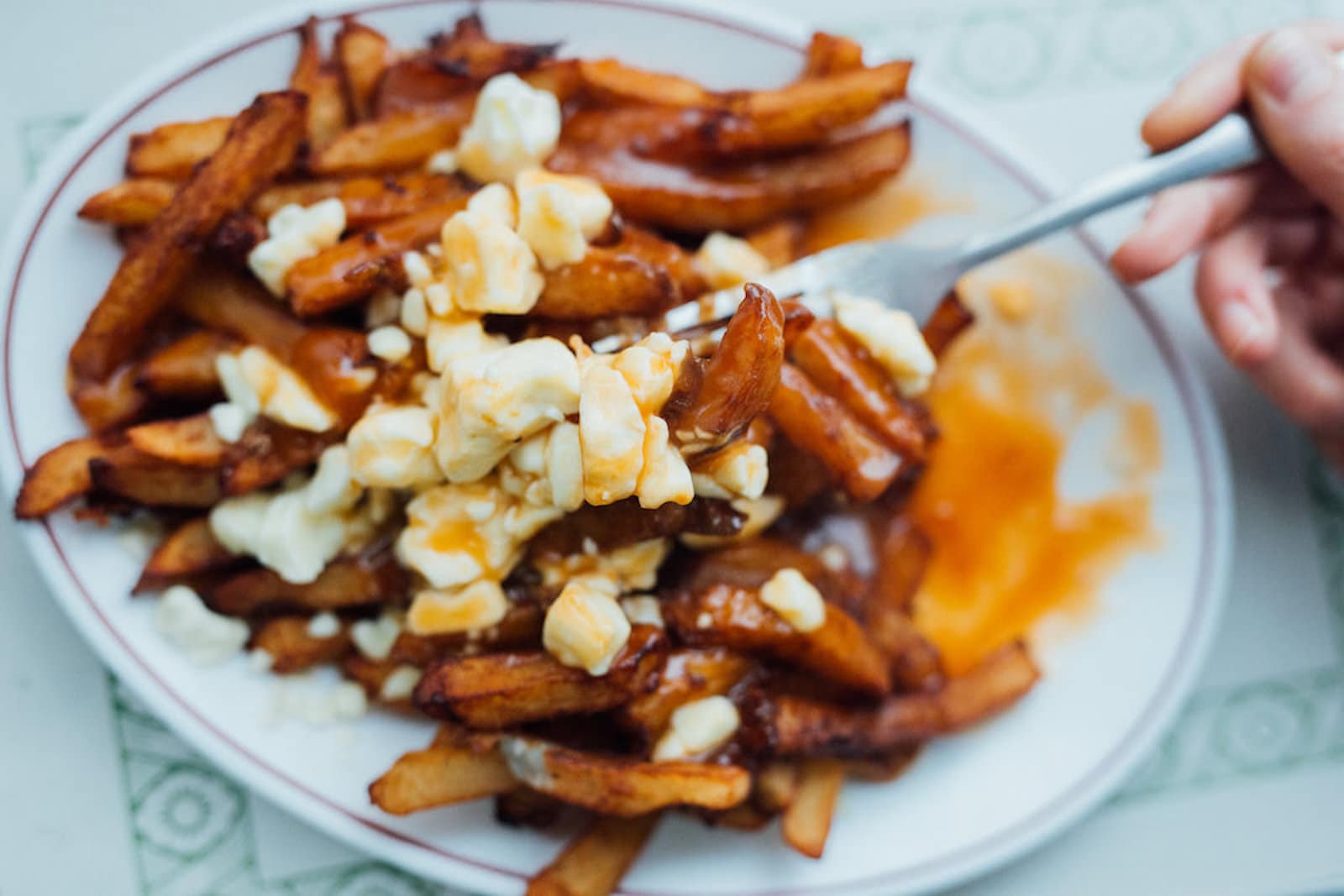 Poutine is a timeless classic, but we wanted to try to reinvent it in our own way. To do so and to guide us, we called on experts. The chef of the famous Roch le Coq Oussama Ben Tanfous gave us tips on how to cook the gravy and the fries, while Charles Boutet, manager of the fromagerie Copette & Cie, suggested delicious local cheeses to add to the famous cheese curds. With these practical tips, it's your turn to make the best homemade poutine.
The foundation: the fries
"To make good fries, you need russet potatoes, also known as Idaho Potatoes," says Oussama Ben Tanfous. To make them as crispy as possible, the chef blanches them in oil before chilling them in the freezer. Once the fries have cooled, he immerses them back into the hot oil. The temperature shock gives them the perfect texture.
For a bolder, healthier poutine, Oussama suggests boiling whole baby potatoes and mashing them directly in an oiled pan. Add salt, pepper and other spices of your choice for maximum flavour. The result: crispy on the outside, tender on the inside and a poutine unlike any other.
The heart: the cheese
Unique to Quebec, cheese curds also allow you to be creative with your poutine. The cheddar cheese curds with paprika and chili from the fromagerie Trappe à Fromage de l'Outaouais is an excellent example. Another option, and just as delicious, are the cheddar cheese curds with fine herbs from Fromagerie Pépites d'Or. The impressive number of varieties of cheese curds will surprise even the most discerning connoisseur!
In addition, to add an extra something to your homemade poutine, Charles Boutet, manager of Copette Cheese Factory, suggests three cheeses to replace or complement the traditional squeaky curds:
Chemin de Hatley, from fromagerie La Station: "The roasted hazelnut flavour of this firm cheese goes particularly well with gravy or pepper sauce," he says. To get the most out of its flavour, Boutet suggests grating it. And if by some miracle you have leftovers, enjoy it in a grilled cheese!

Mont-Jacob from Fromagerie Blackburn: "Cut into cubes, this semi-soft cheese melts perfectly on the fries," says Charles Boutet. Try it with a red wine sauce and grilled vegetables or in a gratin dauphinois.

Cotija Cheese from Fromages Latino. With a taste somewhere between feta and cheddar, this cheese of Mexican origin — and proudly produced in Quebec — will add a taste from elsewhere to our beloved poutine. More accessible in terms of taste and price, it goes particularly well with the pickled vegetables proposed below by Oussama Ben Tanfous.
The cherry on top: the gravy
There are many secrets to a good poutine gravy. Chef Ben Tanfous' secret? Brown the flour and add butter. Yes, butter. As he says so well, "when you eat poutine, you spoil yourself and you don't count the calories. The preparation doesn't stop there. The chef also uses chicken stock and chicken bones to enrich it. These ingredients can be purchased directly from your local butcher at a low price. Season it with a little garlic and thyme and you're done!
A multitude of delicious ingredients can be added to this sauce, such as grilled vegetables, pieces of bacon, or even fried chicken.
The little extras
"You can always take poutine a step further," says Oussama Ben Tanfous. As we are seeing more and more, poutine is no longer made up of just three ingredients. In fact, we're winning by adding more. If you've ever tasted Roch le Coq's now-famous "Poutine Raymond", you're probably a fan of the restaurant's tangy taste of pikliz, a Haitian pickled vegetable condiment. The vinegary taste of the fermented cabbage balances the richness of the sauce, fries, and cheese, giving us a (false) impression of lightness. You can easily reproduce it at home by marinating certain vegetables in vinegar: cabbage, onions, shallots, etc.
The myth of the "best" poutine
"Poutine is everyone's Quebec," says Osama Ben Tanfous. He is right. By daring to play with the flavours, we notice one thing: the best poutine does not exist because the possibilities are infinite. Imagine how many different homemade poutines you can make with over 700 cheeses from here! The sky — or your appetite — is the limit! Have fun exploring and finding your favourite recipe!