Ravioli stuffed with saffron veal osso buco and Pecorino sauce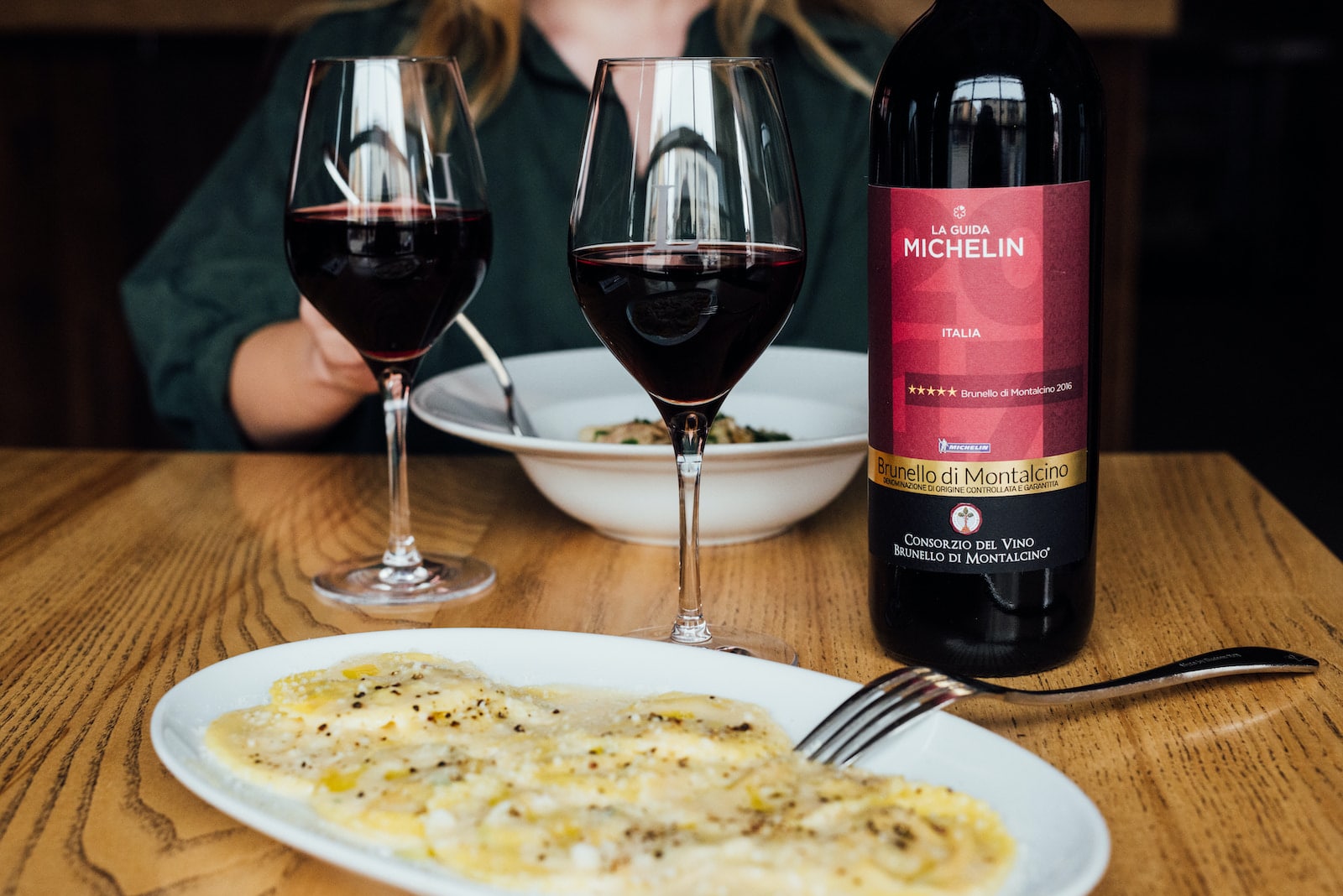 A true Italian institution in the Petite-Patrie neighbourhood, Luciano Trattoria — in normal pre-pandemic times — attracts crowds thanks to its succulent pasta menu prepared with the utmost respect of Italian traditions, its warm atmosphere and its most convivial service.
Luciano, chef-owner with a big heart, shares with us his recipe for ravioli stuffed with saffron veal osso buco and Pecorino sauce, a dish that has been a fixture on the menu since the restaurant opened.
This is an ideal recipe for your Easter brunch. And what better way to indulge than with a Brunello di Montalcino, one of Tuscany's most renowned appellations? A wine that would only complement this plate of stuffed ravioli made solely with foods that reflect the region. A delicious taste journey in Italy! A true mirror of the Tuscan terroir, the complexity and elegance of this appellation will enhance the dish and delight your taste buds while ensuring that you will undoubtedly impress your household!
Buon appetito!
Ravioli stuffed with saffron veal osso buco and Pecorino sauce
Serves: 4
Preparation: 60 minutes
Cooking: 165 minutes

Ingredients
Osso buco stuffing
4 pieces of veal osso buco (shanks)
3 pinches of Italian parsley
4 tbsp. olive oil
100 g pecorino cheese
250 g ricotta cheese
1 pinch of peperoncino
Mirepoix (1/2 carrot, 1 celery stalk, ½ onion)
Pinch of salt
500 ml crushed tomato
1 cup of red wine
2 tbsp. butter
Ravioli dough
5 eggs
2 tbsp. olive oil
500g all-purpose flour
½ tsp. saffron
Pinch of salt
Method
Osso Buco Stuffing
Sprinkle salt on both sides of the osso buco pieces. In a pan, add olive oil and sear both sides of each piece of meat.
Remove meat and set aside in an ovenproof dish.
In the same pan, add the mirepoix and sweat for seven minutes.
Deglaze with red wine until reduced by half, then add crushed tomatoes. Bring to a boil.
Pour over meat, cover with aluminum foil and bake at 350°F for 2.5 hours.
Remove meat from bone and shred.  Keep the marrow and the cooking juices.
Place meat and marrow in a bowl and add 4 tbsp. of the cooking juices to the mixture, along with the ricotta, parsley and peperoncino. Let cool.
Ravioli
In a bowl, combine eggs, olive oil, salt and saffron.
Stir in flour and work by hand for 15 minutes.
Let rest for one hour in the refrigerator.
Stretch the dough in the machine.
Spoon 1 tablespoon of osso buco ½ inch apart, brush dough with water between portions and cut out with cookie cutter.
Boil in salted water for 2 minutes.
Sauce
Melt the butter in a pan, add a little of the ravioli cooking water, cook the ravioli and simmer for 1 minute.
Note/Variation
Serve and enjoy!