Nancy Samson: Exceptional chocolatier in Trois-Rivières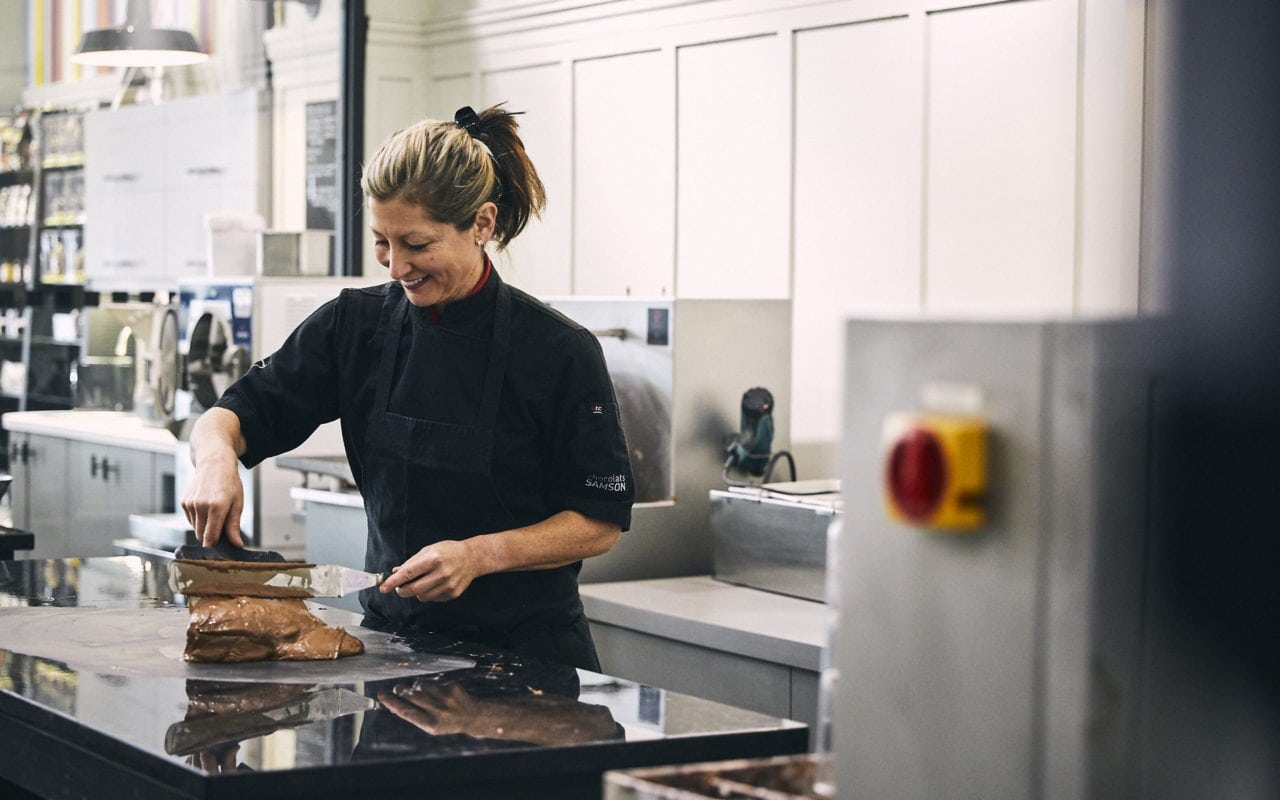 Nancy Samson – Did you know that the great chefs of Quebec often use maple products all year round? In an effort to stay local and to highlight the natural flavours of Quebec's terroir, all while respecting the environment, kitchens are opting more and more for Quebec's high quality maple products as an alternative to sugar. This series of profiles will shine light on the great culinary ambassadors of L'Érable du Québec, all of whom use maple products in their cuisine throughout the year.
"I was often in the kitchen with my mother, I cooked a lot with her. I have always been interested in sweets and pastries, and loved chocolate techniques. I love the learning and the creative side. I'm always in awe of the fact that with chocolate, you start with a liquid product and can take it to something so extraordinary!"
Although Nancy had always been passionate about techniques as a child, she did not do well in school. "I wasn't very good at school and my brother, who is a year and a half older than me, was very good. We were always compared and I was always the worst; it wasn't very motivating."
In Secondary 5, a chef came to do a presentation the Trois-Rivières hotel school program. "It was a revelation. There were very few schools for restaurant industry professionals at the time and Nancy immediately decided that she wanted to go to the Trois-Rivières hotel school. "I started in general cooking training, but I didn't really like fish and meat. So I enrolled at the ITHQ in pastry. ITHQ was one of the only schools that offered a pastry course and I decided to take that route — it was great. I had great teachers and I have very good memories of it." While at school, Nancy worked at the ITHQ hotel simultaneously to earn some pocket money. There she met Normand Laprise, worked with Martin Picard, who was studying at the same time as her, and Thierry Daraize, who was then the chef at the hotel on weekends. "The energy was so cool and the atmosphere of the hotel was alive; it was a great time!"
Nancy then left to work in the Laurentians where she worked at La Réserve with Jean-Jacques Morand. However, she quickly realized that she still lacked a lot of knowledge. She therefore decided to enroll in the ITHQ chocolate making course. The group accepted only 50 students who learn how to make ice cream, candies, candied oranges, etc. — the program was so specialized that it only existed for three years. "It was very formal, they had just gotten the garb in at ITHQ. The rigour of the trade, which has been lost a lot, was very important. We had extraordinary confectionery courses! In this course, we were a gang of outsiders. I met Lesley Chesterman there, she was in my class! We were the first to have a renovated space, the first to work on marble and granite. I met some great people there and had some great teachers. I also have fond memories of that time."
Once she finished her studies, Nancy worked at the Delta Hotel, then at the Citrus restaurant under the direction of Mr. Beausoleil and Normand Laprise. She then spent some time at Van Houtte, as the ITHQ hotel was closed on weekends. However, she quickly decided to leave for Western Canada to learn English. Nancy started working at the Jasper Park Lodge. There, she quickly realized that she had a great interest in becoming a chocolatier.
Upon her return from Western Canada, she learned that the Trois-Rivières hotel school, now called Bel Avenir, was looking for a teacher with good knowledge and not too much experience. As one of the few who had taken the chocolate course and studied outside of Quebec, Nancy felt that she could perhaps teach pastry. She applied and was accepted, and at 20 years old, Nancy began teaching pastry and chocolate (!) "I always developed an understanding of the product before working with it. Education is key, so it was an honour of mine to be able to do this. I've been teaching chocolate for 30 years now!"
In order not to lose her chocolate making skills, Nancy simultaneously began a chocolate workshop in her basement. "My landlord gave me permission: I bought a tempering machine and started making chocolate. Like the 'Tupperware Ladies,' I started offering in-home demonstrations, 10-12 person workshops and lectures."
Nancy then borrowed $10,000 and improved her chocolate making for businesses. "I was supplying the Auberge Godefroy, the Mado pastry shop in Trois-Rivières, and many chocolate shops. They were my chocolates, but always under a different name."
Then, one day, Nancy received a call from Première Moisson Bakeries. She met with them and accepted an offer to supply chocolate to seven of their bakeries, which eventually led to 17 stores. For a young chocolatier, this was a big challenge, but Nancy proved to be a hard worker who learned very quickly. "This experience taught me rigour. It was the best school. I also learned about volume and standardization. Thanks to them, I learned not to panic anymore in front of a problem or an order to produce. I also have a lot of respect for all the delivery people in the world. I remember one of my first deliveries, it was -20 degrees and when I got to the third store on my route in Dorion and opened the truck, all the chocolate chickens had cracked. I wanted to die."
However, Nancy was new to the business at the time, so she didn't develop the ability to negotiate her contract in a way that readjusted prices based on demand. "The bigger it got, the less money I made. My health took a hit and I had to have major surgery. I hit a wall and stopped working completely. I cried for a year. Every day I would look at my chocolate making equipment in the basement and think, it can't end like this."
Nancy saw many chocolatiers become popular and couldn't understand why she couldn't. So she went to the Bahamas for a little rest. When she returned, she quietly started teaching again and learned that a hair salon located in an old 1920's bank in Trois-Rivières was for sale. At the time, the salon was in a little-visited area, but Nancy saw potential. "It was a historic building, and I'm a big believer in energy. I loved the building and knew that if I went into business, I wanted to live above the chocolate factory. It was expensive, but the place had soul and by selling our triplex, we were able to buy the building."
However, once this beautiful building was purchased, Nancy and her husband were confronted with all the problems of landlords: problems with the floors, showers, etc. They quickly surpassed their goal of buying a new home. Soon, they exceeded their project goal of $80,000 from their own money. "I was so stressed. For the opening, we had a press conference and invited all the media I knew. Cacao Barry donated over 100 kilos of chocolate, Nespresso sponsored the coffees and everyone was talking about it! I felt supported and had hope that it would work."
To make sure she always stayed on top of the latest chocolate trends and the most cutting-edge ideas, Nancy did several internships in fine establishments. "It's definitely harder to learn new techniques and do internships at 49 than it was at 20, but now, with nearly 30 years of experience, I'm able to take it and endure difficult conditions. I've developed my character. I think if I had done these internships at 20, with the character I had, it unfortunately wouldn't have worked out!" (Laughs.)
Every year, when she returned from her internship, Nancy would refine her brand and develop new product lines. "I try to have things that others don't have, to stand out. I'd even like to maybe develop franchises one day!"
This passionate and charming woman persistently and intuitively followed her path, never hesitating to go for what she wanted. She put her heart into the project she believed in and she saw it through. "I love doing projects that touch. I like the creative side of entrepreneurship. I am proud to have taken up the challenge and to have opened my chocolate shop in the region! Everyone said that there was nothing in Trois-Rivières. That I was going to die in my basement. It's a huge accomplishment. Today, I owe nothing and I didn't steal anything from anyone. I am so proud that now the people of Trois-Rivières support me and encourage me and I have an extraordinary team to make it last. I built my dream and I'm pretty proud of it!"
Long live your chocolate shop Nancy and long live entrepreneurship!
A few questions for Nancy Samson
What would you be if you weren't a chocolate maker? "A radio journalist or host! I like talking to myself." (Laughs.)
If you could live anywhere in the world except Trois-Rivières, where would it be? "In Paris. And in the Magdalen Islands. Half and half."
What is your favourite chocolate? "Chocolate with red tea and basil, and I really have a weakness for chocolate from Tanzania."
L'Érable du Québec Q&A
What's your favourite way to work with maple? "In ice cream, maple ice cream!"
When was your first memory of maple? "When I was young, having our hands stick to the maple water boiler. We always had a woodlot, but my sister bought it back and turned it into a maple grove. I have wonderful memories of the horse dragging the buckets of maple. It is the most beautiful matter."
Where can we find it in your store? "In the bar with 90% pure cocoa paste and 10% granulated maple sugar, one of our new products!"
How do you savour maple at home? "In yogurt, in vinaigrettes, and in buckwheat pancakes when I have time to make them.
Written by Jean-Philippe Tastet
Photography by Érable du Québec