Martin Falardeau: For the love of baking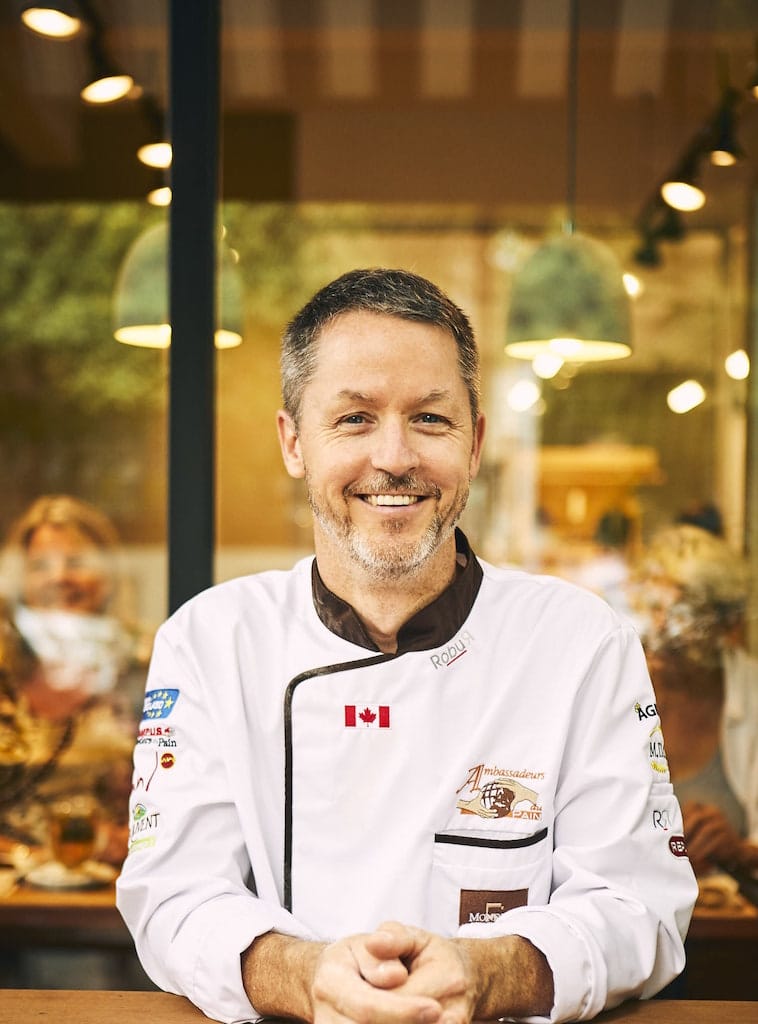 Martin Falardeau: Did you know that the great chefs of Quebec often use maple products all year round? In an effort to stay local and to highlight the natural flavours of Quebec's terroir, all while respecting the environment, kitchens are opting more and more for Quebec's high quality maple products as an alternative to sugar. This series of profiles will shine light on the great culinary ambassadors of L'Érable du Québec, all of whom use maple products in their cuisine throughout the year.
After the quality of his baguettes was recognized both locally and globally, Martin Falardeau was awarded the unofficial title of Master of the Baguette. Today, he is still driven by his passion for baking, even though he has been working in this very demanding field for the past 20 years. Profile of an extraordinary baker.
At the age of 15, Martin Falardeau discovered the world of gastronomy and restaurants. He remembers being immersed in the different tastes, the explosion of flavours, and the adrenaline of the service rushes. "However, rushes are a thing of the past," he says with a laugh. After 11 years in the restaurant industry, he fell in love with bread when he passed a bakery after his work day at Toqué! He soon began alternating his day job with his night job at Le Fromentier bakery on Laurier Avenue East between Lanaudière and Garnier streets. He regularly swapped his title of cook for that of baker in the middle of the night.
It was at the Fromentier that Martin met Benoît Fradette, the owner of the address at the time. With Benoît, he discovered the world of bakery where there is no real competition between bakers. "Instead, there is a great deal of mutual support. We meet each other, we don't feel any animosity at all. This open camaraderie exists because the main competition faced by bakers here comes from the consumption habits of Quebecers. "People go to the grocery store once a week to buy their bread. There is no tradition of going to the bakery because they aren't on every corner."
It was with this in mind that after two years at Fromentier, Martin left to open his own bakery. He found his own shop in Otterburn Park near Saint-Hilaire. In 1997, La Femme et le Boulanger was born, and he was soon confronted with the harsh reality of the baker's trade. "Beyond the fact that we develop it as a noble profession, it hurts. When you finish your days, your shoulders hurt. You just hurt." Three years later, in the prime of his life, but somewhat exhausted, Martin said, semi-jokingly, "I'm young and fit, it's time to retire." He put the key in the door to leave "to see something else".
During this retirement that lasted eight years, Martin completely stopped thinking about the profession of baking. He spent his time between travelling and cabinet making, a profession for which he is gifted. This rest, both physical and psychological, brought him back to one of his first loves: bread. Armed with a new vision and management experience from La Femme et le boulanger, he began to build a new bakery project and in 2009, Le Pain dans les Voiles was born in Mont-Saint-Hilaire.
"The personal challenge was no longer to make a quality loaf of bread every day, it was to make a quantity of quality breads every day. So he embarked on a more ambitious project with bigger and better equipment. "This new challenge of increased production volume does not prevent quality, compared to what we thought at the start."
Martin is an avid critic of the thinking that bread and baking used to be better: "The techniques were pretty haphazard, whereas now we have much more knowledge." To increase production while maintaining quality, Martin and the Pain dans les Voiles team began to rethink bakers' practices, starting with wheat sourcing techniques. He developed new techniques to address consistency issues where bakers used to point fingers at the millers' work. Eventually, Martin began fermenting his bread cold. "Instead of fermenting our dough for so many hours, we ferment it for 24 or 48 hours cold. It develops more flavour, more aromas, and it's easier to manage the time. It gives us more time to work on the bread so that it is always ready at the right time. This new approach allows for a schedule that is somewhat closer to normal — no more 12-hour shifts that start at 10 p.m". Martin calls it a dream schedule as his team starts their day at five in the morning and leaves the bakery around 1 in the afternoon. It gives people a chance to spend time with their families in the evening. The success of the bakery was such that in 2013, they opened a second Pain dans les Voiles location in Villeray. In 2016, Martin decided to sell his bakeries in search of new challenges.
The next step for Martin Falardeau was in the Notre-Dame-de-Grâce neighbourhood. Living near Monkland Village, he noticed a lack of bakeries in the area. He found a space that was a little out of the way from other businesses, perfect for a bakery where customers needed space to park. This was the birth of La Meunerie Urbaine. With a smile on his face, he says that since he established his business at the corner of Monkland and Beaconsfield, the direction of traffic has changed and is now oriented towards his business.
The concept of La Meunerie Urbaine comes from the lessons learned from his years with Benoît Fradette and the desire to make regular visits to the bakery part of Quebec's way of life. To do so, his goal was to become a local business: "The initial goal was to make a neighbourhood bakery. We are not on Facebook, we do not have a website. We don't need to tell the people: 'look how nice it is what we do'. What we want to do is say thank you to our customers by offering them beautiful products."
"With La Meunerie Urbaine, I was going backwards a bit. It's another way of doing things. The breads are all big loaves of 2.5 kilos that we sell in neighbourhoods." In Notre-Dame-de-Grâce and near Westmount, Hampstead and Côte-Saint-Luc, Martin Falardeau is confronted with a more demanding, but more affluent clientele. This allows him to offer high-end products. He focuses his offer on nutritious breads that highlight the grain. La Meunerie Urbaine is one of the few bakeries in town that has its own grain mill.
While the clientele was reluctant at first (as they used to buy mainly baguettes), they have since developed confidence in Martin and his team. After only six months, the bakery has quickly gained in popularity and their space has expanded to meet the ever-increasing demand. For Martin, the steady stream of customers who stop by his bakery proves that quality works. "Here, we don't compromise on anything, it's all about pleasure."
Martin Falardeau attributes much of the success of La Meunerie to his wife, Dina Dagher, who manages the counter service. For the couple, the relationship with the customers is essential so that they leave with a good loaf of bread, but also with a smile on their face. The friendly welcome offered at La Meunerie Urbaine is something the owners want to instill in their young employees. "It's a tradition that is being lost in the big box stores."
His latest project is also the first where Martin has decided to include a pastry section. While it wasn't planned at first, it was after meeting a special talent that made him change his mind. "I hired a pastry chef, Kevin Potvin, who came from France. I had never seen a pastry chef of that level." Full of praise for Kevin and his work, Martin says he would never have dared to have a pastry section, but the open-mindedness of his clientele allows the young pastry chef to have a blast.
With nearly a quarter of a century in the business, Martin Falardeau has no real desire to expand. He prefers to help others by showing them the good side of a difficult job. At La Meunerie, the employees are trained on site, which creates a pleasant work atmosphere, without unhealthy competition. Here, it is the final product that counts. "This job is very pleasant, because even though we always do the same thing, it's never really the same thing. You see the dough, you knead it, you look at it and you say to yourself, "Oh, this is going to be beautiful! And the next day, you arrive and it's not so beautiful. You develop humility and it's always satisfying when you see your bread come out and it's beautiful and has good flavour."
"Baking in Quebec is not a given. When you see the kids come in and they are more excited than at McDonalds, it's really nice. These kids, they're going to have a reference. They come in here every week, excited to get a pastry. For them, it's going to be ingrained, both as a career choice and to go get a loaf of bread at the bakery."
L'Érable du Québec Q&A
What's your favourite way to work with maple? "Sugar! We discovered it this year in our tests to make panettones with maple "chunks". It was really amazing. Otherwise, maple syrup to remove the "high fructose" sugars, to replace honey and corn syrup."
When was your first memory of maple? "We spent our youth in the forest. One day, I came across an illustrated children's book that explained the origin of maple syrup. It showed how the Native Americans collected the maple water. Later, with my brother and a friend, we started to collect maple water with margarine jars that we hung at the bottom of trees. We took straws filled with sugar that we had bought at the dépanneur. We emptied them (by eating them) and we took them to tap the trees. Every evening, when we came back from school, we would go and collect the maple water. At the end of the summer, we had collected enough to make syrup on the weekend. My grandfather came for the occasion. We had a wood stove out. But my brother asked me to go and get a pot to keep the maple syrup in. I don't know why, but I went to get one that already had a bottom of syrup in the shed. We put our syrup in it. However, the maple syrup base was more like motor oil. This syrup was really bad."
Where would we find it in your shop? "In the Maple Kanafeh! It's a Middle Eastern pastry. My mother-in-law makes it. Otherwise, we use it in pastries during the maple season, in ganaches, and in Swedish bread that we sweeten with syrup."
A few questions for Martin Falardeau
What would you be if you weren't a baker? "A baker!"
What is your favourite dessert? "Crème brûlée. When it's done well, it's incredible."
Do you cook a lot at home? "I love anything Kamado — a charcoal BBQ — anything grilled, but it's mostly my wife who cooks. She cooks very well."
Written by Samuel Gauvreau Des Aulniers
Photography by Érable du Québec