Five questions for Alex Bouchard, co-chef of Chez Muffy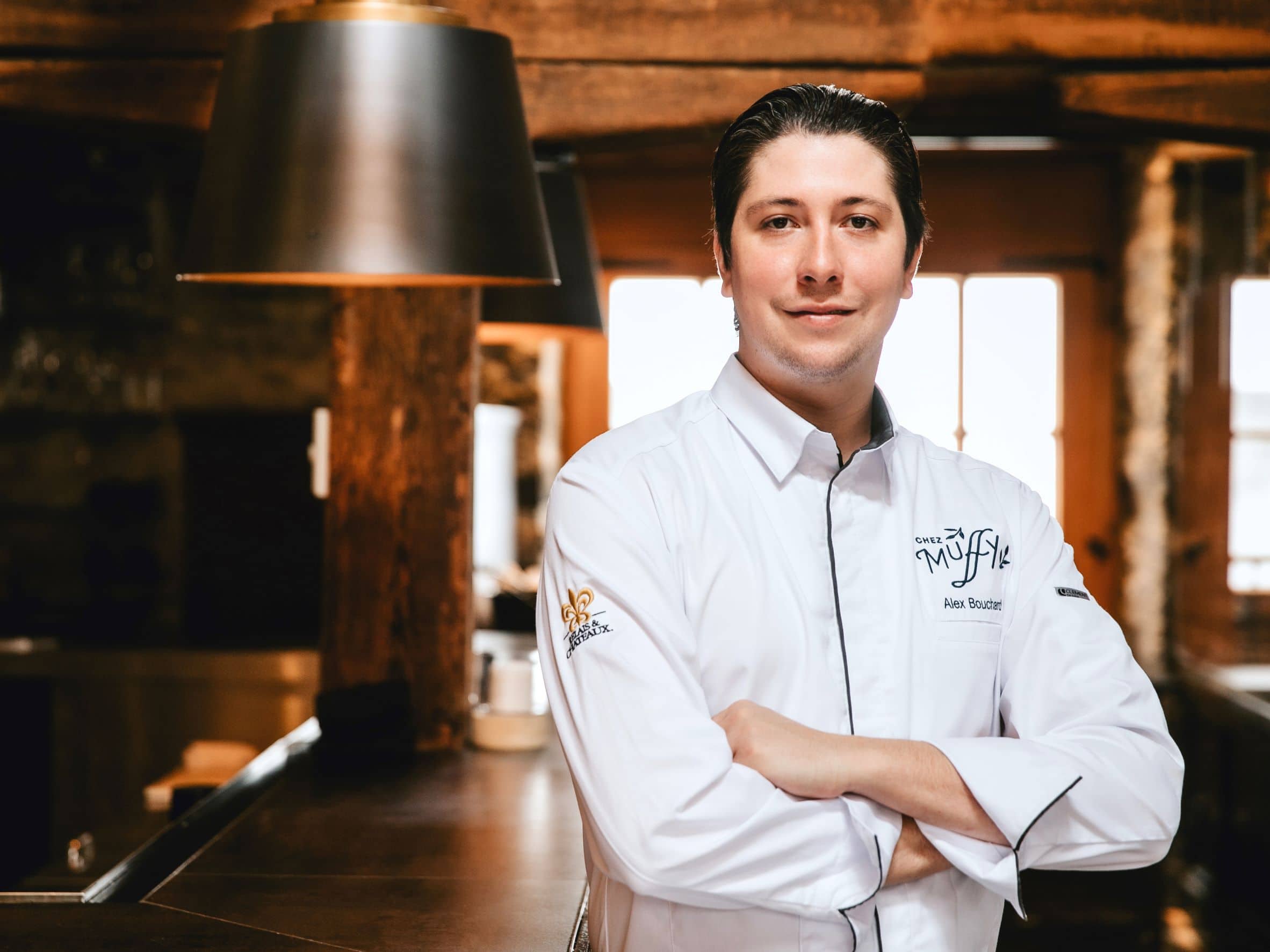 Alex Bouchard became known to Quebecers in 2019 when he won the TV show Les Chefs. Since then, the talented young chef has been working alongside chef Arthur Muller, who together head up Chez Muffy and the entire culinary offering at Auberge Saint-Antoine, a renowned hotel in Quebec City.
We asked the chef five questions to help you discover the man behind the friendly face.
Tell us a little about Chez Muffy
"Chez Muffy is the restaurant of the Auberge Saint-Antoine in Old Quebec. The motto of the address is "from the farm to the fork". We work closely with local producers in the area to create generous and balanced menus. In addition, we have a market garden farm on Île d'Orléans. Many of the vegetables, herbs and fruits that our customers find on their plates come from there."
What changed after your win on Les Chefs?
"It's a tremendous source of pride to win a culinary competition. You can never be prepared enough to face this kind of test. Although winning gave me a lot of exposure and credibility, I would say that it was in terms of confidence and self-worth that this victory was a turning point. There are so many good chefs in Quebec that one often feels like an imposter. With this victory, I have fully assumed my potential and my art. I became more mature and free in my creations, more assertive in my craft."
Where did your passion for cooking come from?
"I must admit that until I was 16, I was almost solely fed on buttered pasta, pogos and pocket pizzas. In fact, it was the love of adrenaline that made me want to work in the kitchen. I have always been attracted to extreme sports. When I was young, I did a lot of skiing and kayaking. I enrolled in culinary school thinking that the life of a chef would come with a lot of adrenaline. I wasn't wrong!"
Tell us about one of your fondest restaurant-related memories
"One of my fondest memories in the kitchen was on the European tour of the punk band The Hunters. The band members are good friends of mine and they asked me to join them on one of their tours. I cooked for them for a month while touring the Old Continent. It was a wonderful experience."
How do you see the future of gastronomy in Quebec?
"I think the Quebec culinary scene will continue to shine internationally. We have so many good products and expertise that it stands to reason that we will become a great gastronomic destination. For my part, I love helping young people who want to pursue a career in the restaurant industry. I also give workshops at the culinary school to share my passion with the next generation. I tell myself that if I succeed in convincing two or three young people from time to time that this is the most beautiful profession in the world, I have succeeded in my mission."
All you have to do now is go to Chez Muffy and enter the world of Alex Bouchard and his passionate team!
Written by Mikael Lebleu