Adaina Smyth, exceptional mixologist at Les Cousins bar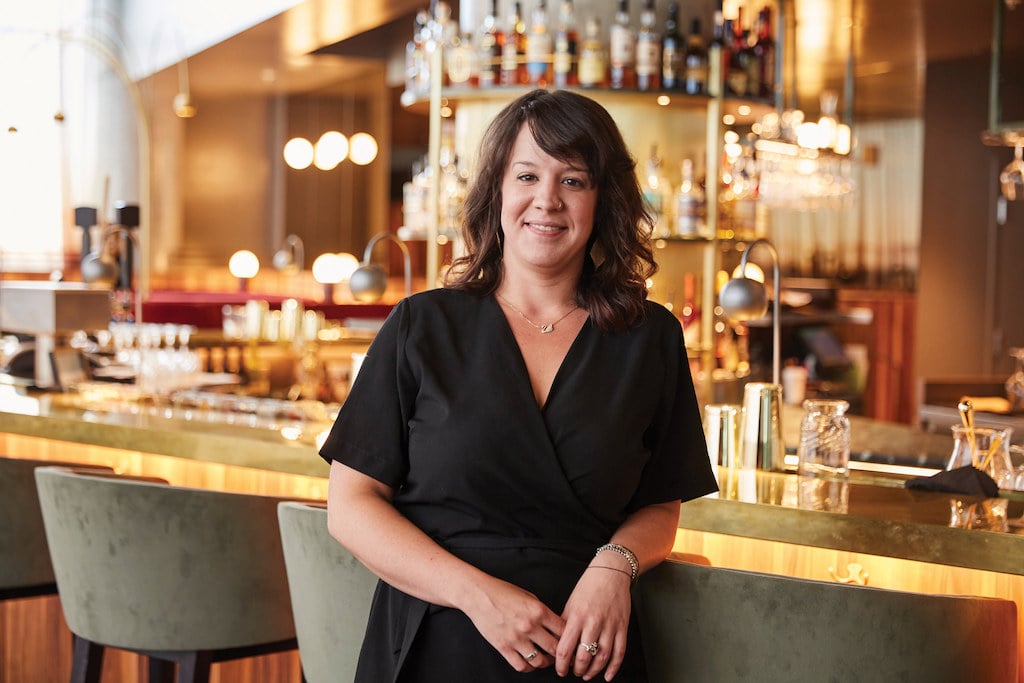 Adaina Smyth followed a path that was equally atypical and rewarding before finding herself in charge of the bar Les Cousins, located in the Escad Hotel Quartier Dix30. After studying graphic design and 3D animation in 2009, she tried to find a job in the field but the economic context at the time didn't help with prospects. She then turned to the restaurant industry and, when we see where she is today and the place she occupies on the mixology scene in Canada, it is undeniable that she made the right choice.
Despite being very shy, she started out as a hostess and fell in love with her job: "I was very introverted, I had a hard time picking up the phone to order a pizza. But I realized that greeting people and giving them a smile brought me great joy. By this time, Adaina was already interested in what was going on behind the bar. A happy coincidence marked the beginning of her career as a mixologist and her great passion for this art: "The bartender of the restaurant where I worked was sick. I was called to replace him at the last minute. There was a big rush, and I killed it! From that moment on, I never left the bar." Over time, her rich experience led her to manage the bars of major restaurants across the country until she came to Montreal at the invitation of a friend. She had no idea that she was about to be offered a dream job.
To her surprise, she found herself visiting the construction site of the Le Germain hotel in Quartier Dix30 with Marie Pier Germain and other members of the Le Germain group management. "They showed me where the bar was going to be. There was NOTHING there. Tap lines on the floor to indicate where the bar would be, that's about it. I was explained the design, asked questions for my vision of the place, the bar, the seating. I was very confused." Little did she know that once built, Les Cousins would become her project.
And so, it was under her direction that Les Cousins, which opened in 2018, became the go-to cocktail bar on the South Shore of Montreal. The concept of the bar is simple: to put Quebec products forward, both spirits and microbrewery beers. Adaina believes that Quebec produces spirits of unparalleled quality, but that these products are unfortunately unknown elsewhere in Canada. Her goal is to make them known to people here and elsewhere. The fact that the bar is located in a hotel makes the promotion of Quebec's alcohols all the more interesting since it allows her to promote them to foreign customers or those from other provinces. In Adaina's eyes, there's no need to look elsewhere; we have everything we need here to create refined cocktails: "Quebec is the largest producer of gin in the country. There are over 115 Quebec gins to discover. The goal is to support the local economy and celebrate the culture here. That's why Les Cousins exists."
Gin is Adaina Smyth's favourite spirit: "I don't buy nice shoes, I don't care what my hair looks like, but gin…". You can tell that her passion is alive and well. Its herbal notes and the very wide range of flavours that gins from here offer make it the ideal spirit according to the mixologist. She claims that a Negroni can never be the same if you take care to use a different gin each time. It's an alcohol that brings great complexity to the cocktail, a depth that Adaina looks for when she imagines a cocktail.
Les Cousins boasts over 100 Quebecois gins! It is certainly one of the largest collections of Quebecois gins in the world. Moreover, Quebec products represent 85% of the bar's total inventory. For Adaina, it's a matter of highlighting the value of the products found here: "If a customer wants an Aperol-spritz, we'll advise them to replace the Aperol with Amermelade or Aperitivo (Noroi). If he wants a Negroni, we can use l'Amer instead of Campari. We want people to discover the magnificent spirits of Quebec."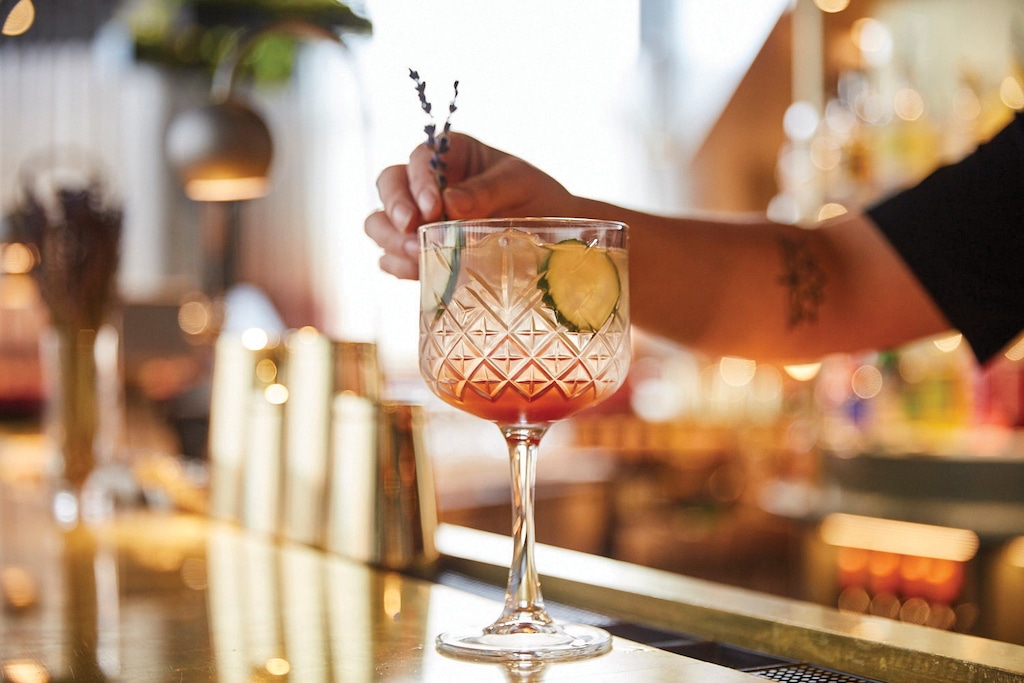 Her love of spirits, mixology, and service is so great that Adaina wants to pass it on to her team. When she first started, her team at Les Cousins was made up of many young people who didn't have a lot of experience in the industry. Providing them with solid training was a top priority for Adaina, who holds monthly sessions to share her knowledge and discuss new projects: "I treat the people in the bar here like family. We always want to do more in terms of audacity and aesthetics. I do my best for the customers and employees and they do their best for me." As the mixologist points out, knowing what you're talking about when you're selling a product benefits both the bar and the customers, who can learn more about what's being offered. In addition, the way she engages her employees at all levels has helped build strong bonds within a team that is very invested in its mission. Adaina Smyth's vision for Les Cousins is to make it a place to meet and talk; a place to experiment and try things that haven't been done yet. Les Cousins is a major destination for cocktail lovers in Quebec. Anyone who is interested in mixology should stop by to experience it first hand.
Keep an eye on Les Cousins and Adaina Smyth, her adventure is just beginning and we can't wait to see what the future holds.
Les Cousins, 9156 boulevard Leduc, Brossard
Follow Les Cousins on Instagram
Written by Marc-Antoine Ranger