Kimberly Lallouz's Taco Salad Bowl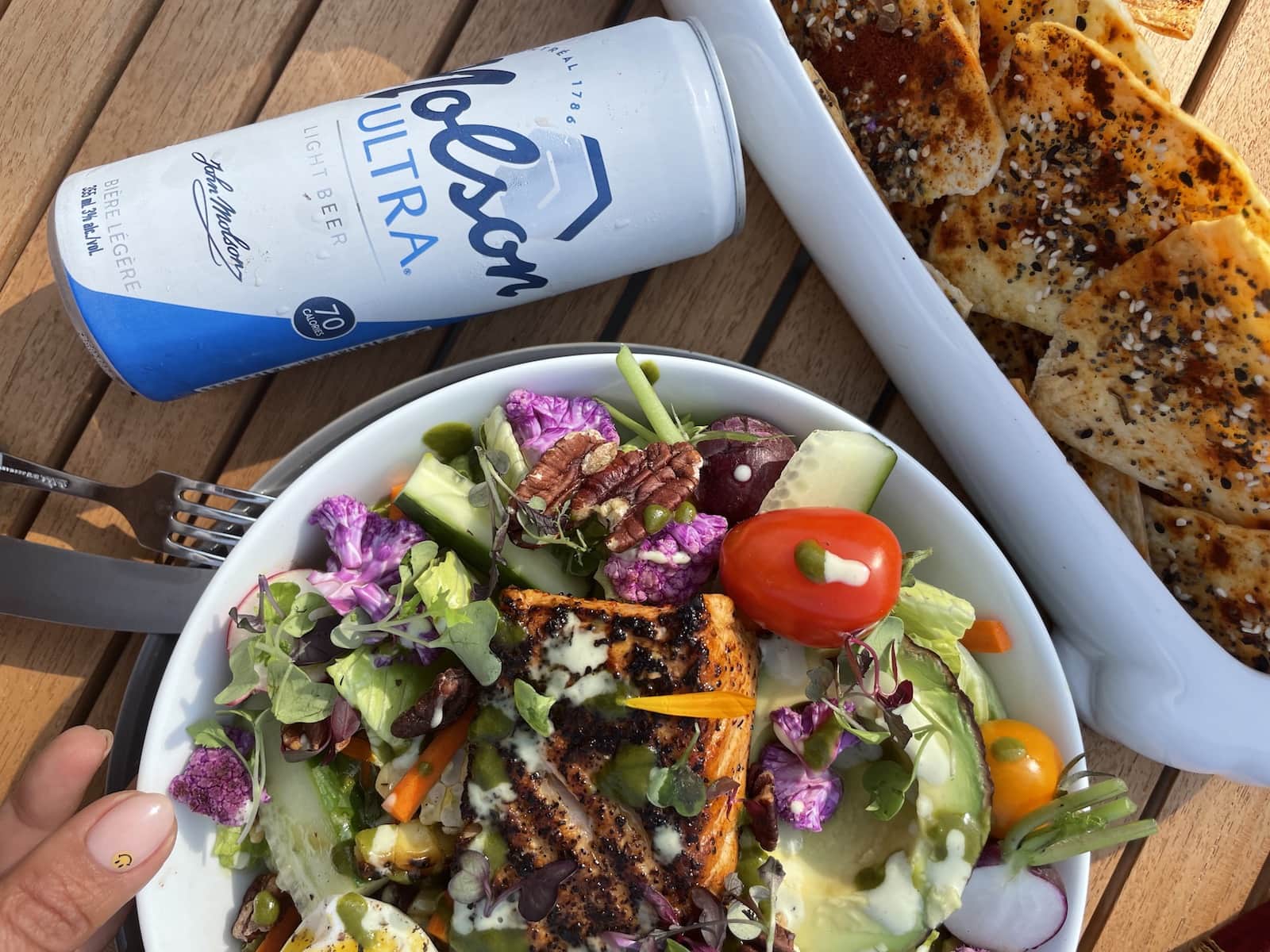 Montrealers know Kimberly Lallouz for her restaurants Miss Prêt à Manger and Monsieur Restaurant + Bar and One Big Recipe cooking show. As a self-taught chef and entrepreneur, Kimberly is a role model for many who follow her for her culinary skills, as well as her sound advice on healthy eating and active living. Kimberly Lallouz has made her mark on Montréal's food scene with recipes for everyone: there are always vegetarian and vegan options on her menus, and even her most decadent dishes are prepared with fresh and healthy ingredients.
To find more of Kimberly Lallouz's recipes, pick up a specially marked case of Molson Ultra and enter your code at www.winwithmolsonultra.ca. Winners will receive an online cooking class with the chef for them and four of their friends! Contest ends November 30, 2021. The winners will be announced in December.
As summer draws to a close, it's time to return to our routines and start Fall off on the right foot! In partnership with Molson Ultra, Chef Lallouz shares her tips on how to create a healthy, balanced routine to make the transition easier.. In the kitchen and our daily activities, so many everyday decisions can have a beneficial impact in the long run, like opting for Molson Ultra, a light beer with 70 calories and 2 g of carbohydrates per 355-ml can that's a great choice for your apéro after a busy day.
Here are Kimberly's tips for returning to her own healthy routine. Try them out and enjoy the benefits!
A quick morning meditation helps start the day off right! Start with two minutes and see if you can make it to ten.
Skip the elevator and take the stairs whenever you can.
Get some rest!
Change your surroundings every once in a while. Getting out of the city is good for you.
Take a hike to reconnect with nature. It's good for both the body and spirit.
Skip the sugary, high-calorie alcoholic beverages and opt for a low-carb option like Molson Ultra.
Do a five-minute stretching or yoga routine 4 to 5 times a week.
Instead of eating a high-carb meal like pasta or potatoes, opt for fibre, like brown rice.
Want to follow Kimberly's lead and get into a balanced routine like hers? Start with her taco salad bowl. With a Molson Ultra, it's a great first step to getting into your new routine!
Want to follow Kimberly's lead and get into a balanced routine like hers? Start with her taco salad bowl. Paired with a Molson Ultra, it's a great first step to getting back to routine!
Taco Salad Bowl
Serves: 5

Ingredients
Salad
2 romaine lettuce hearts, chopped
1 can organic black beans, rinsed and drained
2 carrots, peeled and grated
1 English cucumber, washed, skin on and chopped
2 cups corn kernels (frozen or fresh)
2 cups grated red cabbage
6 to 8 radishes, halved or quartered
2 avocados
1 lemon
16 to 24 cherry tomatoes (ideally different colours)
2 cups cauliflower florets (fresh)
1⁄2 head cilantro, minced
Chicken
2 pounds organic ground chicken (or turkey)
1 whole white onion, chopped
4 cloves garlic, crushed
2 tbsp. fresh cilantro (chopped)
1 tbsp. each of sweet paprika, turmeric and cumin
Salt and pepper to taste
Grape seed or olive oil
1 can of Molson Ultra
Optional: 1 tsp. chili powder
Dressing
2 cloves garlic, crushed
2 tablespoons Dijon mustard or grainy old-fashioned mustard
1⁄2 cup organic apple cider vinegar
2 limes, squeezed
1⁄2 cup tahini
1⁄2 cup olive oil
1 tablespoon cumin
Salt and pepper to taste
Optional: 2 tbsp. freshly chopped parsley
Tortilla chips
1 package green tortillas (spinach) or tortillas of your choice
1 tbsp. grapeseed oil
1 egg yolk (mixed with oil)
Seasoning (all except bagel)
Sweet paprika
Optional: Cayenne (for heat)
Method
Chicken
In a non-stick skillet on the stovetop over medium-high heat, add 2 tbsp. of grapeseed or olive oil. Add ground chicken, spices, salt and pepper. Continuously break up the meat with a wooden spoon or spatula so it crumbles and cooks evenly. 
Once the meat starts to break down (+/- 5 minutes), add the onion and garlic and continue cooking for 7 to 9 minutes over medium-low heat until the onion is well done and everything is golden.
As a final step, raise the heat to medium-high and add 2 ounces of Molson Ultra to deglaze!
Dressing
Blend all the ingredients in a blender or by hand with a whisk. This is not an emulsion but rather a loose dressing. Taste and season accordingly.
Tortilla chips
Cut tortillas into triangles or desired shape you prefer for dipping and place on a parchment-lined baking sheet. Brush with egg yolk mixture, sprinkle with spices and bake at 400°F for about 10 minutes until golden brown.
Assemble the salad
Choose your salad bowl, large platter or two platters, one for each person. 
Start with the romaine lettuce, then top with the red cabbage, carrots, corn, black beans, cucumbers and chicken. Finish with the remaining toppings (tomato, avocado, radish and possibly egg and pecans) and drizzle with dressing.
Garnish with chopped cilantro and serve with baked chips and a Molson Ultra.