PJ Goupil: Living his passion to the fullest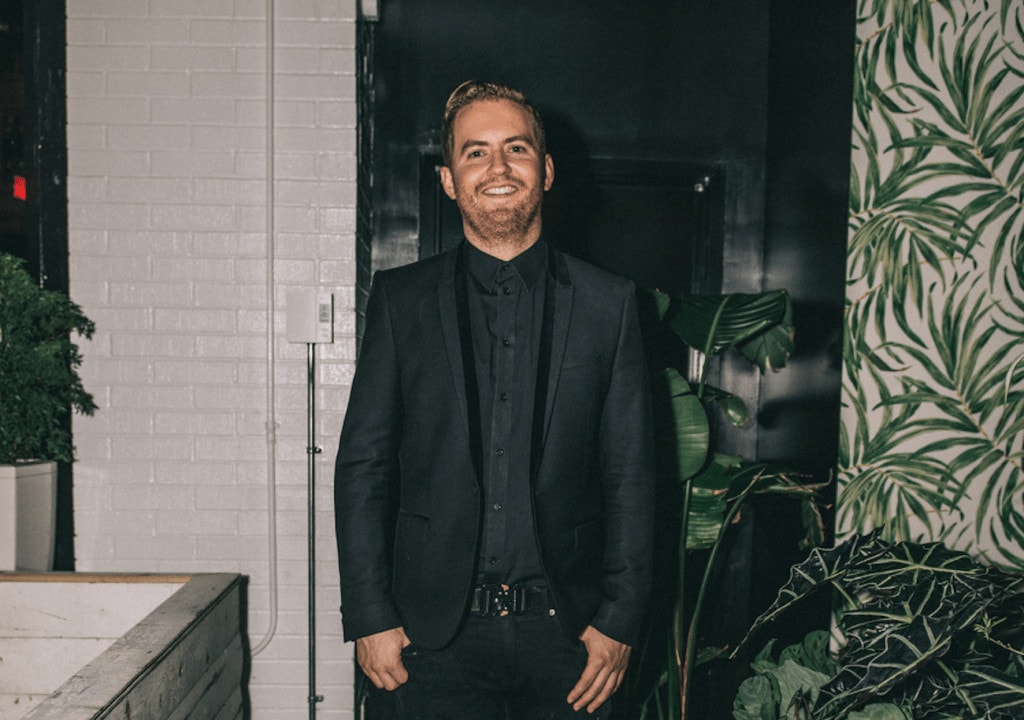 PJ Goupil is 28 years old and is a partner in seven (!) restaurants and bars. He is also in charge of strategic positioning and marketing development for the group A5 Hospitality's projects. We spoke with this intelligent and energetic individual who is stimulating Montreal's economy.
PJ Goupil never knew he would work in the restaurant industry. After a DES in Human Sciences, Economics, and Math, a Bachelor of Commerce in Accounting and Marketing, and a graduate degree in Public Accountancy, PJ became a Chartered Accountant (CPA, CA) and worked at KPMG. Who would have thought that the shy young accountant would become a marketing ninja in the hospitality industry? Not us, anyway, when we met him at CEGEP.
It all started in university. To pay for his expenses, PJ got a lot of marketing deals with universities, restaurants, bars, cars, consumer products (from energy drinks to condoms), and more. Behind the scenes, he organized a host of successful events for his clients. "I quickly realized that for a party to be successful, you need the key people there. If those people are there, the others will come. So I'd put someone cool up front (like Amine Ouadahi), and I, embarrassed to go public, would work behind the scenes making sure the customer experience was the best it could be." Kevin Latrem (formerly of The Fitzroy, Mayfair, Apartment 200, General Sherman) introduced him to the owners of A5 Hospitality. "The guys at A5 (Alexandre Besnard and Patrick Hetu) were the youngest bar owners I had ever worked with, but they were also the most open and dynamic. They were understanding of the fact that I didn't want to put myself forward. I loved working with them right away. I wasn't really a promoter, because no one knew I was the one organizing the events (laughs), but technically, I was doing the job of a promoter by conceptualizing events and doing marketing."
His experience as an auditor at KPMG in the corporate division brought him to a new business reality every week in a variety of industries. "I really didn't like the job of an auditor, but getting into the books of a new company every week and being able to ask any question to their executives, seeing what makes one successful or another fail, is quite a learning experience!" Once he earned his title, PJ got a contract at Hôtel Gouverneur to be manager of their restaurants and rethink the image and positioning of Chantecler Hotel and Ski Chantecler. "I loved this contract. It had everything I loved: making a turnaround in the numbers, repositioning the brand and being a manager of the business." It was there that he met Amlyne Phillips, who would become his favourite designer for his projects. "We have the same taste, the same sensitivity for small details, and are the same age. She's really talented and thrives on challenges. We get along really well." Their first project, the Namos terrace at Chantecler, was a success.
Amlyne was then working on the Fitzroy project and recommended that the guys at A5 get PJ involved in the launch. "This was the first time I wasn't just using my network and past experiences to get the word out about a location. I wanted to go more corporate and learn how to break into the media with PR. That's where I met public relations specialist Marie-Annick Boisvert." The Fitzroy launch was also a success.
PJ wanted the opportunity to develop a project from scratch. And that's when he got the opportunity to do the Mayfair. PJ developed the decor with Amlyne Phillips, the name, the identity, the concept, the story around the tea, the team, the marketing, the finances, and the overall product, and launched the project with his long time friend Amine Ouadahi, as well as Frank Fisette and his partner Kevin Latrem. Mayfair has also been an incredible success; the bar has been packed every weekend since it opened. Still, no one knows that PJ is working on all these projects: "Thirty minutes before the Mayfair opened I told my friends at a boys' dinner that I had done some 'consulting' for the Mayfair, but I was vague. It's weird when I think back, but I didn't know where I was going. I didn't know if I wanted to work in this environment or work at a big corporate company. I knew I was super happy creating and participating in projects, but I wasn't embracing it, I was too self-conscious."
It was following the success of Mayfair that PJ decided to take the plunge: in July 2015, he began working full-time as a contractor with the A5 Group, which had a clear need for someone like him. What he applied to his clients, he started to apply to his benefit and quickly became popular on the internet. Nobody saw him coming: from a reserved and rather discreet accountant, he became a public figure and his circle was shocked. It was also the first time he combined his Cartesian side as a chartered accountant with his creative passion for marketing, and that's where things started to go very fast for PJ Goupil:
His first contract was General Sherman. He had to turn the company around; one thing led to another and he was involved in the project as a marketing strategist and then as a manager, completing the financial and operational turnaround of the restaurant-bar.
A real estate investor from Montreal gave him a contract to launch a boutique hotel and restaurant in Tulum, Mexico.
At the same time, Kevin Latrem decided to move to Bali. PJ joined him in his dream and the two of them created Gypsy Bali. PJ participated in the design of the brand and left with Amlyne to finalize the opening. "All credit goes to Kevin who had the guts and vision to go for it and be part of the economic and tourism boom in Canggu."
Thereafter, several A5 establishments lost Kevin as their manager. In addition to already managing their marketing positioning, PJ then became partner and manager at the same time at Apartment 200, Fitzroy, General Sherman, Mayfair, and Gypsy Bali.
In March 2016, he also received the marketing contract for Jatoba and Flyjin and for young chef Olivier Vigneault.
Then, in July 2016, PJ started working on Kampai Garden, A5's biggest project. It was the first project he was officially and publicly responsible for. "We had to make it work. We were reminded almost every day of the magnitude of the challenge, the rent, and the investment." Quite a challenge, but mostly a lot of stress. After months of positioning, PR, marketing, and merchandising, Kampai opened its doors and it has been a huge success so far! In front of Kampai on Thursdays, more than 400 people line up to taste Antonio's menu and more than 2,000 people make reservations each week!
With A5, PJ is also involved in the creation of a project in Miami: "It's a big leap of faith, it's really exciting. It's the first time we're getting out of Canada and going to the U.S. It's going to officially open this summer."
Within the next few months, they'll also open a new restaurant across the street from Mayfair in the former Rachel Rachel with chef Olivier Vigneault of Jatoba. "It will be an Asian brewery, 'a festive baby Jatoba,' the same quality of food and ingredients, but with a more festive atmosphere and smaller portions."
And just around the corner, PJ and the guys from A5 will be opening Madame Bovary in Boucherville in the former Rack N'Roll.
OUF. How does PJ Goupil manage to juggle all these projects? How, in such a competitive environment, does he manage to make his establishments so popular and put Montreal restaurants and bars on the map?
First, through the product and its positioning. PJ has built a marketing team of six people dedicated to positioning A5's key products full time: "I know that the product is the most important thing in a business and that marketing positioning is the gateway to getting people to try your business. My first step is to find a reason to exist. Why would a person consume this product? I put myself in the shoes of the person we are targeting and I don't want something generic, I want something very specific, unique. You need a twist that makes you stand out. There are 2000 bars, 4600 restaurants, it's the positioning you give to your product that makes it special. You have to make your product unique. Then you have to make people want it, that's the hardest part. Often that forces us to modify the product itself to meet expectations and stand out. Then there's the pressure to deliver and it's the whole creative process of conceptualization that excites me. At the end of the day, we're competing for the few hours people have available after work, responsibilities, and family."
Secondly, through public relations. "I love PR. To me, it's a way of presenting things and it's a big factor in success." PJ works to present each of his products in several different ways to the press: in different small news stories, whether it's design, food, events, etc. "We spend so much time trying to get picked up by the media. You leave clues everywhere, you try to be unique and of high quality so that journalists recognize your work and as many people as possible hear about you."
Then by his exceptional strategic marketing. "We rely mainly on the most profitable and frequented tools: social networks. It's the easiest way to get information out effectively. The frequency of publication, the quality of written content, videos, photos, all that is super important! I try to stay on top of what's new and 'trending'; and I want us to continually release news to stay on people's minds. Sometimes we screw up big time — they think it's cheap, too daring, not cool enough, too pretentious or even worse, there's NO reaction (laughs). The important thing is to keep trying because each time you do it you get better. If you keep trying, hopefully you'll end up standing out!"
"I really enjoy business, hospitality, and entertainment. I know the restaurant industry is an extremely difficult and competitive industry, but I love that you can completely screw up or create a successful business, very quickly. Restaurant industry people are, in my opinion, incredible warriors in business, fighting hundreds of competitors every week, with very small margins and no long-term guarantees. I find the challenge of the restaurant industry interesting: I like that we always have to remake ourselves, develop ways to stay relevant. I also like to work on several projects at the same time; I'm a bit hyperactive, I have to keep things moving or I don't feel like I'm making progress and I'm down. And what I love most is bringing people together, having fun, and seeing people have fun."
What we admire about PJ Goupil is that he decided to live his passion to the fullest. We always think it's better to do something that others criticize than to do nothing and criticize others. We also greatly admire his hard work and his talent to develop creative and original projects that get people moving in Montreal!
Written by Élise Tastet