Massimo Piedimonte: Come hell or high water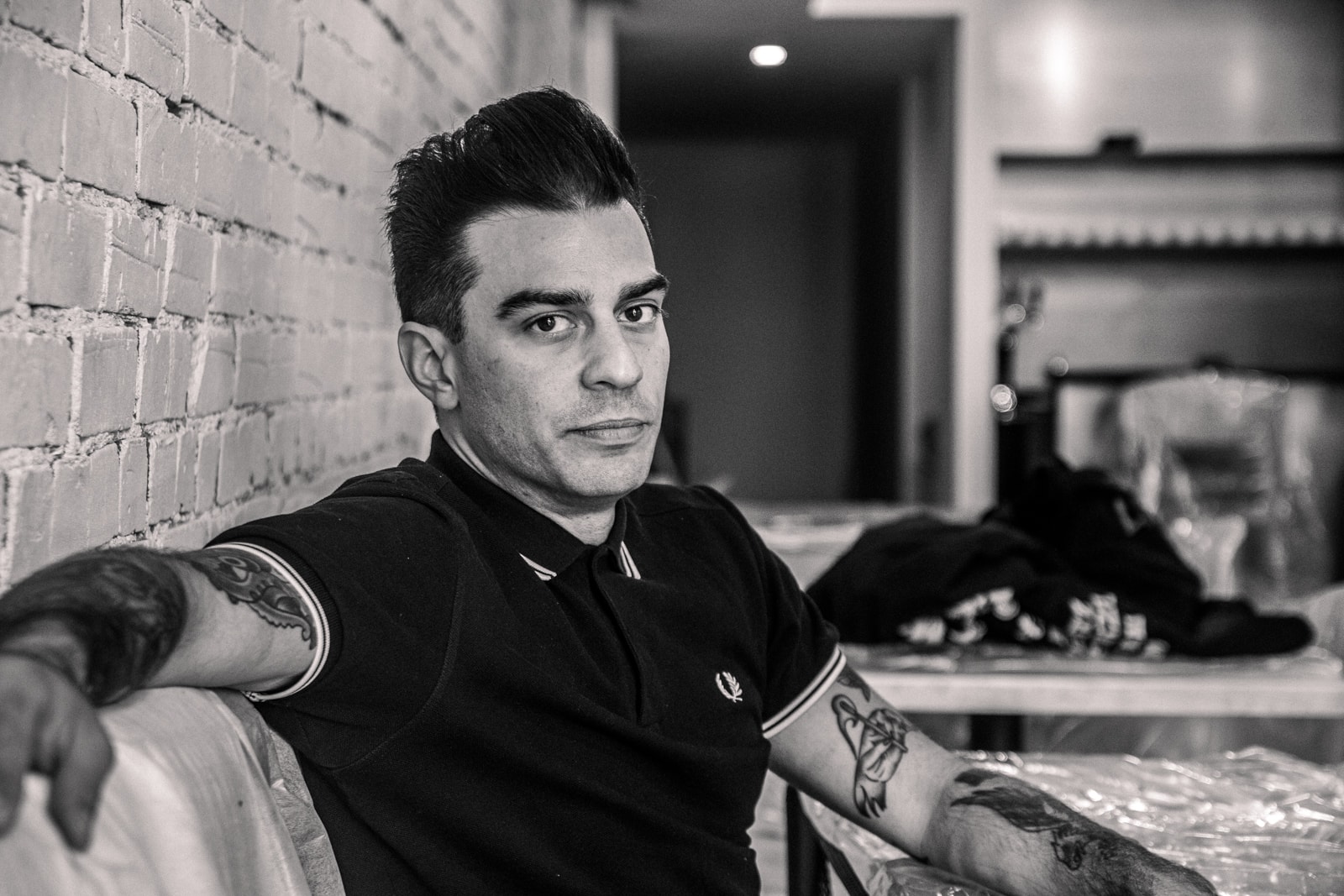 After two years of waiting, rejections, setbacks and hard work, Cabaret l'Enfer will finally be ready to welcome its first customers in a few days. Chef-owner Massimo Piedimonte (ex-Mousso, Maison Boulud, Noma) spoke with us about his rocky journey over the past two years.
Don't expect a gaping mouth over the door when you enter Cabaret l'Enfer on St-Denis Street. Of the famous Parisian cabaret in Montmartre, the restaurant retains only the name. Instead, it is a simple steel plate with the name of the restaurant in fine letters that tells us that we are at the right address.
When we open the door, Massimo Piedimonte is sitting near the window, at a table covered with papers and invoices. While he's making some calls—he's in the middle of preparing for the opening—the chef Santiago Alonso offers us a tour.
In the middle of the space, a large black granite counter separates the open kitchen from the dining room. The chairs and tables are covered with plastic sheets. The white brick walls are still bare, waiting for the artwork that will adorn them. We follow Santiago to the basement, where various workstations will soon be installed, as well as a lounge, eventually.
Originally, Massimo wanted to create a restaurant with two distinct atmospheres: a bar on the first floor and, in the basement, a unique gastronomic experience for eight to ten people per service. But that didn't take into account the many obstacles that awaited him.
"My parents called me Massimo. They could have called me Daniel. Massimo in Italian means maximum. It's really my character in life to be either zero or 100 percent."
– Massimo Piedimonte
To hell and back
To say that Massimo has been through hell is perhaps a bit of a stretch. But the last two years have been strenuous, to say the least.
"One step forward and three steps back, every step of the way, from beginning to end," he says.
Despite many opportunities, Massimo hesitated for a long time before leaving Mousso. But the break forced by the pandemic put things into perspective.
"I was at a point where I couldn't be a good employee. I couldn't work for anyone anymore," he recalls. "I also wanted to work for the future of my children, which at that point was very uncertain."
When the restaurants were finally able to reopen in the summer of 2020, Massimo had already made his decision. "I came back the first week we reopened. Antonin and I talked. Before the end of the week, I was already gone," he says.
In the meantime, Massimo Piedimonte had found a vacant space on St-Denis Street, in the neighbourhood where he grew up.
"When I used to ride my bike to work downtown, I would pass by this space every day. I thought it would be a good location for a restaurant," he says.
One day, a friend sent him the address of a place to rent, saying he should take a look. Massimo immediately recognized his dream location. He still can't believe it: "I can't even describe how in love I am with this space. In love with the street, the neighbourhood."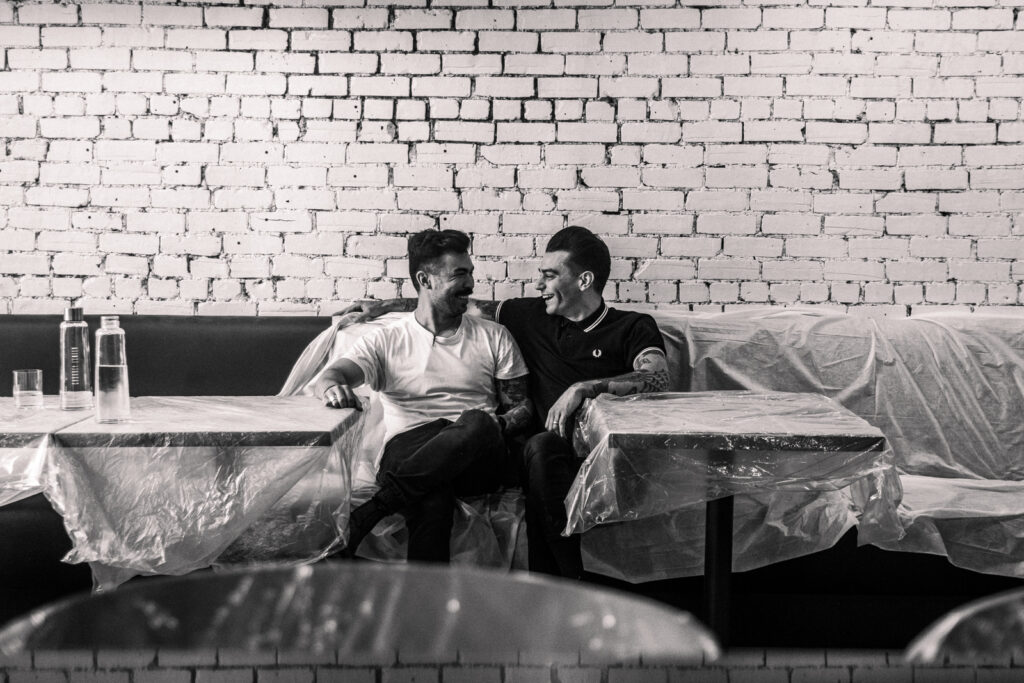 Third time's a charm
If 4094 St-Denis seemed predestined to host his project, there was work to be done. Everything had to be done. "I could have taken the pizzeria across the street. You had to paint a wall, and you could open the next day," he admits. But I really didn't want to open in a place that had suffered because of the pandemic. I didn't want someone's broken dreams painted on my walls."
Step one: find funding. "When I got here to see the space, I didn't know how I was going to put gas in my car," he recalls. But the day after his visit, he braced himself and went to the bank.
Against all odds, he managed to negotiate a deal, found a partner and signed the lease. Then the bank pulled out. "Massimo, the restaurants are closing. We're never going to invest in a restaurant. Good luck," they told him.
But Massimo wasn't ready to throw in the towel. In December, another bank granted him a loan. A month later, the Legault government announced a curfew. We let you guess what happened next.
To make it through, Massimo accepted a few gigs: consulting contracts in the hotel industry, a position in the kitchen at Bottega. "It took me back to where I started 17 years ago. Making pasta, having fun… it was honest, and I really got a kick out of it," he says of his experience.
Then, as a godsend, Charles-Antoine Crête introduced him to his banker. The project was back on track.
Hell, it's us
Despite the succession of general contractors (there were seven in total), the interminable wait for the transformation permits (8 months at the very least) and the liquor license (he had just received it when we met him), Massimo held on. After two years of hard work, including six months of full-time work, he can finally see the light at the end of the tunnel.
"It took a village," sums up the chef, who counts himself lucky to be reunited with several of his Mousso comrades: Santiago, Édouard Bélanger and Émile Archambault, crowned mixologist of the year at the 2019 Lauriers. "We're all extensions of each other," he adds. The entire team is eager to welcome their first customers.
"Yesterday, I finally got to unpack some pots and pans; something that I've been waiting to do for a very long time. The kitchen is finally clean enough for me to try them out," he says.
The menu at Cabaret l'Enfer is the sum of Massimo's past experiences: his Italian roots, his training in classical French cuisine, his internship at the famous restaurant Noma in Copenhagen, and Mousso, of course.
"I've always been interested in the slow food movement, but it was Noma that opened my eyes to its full potential," says the chef. You can do everything from scratch and be self-sufficient. You make your mozzarella, you make your burrata afterwards with the mozzarella."
Cheeses, cured meats, preserves, fermentations, vinegars, vincottos e tutti quanti. Everything is homemade, with local ingredients grown by small producers or picked in the wild by Massimo himself, concerned with offering reasonable prices to his customers.
There is no need to sell your soul to the devil to eat at Cabaret l'Enfer: "I want the middle class to be able to afford a meal at our place, so that our neighbours can come," he says.
At last, the master in his own home, Massimo has all the time in the world to express his vision, without compromise. "I could cook exactly what's on this menu for the rest of my life. I don't need anything more or less, as long as it's honest and tasty," he concludes.
We wish him a hell of a lot of success!
Cabaret l'Enfer
4094 Saint-Denis Street, Montreal, H2W 2M5
514-774-6608
Pre-opening on Wednesday, June 1st, 2022
Reservations starting Thursday, June 2nd by phone or online
Written by Mikael Lebleu
Photography by Mikael Lebleu