Marc-André Royal: Chef, entrepreneur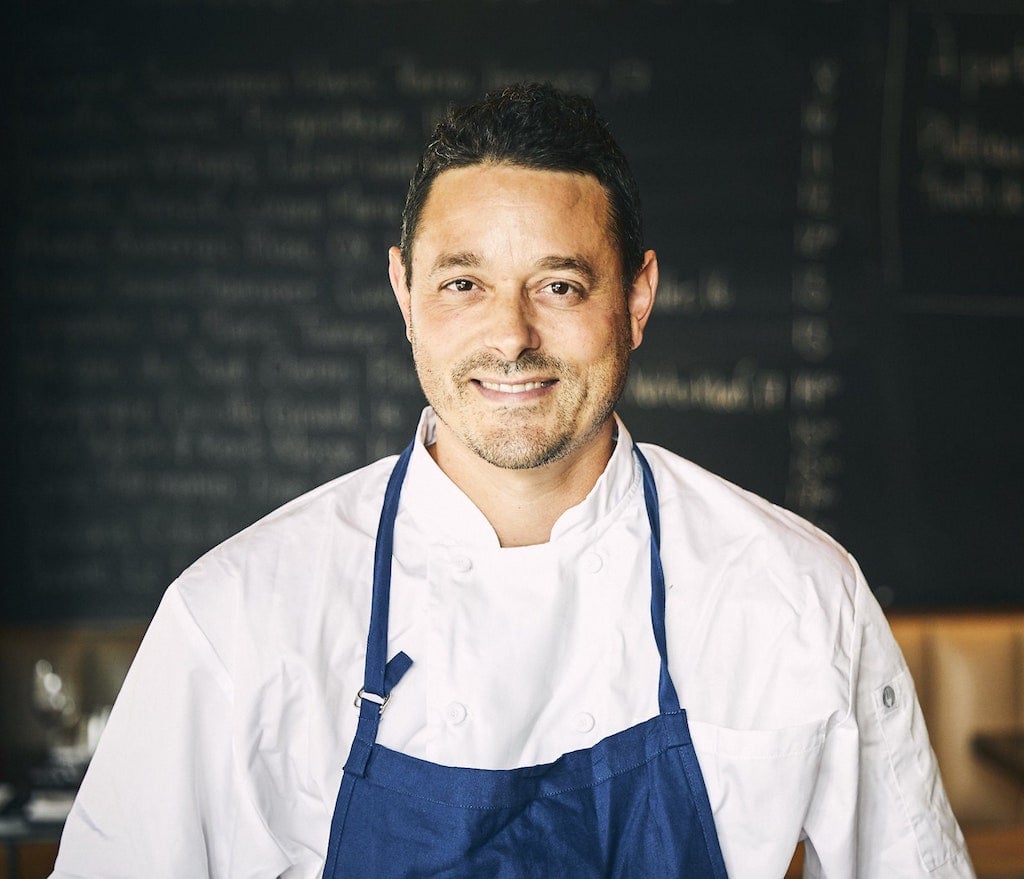 Did you know that many of Canada's most celebrated chefs use maple from Quebec all year long? In an effort to remain local and to highlight the natural flavours of Quebec's terroir, kitchens are opting more and more for Quebec's high quality maple products as an alternative to sugar. This series of portraits will shine light on some of the most impressive culinary talents, all of whom use Maple from Quebec products in their cuisine, throughout all four seasons.
Marc-André Royal is the co-owner of restaurant Le St-Urbain (one of the best restaurants in Montreal), and the La Bête à Pain bakeries which are in Ahunstic, Griffintown and Laval (some of the best bakeries in town)! With dedication, talent, business sense, and charm, Marc-André Royal is a major player in the world of Montreal gastronomy.
Despite the current level of success, Marc-André had not always planned to work in the restaurant industry. At 17, he actually decided to move to Whistler with the intentions of pursuing a career in snowboarding. At the time, working in restaurants was simply a means to fund the early stages of his career as a snowboarder. He took advantage of the slopes during the day, and worked in the kitchen at restaurant Araxi in the evenings – this went on for a few years.
"One day, the phone rang, and it was my mother telling me that I should go to school. She pointed out that I seemed to really enjoy the restaurant industry and that I should consider enrolling at ITHQ. And so, that's what I did."
Marc-André left Whistler to head back to Montreal for the cooking program at ITHQ (Institut de Tourisme et d'Hôtellerie du Québec). At the same time began working at restaurant L'Express under the wing of chef Joël Chapoulie. "I loved cooking the classic bistro menu that was at L'Express because it couldn't be recreated anywhere else! All of the sauces and pan-fried dishes made on the spot, the restaurant had its own butcher, its own fishmonger, its own sous-chef bouillon, its sous-chef sauces, etc. I learned a lot, and I learned it very quickly."
Between school sessions, Marc-André returned to Whistler with his snowboard in hand. Being very young, he had yet to find conviction in a solid path for his future. "I was really young and decided to take a little break from school." He then returned full-time to Whistler, where he continued his dream of being a snowboarder and returned to work at the Araxi restaurant.
Araxi is a high energy restaurant, but with really incredible products, thanks to the proximity of fishing resources and farms in the surrounding areas. "Almost everything came from their garden, and they reinvented it all in their gourmet menu. At that time, farms and restaurants had not yet created an immediate network like they have today, so the concept was very avant-garde. "My role in the restaurant shifted from pantry, to business and then later, to sous-chef. It was my first position of responsibility and it was a lot of pressure. There were a lot of people older than me who were trying to eat me up because I was 20 years old and working in a big restaurant. I learned a lot; knowing when it was time to stand up and when to stay in my place, and how to manage other people."
A few years later, Marc-André was seriously injured in a snowboarding accident. The then-24 year old was once again left rethinking his future. "It seriously slowed down my career, but that's when the opportunity to be a chef clicked in my head. The other chefs around me became my role models. I wanted to be like them, so I started to take it all a bit more seriously."
Once Marc-André had decided that he wanted a career in the restaurant industry, there was nothing anyone could do to stop him. His first move was coming back to Montreal, where he got a job working under Claude Pelletier at restaurant le Méditerranéen. "Claude Pelletier is a sick man (in a good way). In the kitchen, he was 100% there. He knew everything that was going on, everywhere. He's a gastronomic artist! The feeling we had in his kitchen was incredible because he was able to motivate a team with disconcerting ease. His techniques, his commitment to stay true to his cooking, not to follow fashion, wow!" After two years under the wing of this great master, Marc-André left the city for London, England.
In London, the young talent secured a job at Club Gascon, a Michelin Star restaurant in the business district. "The chef, Pascal Aussignac, was quite entertaining: what we did in the kitchen was incredible, it was a very modern cuisine with extremely advanced techniques. That's what I was looking for: a great leader, always on the alert (laughs). In addition, because we were in London, we had more money so we could afford to do a lot more things. It was an exceptional place."
The most difficult part of it all was the schedule. In his time at Club Gascon, Marc-André worked from 8 in the morning until midnight, seven days a week, "It was hard to stay healthy, the schedules make it feel like a cult. You're super motivated, you meet celebrities, it's a whirlwind. Sometimes you're completely disgusted, other days you've gone all the way up – it's either 100% or nothing at all. There were a lot of people leaving in the middle of the shift because they couldn't make it through until the end. You don't take breaks because there was no such thing in that kitchen. It's hard, but that's when the magic happens. It's a relationship of hatred and crazy love!"
After a hellish year of long hours and late nights, Marc-André returned to Montreal with a lot more knowledge and experience under his belt and started work at the upscale private club, 357C. "I enjoyed working with the people of 357C. I was coming from London, I was really enthusiastic, and the level of quality that the address maintained was unique. The employees were good, the customers incredible, and the budget was close to London. It was top-of-the-line. At the time, I was working with Bertrand Bazin and Antonio Park, and the three of us together made a great team." Even though 357C was as close to the London restaurant scene as you could get in Montreal, and urge to open his own gourmet establishment started bubbling up.
Marc-André was then confronted with a choice: to go back abroad and develop his chef skills further, or stay in Canada and invest in starting a family with his new found love, Annick. Knowing that he wanted children, he decided to stay. It was at that point in 2008 that opening the restaurant St-Urbain became his next goal. "I had decided to open a place that was both good and unpretentious. And then boom! Just like that, the success of restaurant St-Urbain took off like a rocket. " As proof, the restaurant continues to function at full capacity to this day, ten years after opening. "I like St-Urbain because it has remained so similar to what it was from the beginning: a very seasonal cuisine, without a fixed menu. We don't have any freezers because everything is fresh. Thanks to the area we're in, we have great customers, cheap rent, and a restaurant that is successful. We offer good service, a good wine list, and great dishes… It is a bit chic and expensive, but in a very relaxed and comfortable environment." 
Of course, we can't forget about Marc-André's second success, La Bête à Pain. "Three years after opening the restaurant, I came across an ad for a small commercial space and I pounced on it. In the past, we'd buy out bread for the restaurant, but it  wasn't always great. At the time, there weren't too many good bakeries – no Automne Boulangerie, Hof Kelsten, or Guillaume. I got used to making my own bread when I was working in Whistler, London, and New York. It just felt normal to me, so I wanted to do the same for restaurant St-Urbain."
Quickly after moving into the new empty space, Marc-André opened his very first bakery, la Bête à Pain Fleury. "I wanted to open a bakery in this small location, with a take-out counter, and desserts and breads that were always fresh and tasty. The system was going to work perfectly, and I'd finally be able to provide restaurant St-Urbain with the bread we were looking for. The only problem… nothing went according to plan. When the day came to open the doors, I looked at the new bakery and said to myself: Oh, my God. What is this monster?! We were driving so hard and so fast that we couldn't keep up. It was fun, but our inventory was always out of stock."

Eventually, the space beside the bakery opened up and Marc-André and his team took it over as quickly as possible.  In that move, La Bête à Pain gained a full industrial production kitchen in the basement of the new space. "I wanted to make pastries, but it was impossible where we were. I understood that each branch of the bakery needed a production space of its own. We had too much demand for the bakery. When you use good products, customers come back two or three times a week, it's great."  Not only is La Bête à Pain a roaring success in it's own right, but it also perfectly compliments the personality and product of restaurant St-Urbain. 
The second La Bête à Pain project was born in Griffintown in 2016. Marc-André was approached by the company Maison Corbeil with a design concept for a new location. He thought it was a great idea. "I had worked nearby the area when I was at 357C, so I knew it was a neighbourhood that was developing. I was looking for an opportunity like the one in Ahuntsic, where there was almost no other businesses at the time we started, but has since grown a lot."
Once again, the success was almost instantaneously incredible! The growth of La Bête à Pain was starting to outpace its creators, and the new address was making things more difficult to manage in the same way they had been. "We have gone from 10 employees to 85 employees now. Every six months, we must restructure, change equipment, improve human resources, management, etc. That's what I like … It's a company with tremendous growth potential! We make money and our people are happy to part of the team. It's a great company. I also like that the company is youthful and showcases certain aspects of Quebec's food to young people, from flour to maple syrup. The La Bête à Pain company developed at a much faster rate than the restaurant. We're serving up to 6,000 to 7,000 people a week now!" 
In January 2019, Marc-André opened the third location of Bête à Pain in Laval. Why? " Because it works! (laughs) I had a discussion about wanting to call it something else, but our brand image is good, people know our product and it works well. Each of the locations are a little different from one another. The one in Laval is a fusion between the St-Urbain restaurant and La Bête à Pain, so everything will be a little different. This location is the closest match to the bakery of my dreams. "It has everything I wanted – a takeout counter, a more functional and tidy kitchen, a florist, which is a MUST. It's too beautiful!"  It is indeed an address to be discovered.
Marc-André's story is as "rock-and-roll" as the man himself, so one can only admire his entrepreneurial spirit and his conviction to make his dreams come true.  Over the years, he has built an empire, and created jobs for nearly a hundred people in Montreal and the surrounding area. In addition, he has never stopped offering the same high quality product and beautiful setting.  Long live your madness, Marc-André!
Short questionnaire
How do you take your coffee? Macchiatto.
What vegetable would you cook for the rest of your life? Well, the potato, I think!
The fish you'd cook for the rest of your life? Halibut.
The meat you'd cook for the rest of your life? Lamb.
Where would you eat tonight in Montreal? At Club Chasse et Pêche
If you could go on a trip anywhere in the world, where would you go?  To Norway
What would you be doing if you weren't chef? I'd sell t-shirts in the Martin Islands. 
Where would you live if you didn't live in Montreal? In Chamonix
A short maple questionnaire
How do you use maple in your cooking? Maple is used so much at La

Bête à Pain

; maple flakes, maple sugar, maple syrup… We very often replace sugar with maple, in dressings, pastries, marinades.
One of your favourite maple items from la

Bête à Pain

? The apple turnover.
Your first memory of enjoying maple? Being a kid in Mont-Laurier and going for a walk to my neighbour's house to steal his maple sap! (laughs)
What do you admire the most about maple? I like that it is a product that really represents Quebec well. It's intensely us. It is a natural, versatile product, which adds just the right taste. It replaces sugar and gives you a small advantage.
Written by Sydney Carter
Photography by Érable du Québec