Room service: Like at the restaurant, but in your hotel room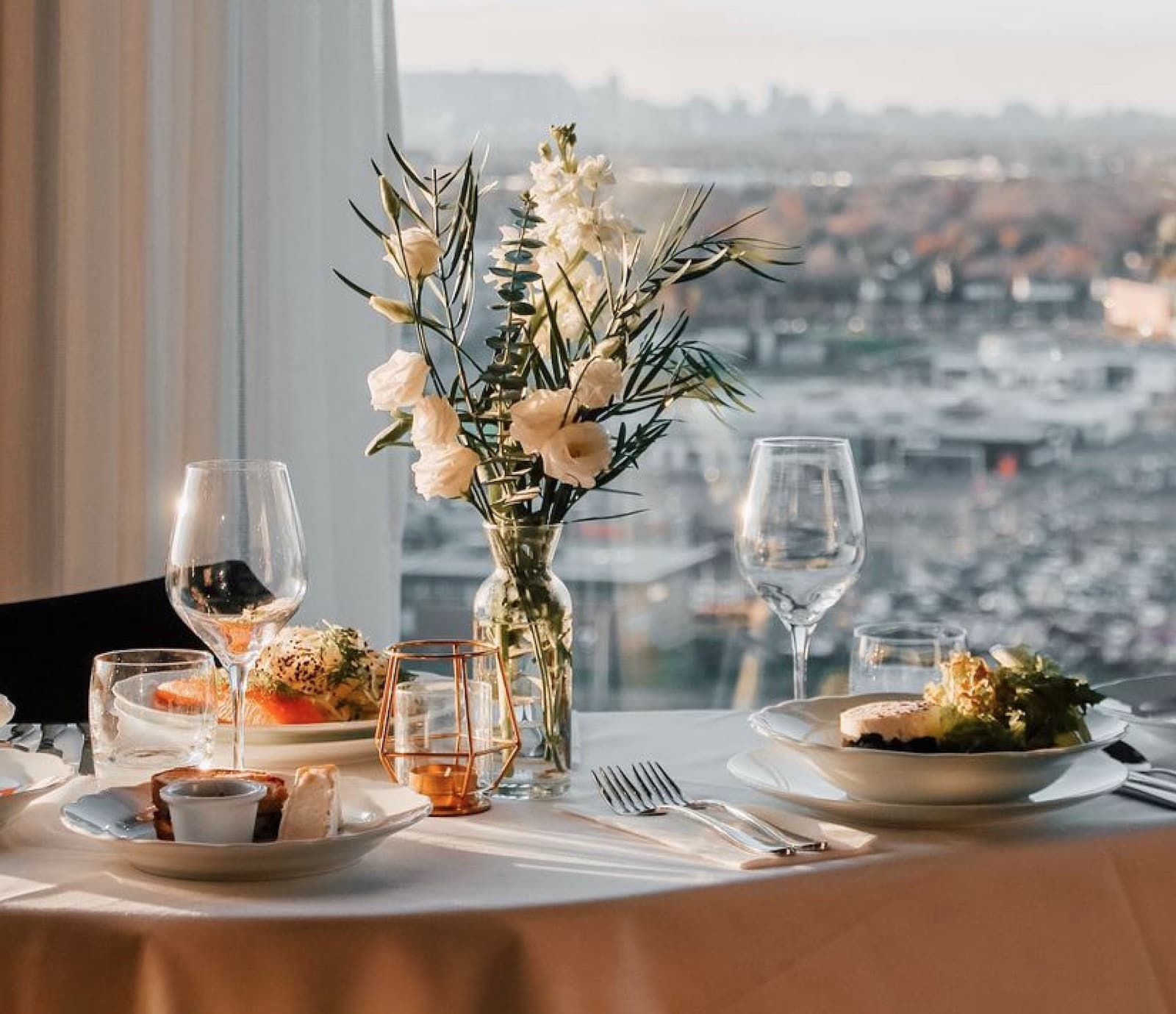 Since the beginning of the pandemic, thousands of restaurateurs in Quebec have reinvented themselves. Both here and across the world, restaurateurs have come up with innovative ideas to bring the restaurant experience home. Consider the new restaurants that opened in 2021, the many ready-to-eat dishes lovingly prepared by our favourite restaurants, and all the places that have adapted to offer a take-out menu. We've still been spoiled this year, haven't we?
We must say that we're happy and very lucky to be able to enjoy the delicious food from our favourite restaurants at home. However, we do miss the service experience of dining in a restaurant.
Although restaurant dining rooms are closed for now, hotels can accommodate us, and many are providing delicious offerings for room service. Some addresses have quickly adapted to this third wave and offer tempting packages for a perfect escape.
Here are our suggestions for addresses throughout Quebec where you can enjoy a culinary experience during a well-deserved getaway. Who says you need to go far to travel? Some addresses even offer to reserve a room for the time of a meal only.
MONTREAL
Le Germain Montréal: Experience Le Boulevardier restaurant from the comfort of your room with room service at this beautiful downtown hotel. The menu has everything you need for a memorable evening of dining: oysters, tartares, pastas, desserts, and a fine selection of wines. Want to spoil yourself? Opt for the In-Room Gastronomy Package which includes valet parking, a multi-course dinner from Le Boulevardier restaurant, a bottle of wine, and breakfast. The kitchen team composed of Tristan Lambert and his new chef de cuisine, Samuel Sauvé-Lamothe, will blow you away!
Hôtel Le Crystal: Until the magnificent dining room decor is restored, Siam Restaurant offers room service. The elegant downtown boutique hotel is offering several new deals: the "Teleworking Break" for a change of scenery for a day; the "Family Getaway" for some quality family time away from home; and the "Long Weekend Getaway" for those who need more than two nights to unwind — plus, the third night is free! Another perk of Le Crystal's offerings? You can order the delicious Thai dishes from Siam from your room!
Montreal's Ritz Carlton: The luxurious downtown hotel has created seven packages to fit the bill, such as the Office Away From Home package, the Staycation Experience and the Romance Package. Whatever the reason for your stay at the Ritz Carlton Montreal, we are sure you will find a package that suits your needs. Maison Boulud offers its menu to hotel guests and even offers to call the in-house sommelier for wine pairing advice.
LAURENTIDES
Estérel Resort: In the middle of the Laurentian woods, Estérel Resort is a must-stop destination in the Laurentians. For a romantic escape, a family weekend, or a moment of solitude, this prestigious establishment will welcome you in style. They also offer a room service menu with a fine selection of dishes to share. All of which can be enjoyed near a fireplace in one of the rooms.
OUTAOUAIS
Hotel V: For those who are really missing the restaurant experience these days, Hotel V in Gatineau is offering something unique. Between 5:00 p.m. and 7:30 p.m., you can reserve one of their rooms to enjoy Resto Bistro Rumeur's cuisine. Why not extend your stay for the night after a good meal for the full Bistro Hotel V experience?
BROSSARD
Escad Hotel: The magnificent boutique hotel with loft-like rooms is offering the Brasserie T gastronomic package. This includes a room and a 3-course dinner from Brasserie T. Also, you can add wines and cocktails from Les Cousins, the hotel's bar.
CHARLEVOIX
Le Germain Charlevoix Hotel & Spa: The magnificent hotel in the Charlevoix region offers room service through Le Bercail restaurant. Choose from the classics of the house and enjoy it all in the comfort and privacy of your room.
NORTH HATLEY
Hovey Manor: The sublime Hovey Manor, now a member of the Relais & Châteaux association, was built in 1900 with George Washington's home in Virginia as its inspiration. Staying at this beautiful address is like being on vacation in a charming lake house, says General Manager Jason Stafford. Upon reserving a room, you are treated to Le Hatley restaurant's menu right in your room. A refined and nature-inspired cuisine made with local ingredients.
BELŒIL
Hôtel Rive Gauche: Book a room at the Rive Gauche Hotel and a waiter from the Bistro Le Coureur des Bois team will come and bring your order directly to your room at the time that suits you. Le Coureur des Bois, known for its incredible wine cellar, also offers great discounts on certain bottles for the occasion. Having trouble choosing from the 14,000 bottles on the menu? The sommelier will be happy to come up to your room to advise you. Finally, the address also offers beautiful products to take home!
QUEBEC
Auberge Saint-Antoine: This Quebec City inn considers all of its rooms as separate restaurants and offers a great experience to its guests with several packages including: the Gourmet Escape, and the Under the Stars package for those who wish to stay overnight. Note that room service is also available for breakfast as well as continuously throughout the afternoon and evening.
Do you know of other establishments that offer this formula? Write to us!
Written by Sophie Monkman
Photography by Hôtel Escad