Our suggestions for an aperitif in the park – 100% local!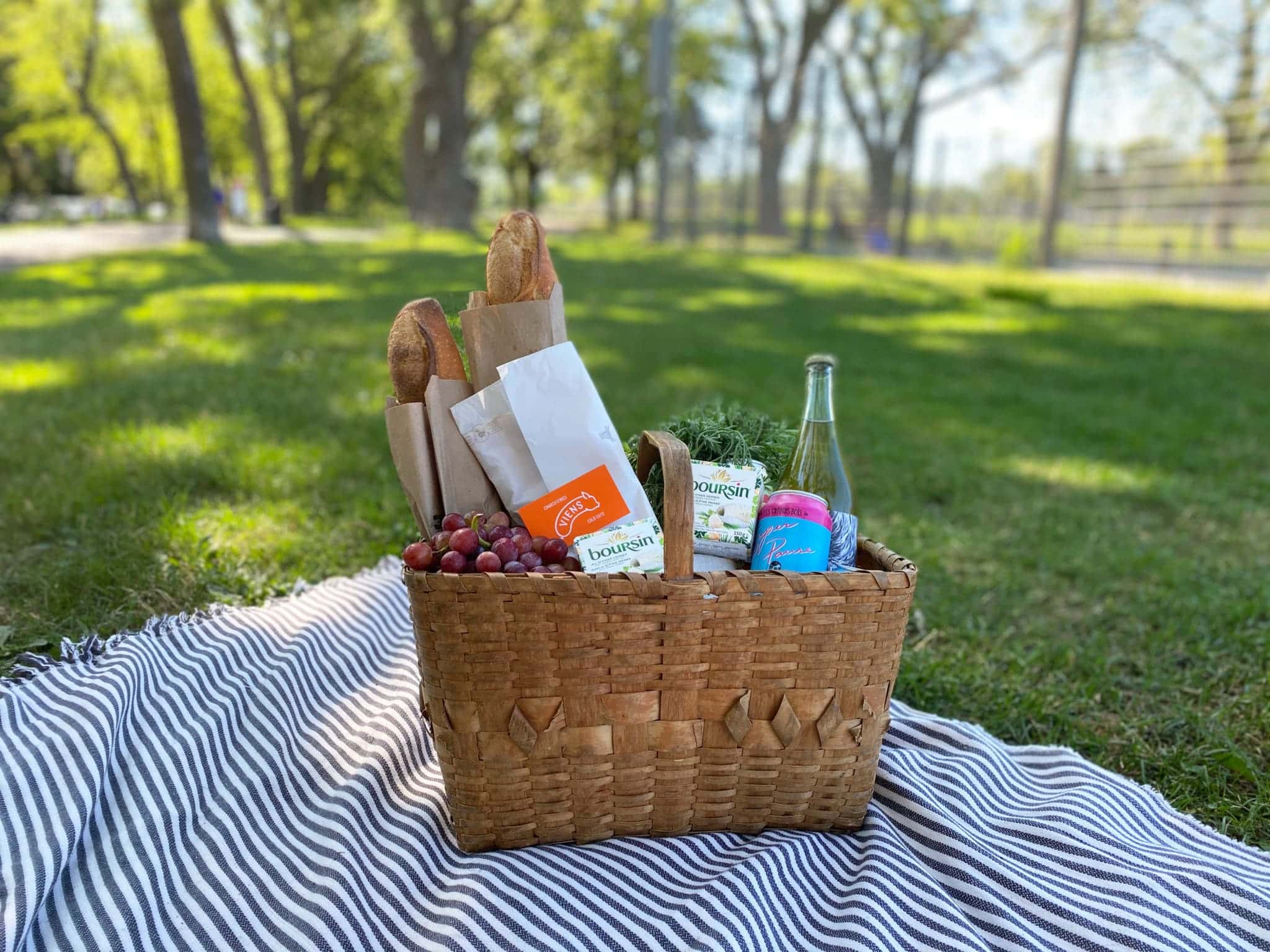 The weather is beautiful, it's hot, and all we want is to sit outside, preferably far from the hustle and bustle of the city, and enjoy the sun. Summer is undeniably here. Unfortunately, the current context more or less forces us to stay at home. However, that doesn't mean that we can't enjoy the summer to the fullest!
In Quebec, we're lucky to have very green cities, in which we find a multitude of parks. And it is in these green oases where we can rest and forget that we are in the middle of a metropolis. And this is a good thing, because one of the great pleasures of the summer season is to have a drink with friends in a park.
The night falls slowly, the temperatures are more pleasant, the small worries of the day are forgotten… summer evenings are wonderful moments to share with our loved ones. There is only one way to make them more beautiful: a gourmet basket filled with delicious local products.
In order to organize a simple and delicious aperitif, here are our suggestions of addresses near the parks where you can get local delicacies that will guarantee a successful evening, all presented by Boursin, a cheese proudly produced in Quebec.
Jarry Park in Montreal – Boursin Basil & Chives
Located near Little Italy, in Montreal, this huge park is an ideal place for your summer evenings. We recommend the Boursin of basil & chives, two fresh herbs that blend perfectly with the unique creamy texture of the cheese.
Since the park is just a stone's throw from the Jean-Talon Market, you can pick up your favourite charcuterie at the Boucherie du Marché or get something to put on the grill because Jarry Park has a designated BBQ area!
No aperitif is complete without a good baguette. So head to Le Pain dans les Voiles bakery, where you can pick up some great baguettes and other breads made from the house's exclusive flour, perfect for accompanying your Boursin.
If you're thirsty, the Comptoir Ste-Cécile, a small neighbourhood grocery store that offers a wonderful selection of Quebec wines and ciders, is a must-try! If you're a beer lover, stop by the Harricana brewery, which now offers its house beers to take-out!
Parc Jeanne-Mance in Montreal – Boursin Garlic & Herbs
On the Plateau-Mont-Royal, in Montreal, we suggest you put your picnic basket down at Jeanne-Mance Park. Named in honour of Montreal's co-founder, Jeanne Mance, it's the best place to enjoy the brand's most iconic Boursin: Boursin Ail & Fines Herbes.
The flavour of this great classic will be splendidly accompanied by the superior quality breads of the staple bakery Hof Kelsten. For the record, the baker learned to make croissants, pains au chocolat, panettones, chocolates and other delicacies at the iconic El Bulli!
The charcuterie from Aliments Viens, which supplies the city's best restaurants with its pork products, is a perfect addition to your aperitif. In addition to the take-out trays, the house also offers some cheeses.
All of this can be washed down with Lawrence's selection of Quebec ciders and wines or the cold beers of Le Réservoir, one of our favourite places to lunch, which now offers its delicious food and beers to take-out!
Note that you can even reserve a tennis court beforehand, to work up an appetite!
Victoria Park in Quebec City – Boursin Poivre Noir
In Quebec City, several interesting addresses are located near the large Victoria Park, but also very close to the beautiful Jardin Jean-Paul-Lallier.
If you like cheeses with a little more character, the Boursin Poivre Noir is perfect for you. It offers a pleasant contrast between the spicy flavour of pepper and the creaminess of the cheese.
A delight to spread on the breads of the Boîte à Pain on St-Joseph Street and to accompany the charcuterie and other fine products of La Place, a gourmet boutique located on the same street. And to quench your thirst, the St-Roch branch of William J. Walter offers a surprising selection of delicious Quebec wines, ciders and beers.
We hope that these suggestions for creating local gourmet baskets will inspire you for your next picnic and we thank Boursin for helping us discover these beautiful addresses!