Dosa Pointe: Authentic Southern Indian specialties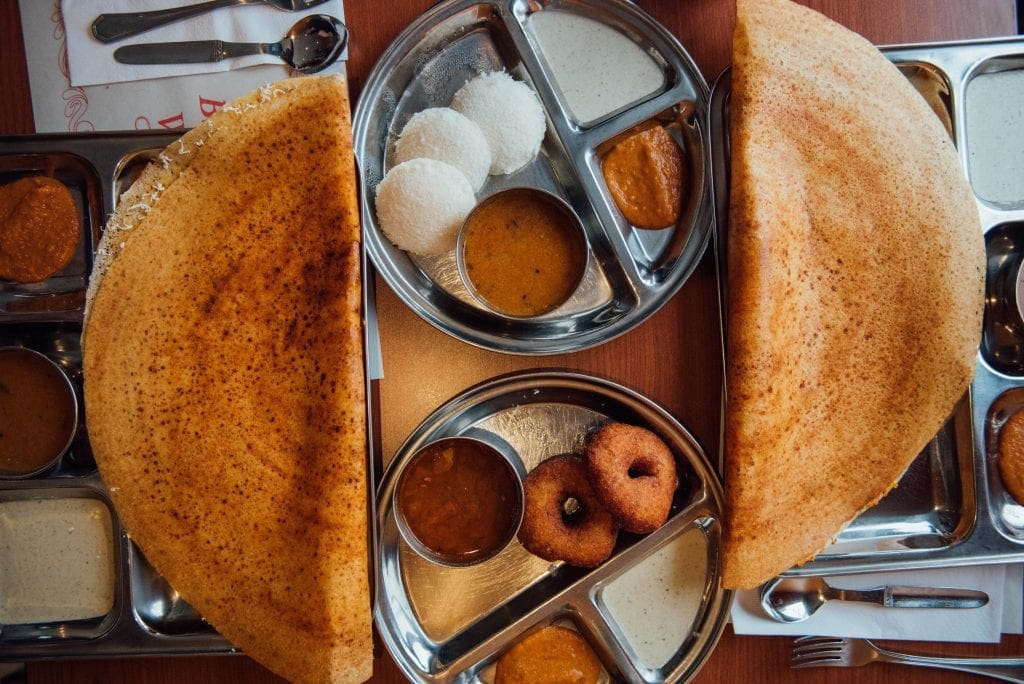 Dosa Pointe is a restaurant in the Parc-Extension neighbourhood, serving the most original and authentic specialties from the Indian subcontinent! 'Dosa' is a type of pancake, similar-looking to a crêpe and can be prepared in a myriad of different variations.
Dosa Pointe first opened in 2016. They prepare typical dishes commonly found in Hyderabad, a region in South India, which is also the birthplace of San, the owner. By specialties, we mean the food that gave the establishment its name: 'dosa'. Dosa is a pancake made with fermented batter, the main ingredients being rice and black lentil flour, but there are many variations. It is usually eaten hot with a potato filling, paneer ( a fresh farmer cheese common in South Asia), and chutney, or simply as a side with other dishes. « We didn't want to create a North American Indian restaurant. We really wanted to focus on traditional dishes from Southern India, that being dosas. » They are truly very successful; each dish comes with its own authentic flavours!
San and his family are responsible for the decor of Dosa Pointe. The simplicity speaks for itself but in no way undermines the welcoming atmosphere. The restaurant's windows bring in beautiful light during the day and together with the orange wall, add an element of warmth to the room. The wooden tables and chairs can seat around 20 guests and enticing smells waft towards the tables at all hours. The owner welcomes every customer with a smile and be aware that the specialties of the day are posted on the surrounding walls.
Credit for the wonderful dishes at Dosa Pointe goes to San and his wife. These homemade recipes originating from their own families. The number of dishes on Dosa Pointe's menu must be close to 100, yet they all contain their own flavours. Almost all offer variations of the famous dosa, each one as authentic as the other. The restaurant is clearly a favourite of Montreal's South Asian community, always an indication of success and authenticity. A special mention needs to go out to the house lassi, a yogurt-based drink popular in southern India. Lassi is a blend of yogurt, water, spices and sometimes fruit. Dosa Pointe's lassi includes mango, other sweet versions and a salty/savoury lassi. We suggest the rose or mango lassi as a real treat to accompany your dosa.
« Customer satisfaction is what is most important to us. It's the people that matter most, their appreciation. » What we like here is the complete change in cuisine, so far removed from Quebec cuisine. Dosa Pointe is the ideal place for a dining discovery into South Indian specialties and all their wonderful flavours, and at very low prices!
Written by Kashanti Sandy