Maison LeGrand: The power of plants on our plates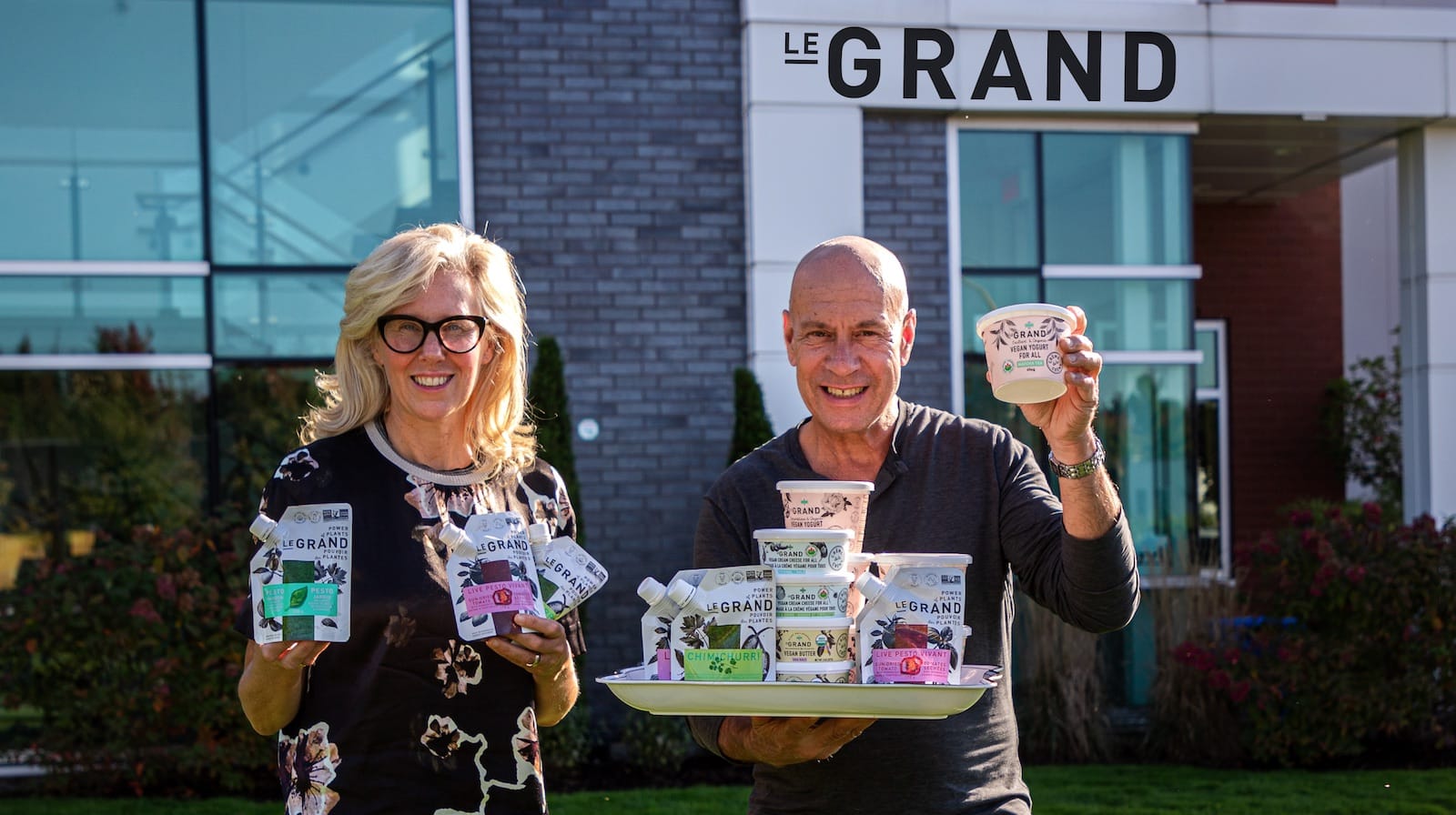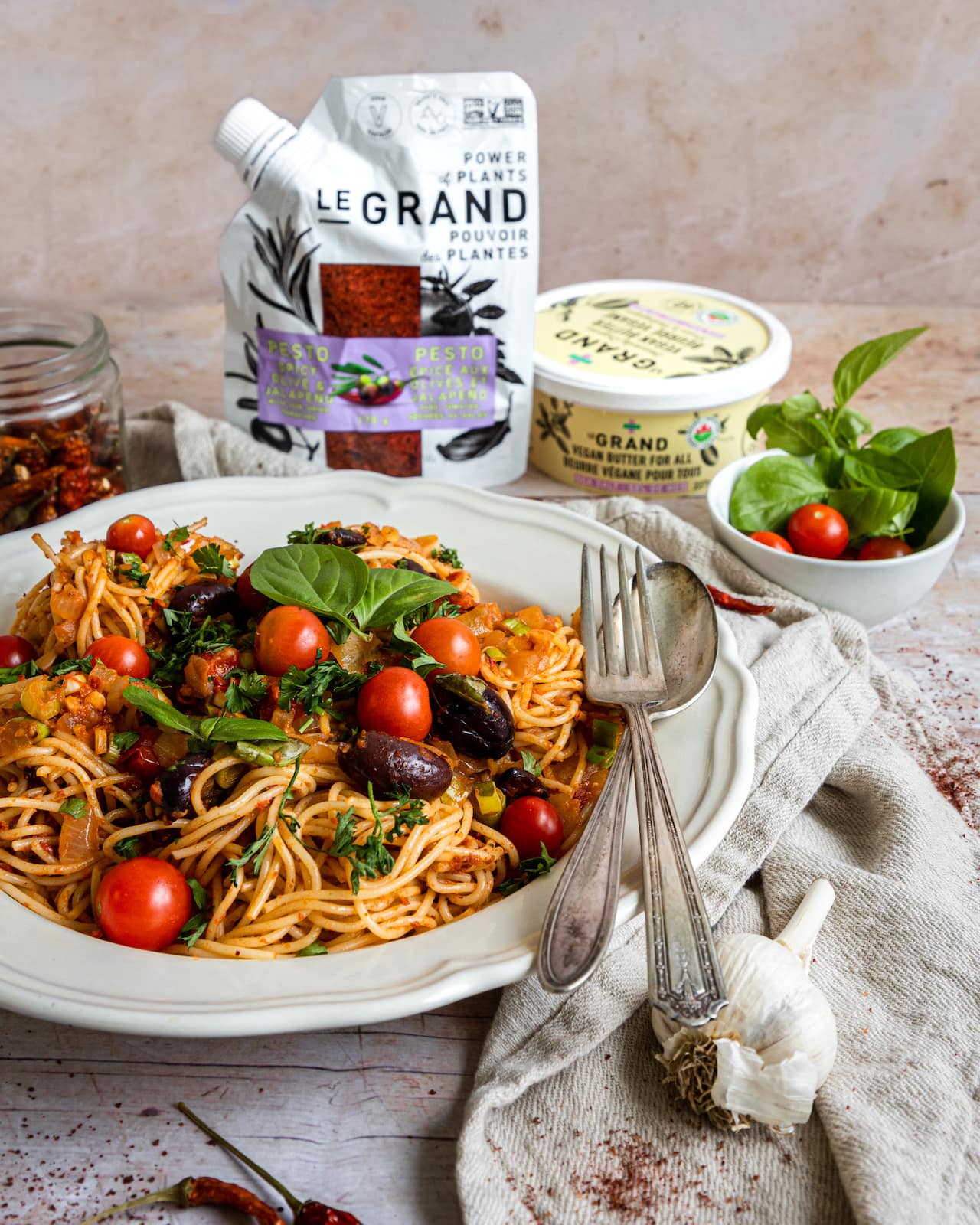 You've probably already tasted Maison LeGrand's delicious pesto, which is available in all major grocery stores across the city. In fact, it is not always easy to cook complete meals with fresh products that are both healthy and delicious. Maison LeGrand offers a variety of products to give us a helping hand to add colour and flavour to our homemade recipes, all while keeping our health, animal welfare, and the environment at heart.
If Maison LeGrand is so successful, it is because of the quality of its products and the great care with which they are prepared. Maison LeGrand's products are made entirely with fresh ingredients from the garden and without any added preservatives.
These products include, of course, the classic pesto that has made Maison LeGrand a name for itself in the food industry, but also an entire line of vegan and plant-based food products. These include a palette of 4 colourful and richly flavoured pestos, 8 inventive flavours of plant-based yogurt, 3 flavours of vegan cheese spreads and two non-dairy butters.
The success of these products is not limited to Quebec; they are also sold in most Canadian provinces and in specialized chains such as Whole Foods Market and The Fresh Market in the Northeastern United States. Why stop there? The local company hopes to soon add other major retailers, including Costco, to its list of clients.
The couple behind Maison LeGrand
Behind this wonderful Quebec-based company, we find a couple who are very committed to the development of 100% plant-based products and who have always taken their vision of a healthier world to heart. This is how Bernard LeGrand and Tatiana Bossy have found themselves in the kitchen of Quebecers since 1997.
Growing up, Bernard LeGrand spent a lot of time with his mother who prepared plant-based meals to help his father manage his diabetes.
In the 1990s, while living on the Plateau, Bernard developed a passion for music. While trying to make a career out of it, he started delivering homemade vegetarian sandwiches on his bike to earn some money to finance his dream of becoming a drummer in a rock band.
"I'm a musician and became an entrepreneur out of necessity, but very quickly my second passion, cooking, began to fuel my imagination. Since I was a child, I watched my mother cook with amazing creativity, mostly vegetarian dishes, but everything she did, she did with love. When I was young, music took up all my time, but low-paying restaurant jobs to survive inspired me to start my own business, however small. I started a vegetarian sandwich business that I delivered on my bike. I didn't have a car and so I started my own thing!"
As his clientele grew, he met his life and business partner, Tatiana Bossy. It was love at first sight. While Bernard takes care of the creation and development of recipes, Tatiana takes care of the administrative side. A real team, they complement each other on all levels.
Bernard, through his recipes, seeks to change the perception of products that already exist in supermarkets: "I am not a chef, I am a cook," he says. "I try to reproduce in the factory what I do in the kitchen, which is to try to make healthy and delicious food that is also vibrant and beautiful. Tatiana, on the other hand, wields numbers like kitchen knives; together they are slowly building an empire. "Even though I was creative, I was losing the battle of managing my business."
"Tatiana noticed this and soon she helped me, working from home. That was the beginning of another relationship between us. Over time, she developed her skills and became a natural leader and a superb organizer. I could become an artist again…" explained Bernard.
Victims of their success, the small family kitchen was no longer sufficient for the production of the products. They moved to Saint-Joseph-du-Lac, then to Blainville in 2014, where they had more space to expand their business. For over 25 years, they have been perfecting their all-vegan line of non-GMO pestos and other organic plant-based products, each made from the highest quality ingredients, without preservatives, fillers, or other additives.
This is how the company's philosophy is revealed through each preparation: "We truly believe in plants and their healing and bonding power. A way to move the world to a plant-based lifestyle!"
Plant-based vision
Vegan for everyone — that's the idea behind every LeGrand product. Because plants aren't just for vegans. They're for all of us: bikers, entrepreneurs, and yes, even meat eaters. They encourage people, regardless of their diet, to fall in love with plants, for health, for energy, for humanity, and for the planet.
Written by Inès Duguen