Café Osmo : a good café and one of Montreal's most strikingly beautiful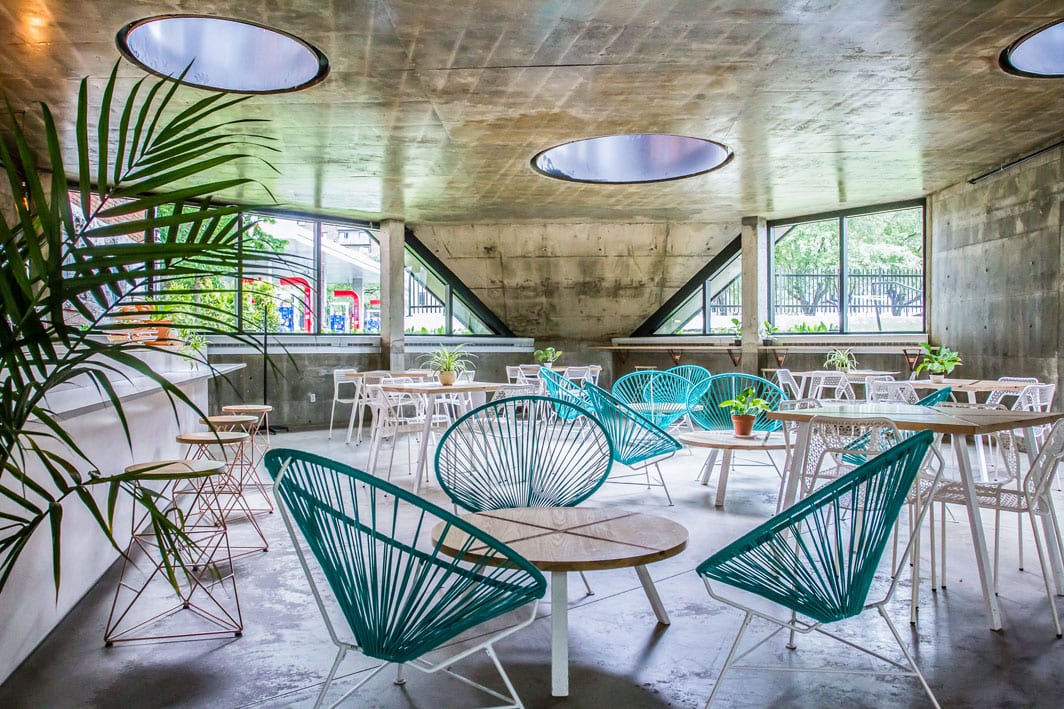 The content of this article is no longer valid. The OSMO coffee has become Osmo X Marusan.
Learn more about them right here !
Café OSMO on Clark Street, can be found adjoining William Notman House and the former St Marguerite Hospital, and we consider it to be one of the most beautiful cafés in Montreal. OSMO is an architecturally stunning place where you can enjoy not only good coffee but also eat simple and delicious food!
Café OSMO: a good café and one of Montreal's most strikingly beautiful
Café OSMO is the stunning project of the OSMO Foundation, a non-profit organization created in 2009 to support the development of start-up ecosystems in Montreal. Notman House is the physical space & tech hub where everyone meets and in 2016, the foundation opened this magnificent café in what was an empty building. Located between two heritage buildings from different decades in the 19th Century, this café boasts a unique architectural style, thanks to the architectural firm Sid Lee. They have created an open space using an abundance of cement to include a ceiling that extends on one side down to the floor but they've added a couple of large light tunnels and high windows to let in lots of natural light. To fill this cavernous space with a decor suitable for a café, Sophie Fidler (Breather) has lent her talents via a generous donation from the Dan Robichaud Foundation. The café certainly has a minimalist and contemporary look, with its modernist wooden tables, the 1950s style Acapulco chairs in white and turquoise scattered around, and a brick and stone wall that backs the white coffee bar. Other than that, the tones are pretty neutral but there are plans for some green living walls. OSMO seats about 50 and during the summer, a lovely spacious terrace at the back awaits everyone. Outside, you can't miss the living roof that has been installed on the exterior side of the ceiling that comes down to the ground. This is another design detail to marvel at. OSMO Café sees itself as a community space where Notman's entrepreneurs and the public can meet up, work and be creative while enjoying good food and coffee.
Now we come to the gourmet side of things. Since Annie-Claude Devriese and Étienne Charlebois (Hoogan et Beaufort) have redone the menu, OSMO is experiencing improvements. The menu changes regularly and the team places a lot of emphasis on working with Quebec and local producers, including the products from young entrepreneurs. The small plates now being served are quite simply tasty, original and very affordable. Sandwiches, salads, soups, grilled cheese and breakfasts are available. For those of us with a sweet tooth, try any of the delicious pastries and muffins available and the excellent coffee is provided by De Mello Palheta Coffee Roasters out of Toronto. It is a nice treat as well, to see that OSMO uses milk from Laiterie Chagnon, an Eastern Townships dairy. And because the café is part of the non-profit OSMO Foundation, all profits are returned to the foundation itself.
Since Annie-Claude took over the running of OSMO « we try to put a little bit more emphasis on our cuisine by working with local producers and offering affordable and accessible food ». In addition, OSMO strives to do their part against food waste « We are against wasting food and aim to recover as much as possible and not throw anything out in the kitchen ».
The main attraction of OSMO is definitely visual, given that this is such an original and unique space. But the small delectable menu is very affordable and not to be overlooked. In addition, the atmosphere is casual and we very much like the vision of the people at OSMO, because this is a wonderful project that they are in the process of developing.
OSMO also has a catering service and it is possible as well, to reserve the café and terrace for your own events and they can provide the catering.
Written by Élise Tastet