Quebec Winemaking: A growing treasure!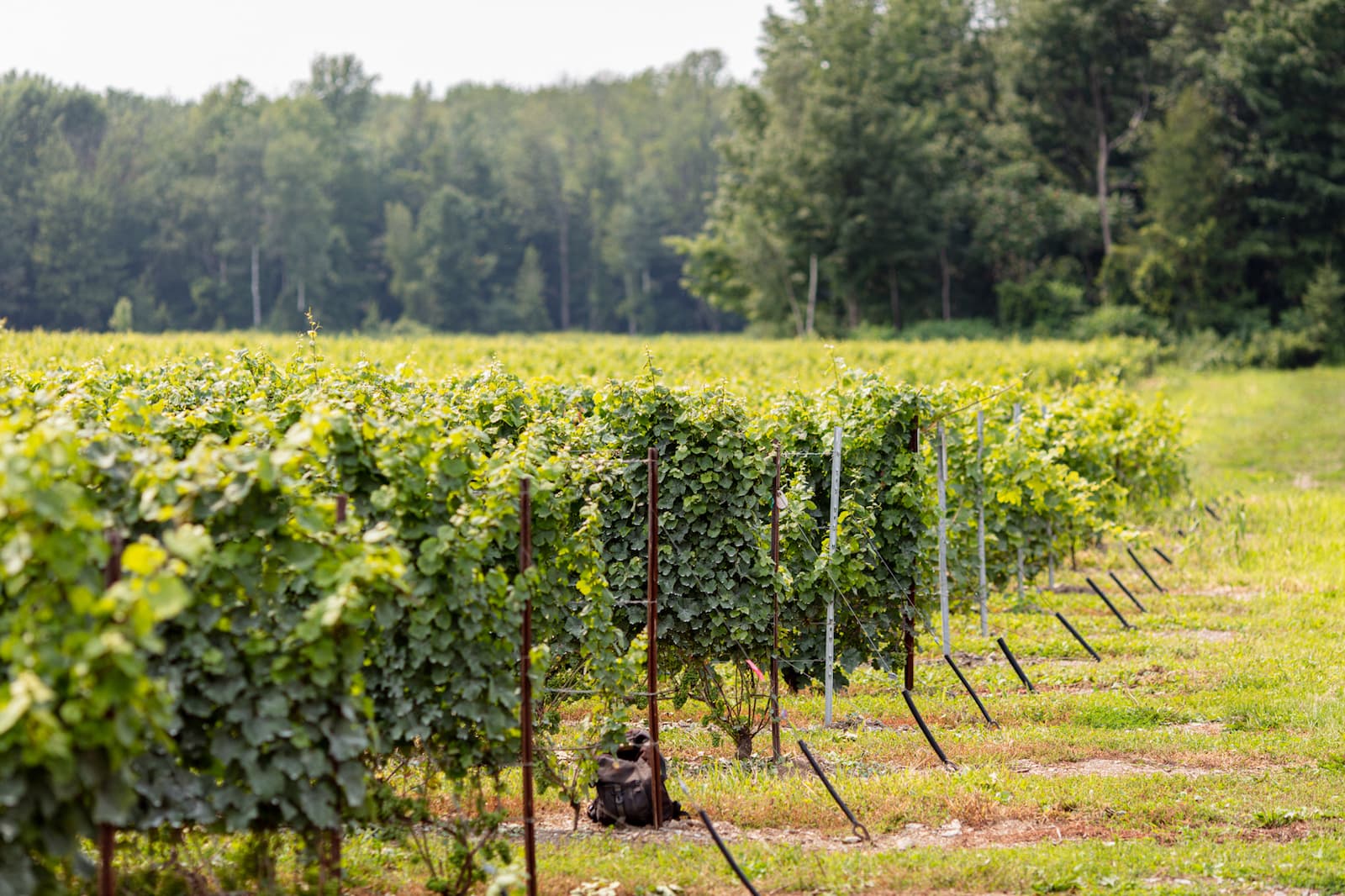 Who would have thought that one day we'd be drinking our own wine in Quebec?
And that we would be asking for more, no less! Before the 80's, wine making as an economic sector in Quebec was inconceivable. Forty years later, Quebec wine is one of the proudest of its terroir. In the beginning, it was the trend to consume locally that encouraged its development. Today, it is the quality of the products that explains its popularity. While Quebec wine is still searching for a clear identity, there are several key elements that contribute to its appreciation. These include its great diversity, the uniqueness of its grape varieties, and its remarkable freshness.
When we talk about terroir in the world of wine, we are talking about two main elements:
The first is the natural conditions of the vineyard—climate, soil, geographical location, etc). The second is the human factor—expertise both in the vineyard and in the cellar, choice of grape varieties planted, etc. In Quebec, it is only recently that all these considerations have been brought together. The first hardy Vitis Riparia vines that French settlers found on the Île d'Orléans produced an undrinkable, pungent wine. The vines that were imported from Europe did not survive the Quebec winters. In the 1850's, hybrids were planted in the south of the province. But lack of expertise wiped out all efforts.
What changed?
As always, we have adapted. At present, to adapt to Quebec's climate, mainly hybrids are planted. These include Frontenac, Vidal, Marquette, Maréchal Foch and Saint-Pépin, to name a few. These hybrids are a result of a laboratory cross between a hardy vine and a noble vine (Vitis Vinifera)— vines that offer resistance, adaptability and taste qualities. European grape varieties—such as Chardonnay, Pinot Noir, Pinot Gris and others—acclimatize well in Quebec and are growing in our vineyards. One of the reasons some growers choose not to grow them is that they require winter cover to survive; a process that is costly in terms of time and money.
There are seven distinct wine producing regions in Quebec, each with its own micro-climate and soil characteristics. This diversity results in a unique version of the different grape varietals.
What else has changed?
We started to like each other. Here, what sets us apart is the striking freshness of our wines. The whites, the rosés, the sparkling wines, as well as the reds make you salivate thanks to this characteristic acidity that gives structure to the wine. This component makes it possible to build excellent contrasts with the richness of Quebec's gastronomic dishes. From light to medium-bodied, our wines rarely exceed 13% alcohol. On the nose, each grape variety has its own aromas. In the reds and rosés, we often find notes of cranberry, raspberry, and sour cherry. What a beautiful complicity with the berries that dot our fields!
The utopia of producing wines in the image of our neighbours in Ontario or Europe has naturally faded away in favour of a desire to work with the uniqueness of our raw material, our own grapes. Today, Quebec winemakers work with nature, sometimes with difficulty, and explore different ways of making wine. They use the carbonic maceration method, as in Beaujolais, to enhance the fruit and soften the edges of the wine. They macerate their whites with the skin (orange wine method) to give certain aromas, as well as a little more structure and substance. Thanks to new or old barrels, they improve certain wines that require either a boost in oxygen or a gain in woody aromas. In addition to dry wines, Quebec also offers a fine selection of sweet wines made from late harvest or passerillage grapes and the notorious ice wines.
Our relationship with nature is changing
Indeed, Quebec has begun a major shift to organic farming and some estates are following the lead of natural winemaking. That is, without any chemical inputs. Whether it is to minimize one's ecological footprint, or to reveal the wine's terroir more faithfully, the organic and natural approaches require a lot of work.
To avoid treating the vineyard with synthetic products, winegrowers must anticipate diseases that could arise and take all sorts of preventive measures in their vineyards.
The organic movement is becoming more and more important, and it seems that it will become one of the pillars of the Quebec wine industry. It is magical what is happening. Let's continue to encourage our Quebec producers, by buying wines from our terroir under the banner "Made in Québec" at the SAQ, and by cultivating the love we have for wines that taste of Quebec!
Written by Sophie Monkman