Kampai Garden : Classy beer garden in Shaughnessy Village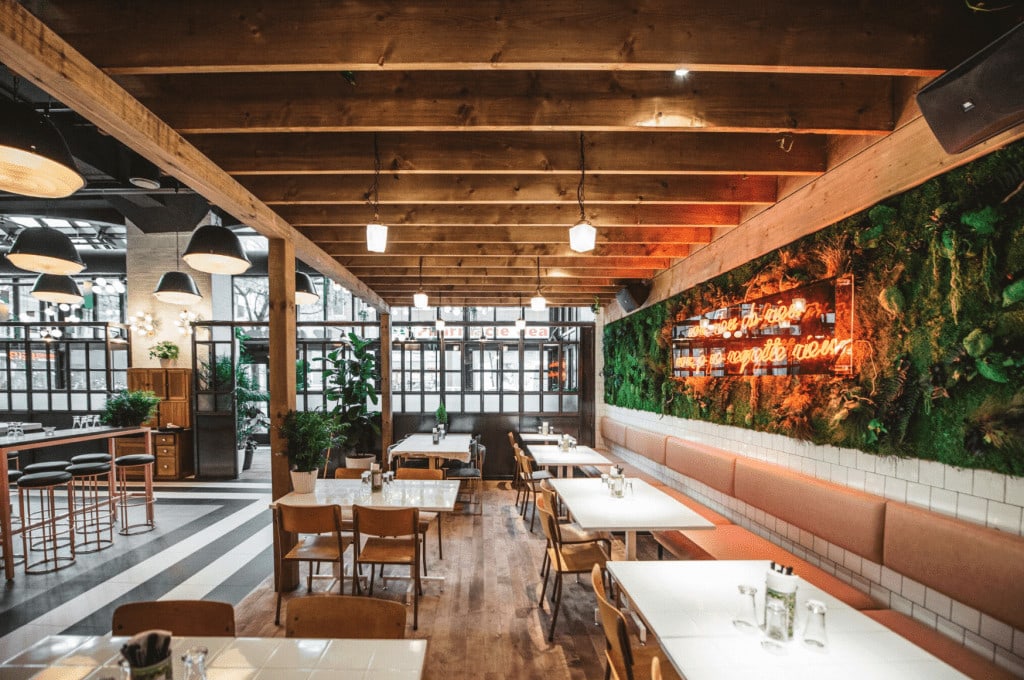 "Kampai" in Japanese translates to 'cheers'. "We wanted to create a destination for people to eat and drink, somewhere between a club that can often be too noisy, and a restaurant where things can sometimes be a bit mundane. A place with the vibe of a 5 to 7 crowd, fun all the time."
Kampai is a pretty large project and has come about through the collaboration between Alexandre Besnard and PJ Goupil of the A5 Hospitality group (responsible for about 15 of Montreal's most popular eateries including Jatoba, Flyjin, Apt. 200, Fitzroy, Mayfair) and chef Antonio Park (Park, Lavanderia, Jatoba).
Kampai moved into Faubourg St Catherine, a neighbourhood lacking in love and attention over the last few years. Yet Kampai took over a huge space of 10,000 sqft that can now seat 200 with a capacity of 650 people overall ! « In the summer months, we will also have a terrace on Saint Catherine St for another 100 and in the back, the garden terrace can hold 300 people. » says PJ.  Holy Moley !
"Shaughnessy Village is the most densely populated area in Montreal. There's not much here but it's just starting to come to life again. For us, it presented an underutilized area in Montreal. If you think about it, you're next to Westmount, Concordia University, LaSalle College, Dawson, Guy-Concordia métro, which is the third busiest …!" It is really a large village of locals, students, local business people and tourists.
Kampai took over the premises of a video club and hair salon. « Once we discovered that there was an existing liquor licence for the space, we completely rethought our plans. » It is very interesting to see how the group reinvented this huge space together with the talented young Amlyne Phillips (eg. Apt. 200, Jatoba, Mayfair). Spread over three half-floors, Kampai has distinct areas, all with different settings and all with different 'purposes'. On the main floor, you enter into a huge space which is modern and colourful, followed by an open kitchen and dining area where the bar is, with its beautiful black and white marble countertop, and surround of striking black chevrons. There is a floor area laid with white penny tiles which reflect the light upwards to the incredible ceiling which is draped in hanging ivy, quite an eye-catcher ! The show-stopper though, must be the rear bar area that has us thinking we're in a tropical garden and why not ? The rattan stools and dining chairs, and a couple of those highbacked wicker chairs are perfect to lounge in with a cocktail! And of course, there are the pool tables – a nice touch! It's all about the details like the palm tree wallpaper by the stairs and the fabric on some seating with its tropical flowers ! « In fact, we have installed over 400 plants in Kampai. » (laughs) Nothing here is done unintentionally.
Food – A5's goal is to offer healthy and affordable bar cuisine with Asian influences, and they partnered up with chef Antonio Park to achieve this. Chef Jimmy James Baran (ex Garde-Manger, Bremner and Raymonds Restaurant in Eastern Canada) is responsible for the kitchen team who work in the open kitchen area in the middle of Kampai. The most popular dishes are the tataki, poké (one of the best in Montreal), hot dogs with a « Gaspor » (regular or Michigan) sausage – American producers of Portuguese smoked sausage for over a century, and tacos (braised beef or tempura shrimp). The menu is affordable; most items are priced between $9 and $18, and for such a huge place, the food is very good – thank you to Kampai for the invitation. We did go to Kampai not quite knowing what to expect, but we definitely see an impressive effort towards offering quality products to their customers. There are a few small adjustments to be done, and we are assured that the Kampai team is working diligently towards correcting these.
Kampai is about eating small bites and having a drink, or should we say a pitcher. Kampai does not serve « a simple cocktail » – they come in pitchers of 32, 40 and 60 ounces ! Lawrence Picard came up with the idea of pricing them at $20, $25 and $30, respectively. We liked the pitcher « Baby girl what's your name » (laughs). But if you just want a glass of wine, these are also available and the wine list is still being finalized. There may be still a few wrinkles in the service – there are 60 employees – yet everyone is smiling and friendly.
"It's really exciting to see so many people talking about our project and being so enthusiastic. We've put so much effort and invested a lot, so it's really motivating." We are very proud to have been friends for a long time with PJ, who, together with the A5 group, is investing confidently in Montreal and launching major projects that are restoring needed vitality to our city. All of us are aware of what this kind of entrepreneurship takes to be successful – hard work, courage, people who have determination and vision, so it goes without saying that we heartily support Kampai.
Kampai is, in our view, the ideal place for anyone who likes a venue with a lively atmosphere. And seeing that Kampai is so big, there are bound to be a lot of fun times.
Written by Élise Tastet