Jiep Jiep: Great East Asian lunch counter
Jiep Jiep
Schedule Monday: 11am - 3pm; 6pm - 8pm
Tuesday: 11am - 3pm
Wednesday - Thursday: 11am - 3pm; 6pm - 8pm
Friday: 11am - 3pm; 6pm - 9.30pm
Saturday: 10am - 3pm; 6pm - 9.30pm
Sunday: 10am - 4pm
Mood Calm
Price Range $, $$
_
Jiep Jiep wants to be a high-quality counter service offering excellent food with Korean, Japanese and Chinese influences!
The owner, Shammy Chan, opened the doors of her restaurant in January 2018. « Jiep Jiep goes back to a funny childhood story. We come from Hong Kong and speak Cantonese but my father's family is from the province of Canton where they speak this Cantonese dialect that we never really understood. When I was younger, my sister and I would visit our paternal grandparents who would point at our food and say 'jiep jiep'. We always thought it meant 'eat, eat'! It was only 30 years later we discovered that we were mistaken all along, but had simply misunderstood their pronunciation. To this day, the meaning of 'jiep jiep' remains a mystery! For me, it's a beautiful memory associated with food and that's what inspired me to call my restaurant 'Jiep Jiep'," says Shammy.
Located on rue Jean-Talon, Jiep Jiep is spacious and the look is minimalist and streamlined, thanks to the design from architect Olivier Krieger. There are 28 seats spread around high and low tables with stools and chairs, and in summer, the terrace can accommodate another 20 people.
Although Shammy is of Chinese origin, she has both travelled and lived in several Asian countries so it is not surprising that the menu is a fusion of different Asian cuisines, Korean, Chinese and Japanese. Everything is homemade and the dishes are designed to accommodate seasonal vegetables and fermented ingredients. « I love kimchi! It's one of my specialties and I'm trying to incorporate it into the dishes. Everyone is very keen these days to learn more about healthy, fermented food, Korean culture, and even K-pop! (laughs). »
Since Jiep Jiep opened, new dishes are being introduced every day and these allow our tastebuds to discover new flavours and combinations. « We vary the ingredients of the dishes a lot, according to what we have in the kitchen each day, what is fresh in the market and what we want to explore, » explains the chef. A few examples are Korean dishes such as bibimbap and sundubu jjigae, as well as poutine Jiep Jiep, their home-made version of the classic Quebec dish. On weekends, Jiep Jiep serves an original fusion Brunch with Pan Asian influences, and other choices from around the world (ie. Syrian Brunch: kimchi in hummus instead of lemon; a Japanese version of Baba Ganoush). There are also excellent veggie options available.
In the near future, Jiep Jiep is planning to introduce its customers to several new items such as Taiwanese cuisine, matcha-based beverages, cocktails and Japanese alcoholic specialities like saké and soju!
« Starting Jiep Jiep has been a lot of work, but I'm really happy with where we now find ourselves. I love to serve homemade dishes featuring kimchi and fresh vegetables that I know our customers will enjoy. This is food that I cook and love, and could eat every day at home, » says Shammy.
We come to Jiep Jiep to enjoy tasty and unique cuisine, and to discover authentic Pan Asian dishes, created from the owner's own experiences. This is a charming place and the prices are reasonable. Do try Jiep Jiep !
© Pictures Alison Slattery — Instagram
Next post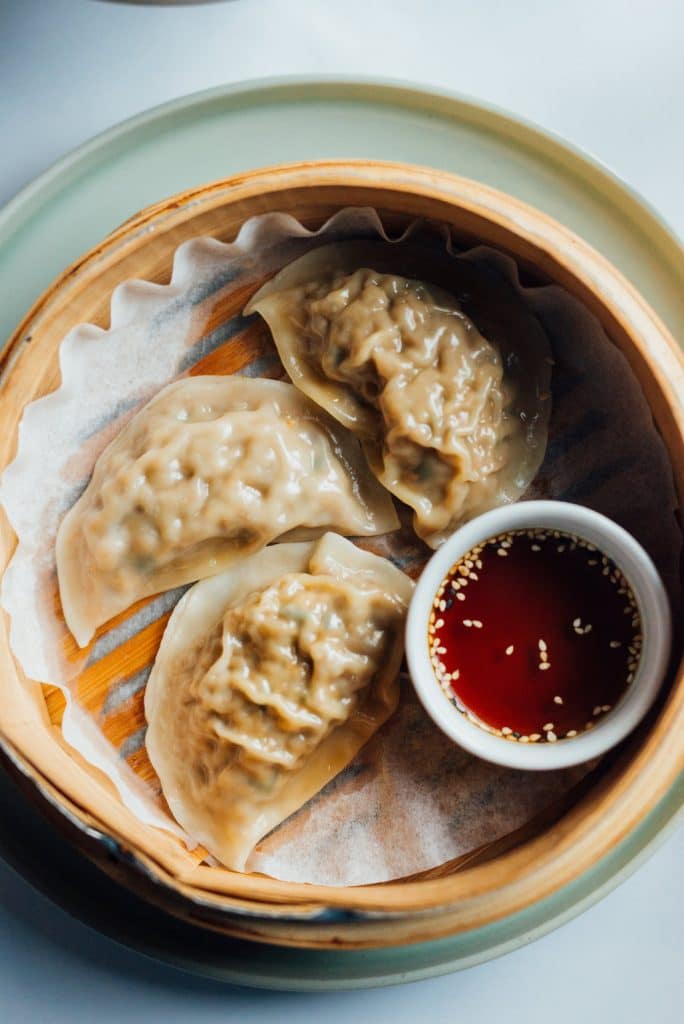 The Best Dumplings in Montreal : where to eat great dumplings Trying to find the best dumplings has been such a blissful assignment! They burst with flavour, have savoury aroma, […]
Read the post
Complementary or close by: